Last year has been really stodgy and trying, we will all agree on this. Unpredictable and unimaginable months, which have forced us to make many, painful, sacrifices. The music world and its main actors have suffered a severe blow on an economic and professional level. A wound that leaves only a scar, however, mind you! Redemption desire is unquantifiable, as well as being synonymous with the coming year. Yes, because 2021 will be the year of revenge and we are pleased to announce it with this article.
Last time we dealt with this topic, we selected five labels born in 2019 to send a demo to in 2020. We are here, today, to continue this tradition, which has been a wonderful success within the community.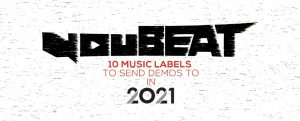 Let's start with a very curious fact: music production in 2020 has reached heights never seen before. The pandemic and its lockdown have clearly affected the time available to us to devote ourselves to studio production. We are here, therefore, to help all those producers out there who have invested in music during this long period of uncertainty and apprehension.
So what to do with all the records composed during this period?
We have selected 10 record labels born this year who need your demos.
Enjoy the reading!
BRING THE KINGDOM
[Tech House]
First on the list, not only because the first in alphabetical order, but also because it was born in February 2020. Bring the Kingdom is a record label founded by King Arthur and sub label of Don Diablo's giant Hexagon. Born to allow new talents to blossom by praising Tech House, this reality represents something more than a simple label. In fact, it offers other services such as mixing and mastering, as well as real production lessons. An authentic "academy", which makes itself available to future generations of successful producers. An institution already with very solid foundations, managed by a team of professionals in the sector and in need of new Tech House tracks to be signed. So what are you waiting for?
Follow Bring the Kingdom:
Facebook
Instagram
Demo Submission:
hello@bringthekingdomrecords.com
CLUBWRK RECORDS
[Electro House]
This label was born from the collaboration between Teamwrk Records and Will Sparks. He will also be the A&R of this promising reality, with the hard price of having abandoned Bourne Recordings after many years. This new sub-label represents a professional and musical turning point for the undisputed totem of the Australian Electro House. Yes, because the first official release, "Kids These Days", has definitely embraced the underground sphere of electronic music. A personal stylistic revolution, and a new challenge for Will, aimed at promoting new artists who know what "banger" means. Keep in mind, in fact, that this will be the key word to be able to sign a record under Clubwrk Records.
No, that's not all: the same label also includes a more melodic parenthesis, thanks to the establishment of CLUBWRK DEEP. The opportunities are certainly not lacking!
Follow Clubwrk Records:
Instagram
Facebook
YouTube
Spotify
Soundcloud
Demo Submission:
https://labelteamwrkrecords.label-engine.com/demos
EXHALE RECORDS
[Acid Techno]
Exhale Records is the natural evolution of a series of Techno events born from the head and hand of Amelie Lens. A story very similar to what happened to a friend, colleague and companion of the "throne" last year – Charlotte de Witte. Exhale Records lends itself as a launching platform for new upcoming – or anyway consolidated – Techno performers. It makes its debut in 2020 with a compilation of 15 tracks that are well identified in the pure, dark and acid tastes of Her Belgian Majesty Amelie. For all producers who identify themselves with Techno as main-genre, this could be the chance of a lifetime!
Follow EXHALE:
Facebook
Instagram
YouTube
Demo Submission:
info@exhalemusic.net
HEAVEN SENT
[Hybrid Trap/Melodic Dubstep]
It is appropriate to vary the list of new labels born in 2020 with Heaven Sent, the second record creation of the American duo SLANDER. This dynamic couple has made millions of ravers dance from all continents, proclaiming themselves the bastions of Heaven Trap. In addition to the already known Gud Vibrations, of which they are co-founders together with NGHTMRE, this new label was born at the end of October. A reality that expands Derek and Scott's musical range to focus on a sound that can be definitely categorized as Melodic Dubstep. A genre extremely popular overseas, but not very widespread in the rest of the world, except for sporadic appearances during major European festivals. Below we propose the first official release, in collaboration with Jonathan Medelsohn and Fairlane.
Follow Heaven Sent:
Instagram
Twitter
Facebook
Soundcloud
YouTube
Demo Submission:
As Heaven Sent is one of the most recent labels of the year, we suggest submitting your demo via the official Soundcloud channel.
KAPUCHON RECORDS
[House]
Latest record label founded by Afrojack – or should we call him Kapuchon?! Yes, because this was Nick van de Wall's first real stage name. Already founder of Wall Recordings, the Dutch superstar has decided to brush up on an old project of him to change his approach to music. A name and a label born and designed to promote House productions, and to allow Nick himself to release tracks of this genre without "staining" the name of Afrojack. The first production of Kapuchon Records speaks for itself: a production that began a long time ago and that has only now seen the light, with this new musical reality.
Follow Kapuchon Recordings:
Facebook
Instagram
Spotify
YouTube
Demo Submission:
promo@afrojack.com
KUNYE RECORDS
[Afro-Tech/House]
If Afro-Tech is enjoying its heyday, we owe it above all to Shimza. An ambitious mission lies at the heart of the new Kunye Records label: to bridge the wonderful South African musical heritage and the rest of the world. A label that gets its lifeblood from the comparison between its soul and its land, looking for a new sound to export. Kunye will be a new point of reference in the scene, basically promoting House music that refers to the personal and musical origins of its founder. To better exemplify the idea behind Kunye, the first official release is by Shimza, "Calling Out Your Name". A track full of meanings, with important environmentalist and humanitarian messages that wish for a better world. Here, this is Kunye Records.
Follow Kunye Records:
Facebook
Instagram
YouTube
Demo Submission (A&R):
info@jetblack.co.za
MENTALO MUSIC
[Dance/Pop House]
Robin Schulz is undoubtedly the most appreciated – and awarded – German artist in the entire globe. An authentic stream machine, always dedicated with confidentiality and professionalism to his music production. We could summarize it as a perfect blend of Pop and Dance in their most modern versions, which aim to make a boom in radio ratings. The same philosophy will be applied to his neo-label Mentalo Records, born at the end of May with the partnership of Spinnin Records and Warner Music. A platform for new artists, but also a "home" for singers, as Robin himself pointed out, an essential element of his compositions.
The first disc released by Mentalo Music is the collaboration between Robin and the beautiful voice of Swedish singer Winona Oak, a perfect forerunner for future radio-hit producers.
Follow Mentalo Music:
Facebook
Instagram
YouTube
Spotify
Demo Submission:
https://mentalo-music.com/demo-drop/
OH2 RECORDS
[Dance/Pop House]
Also born towards the end of 2020, it is the second Oliver Heldens' record label – as a Heldeep Records' sub-label – and whose origin we have already told you about in a previous article. What moved Oliver Heldens to found this new imprint was his strong desire to focus part of his efforts on more Dance / Pop sounds. A genre to which he declared to be very fond of, but which he could not carry on with a certain continuity. OH2 Records, however, promises to be potentially enterprising and avant-garde in this sense, thanks to the solid foundations of the Heldeep empire.
Follow OH2 Records:
Facebook
Instagram
YouTube
Demo Submission:
https://heldeeprecords.com/ 
or anyway
https://oliverheldens.com/demo-drop/
SUB RELIGION RECORDS
[Progressive House/Future House]
The most close-knit duo of Hungarian DJs and producers of all time started 2020 by giving birth to their main label Sub Religion Records. Masters of the art of "progressive", Stadiumx have crossed the doors of the main European record labels and have collaborated with artists such as Nicky Romero, David Guetta, Metrush, LUX and many others. In short, a duo, a guarantee. 2020 was the year of the professional turning point, thanks to a global condition that did not allow us to focus on live shows.
The new label, as told on the announcement occasion, will focus on "Future-Progressive House" sounds – verbatim quoting the same Dávid & Sully – retracing the founders' musical history. The first track by Sub Religion Records is a collaboration with the legendary voice of Sam Martin. A production that takes an ideal photograph to understand the sound required by the Hungarian duo.
Follow Sub Religion Records:
Facebook
Instagram
Youtube
SoundCloud
Demo Submission:
https://www.subreligion.com/
TIME MACHINE RECORDS
[Future House/Gaming Dubstep]
In Hexagon, young age is a requirement that pleases. At the court of Don Diablo young artists with many ideas and a great will are always welcome. A bit like RetroVision, a young 24-year-old French man who dedicated his 2020 efforts to the creation of his very personal label: Time Machine Records. Still under the Hexagon umbrella, it basically promotes Future House sound, but with the typical tone of the very first productions of the same RetroVision at the time of NoCopyrighSound. In fact, there are many references to that particular category of Dubstep, usually combined with retro video games, so much appreciated by the founder (so much so as to include them in the stage name). To you an example, with the first official release.
Follow Time Machine Records:
Facebook
Instagram
Spotify
Demo Submission:
https://www.labelradar.com/labels/timemachine/portal
As on last year occasion, we would like to emphasize the importance of sending your own product to a record label. Losing credibility with your project is equivalent to throwing the so-called "shot in the foot" by yourself. Therefore, in addition to mastering the track (a fundamental requirement), we suggest you to send your product with criteria and professionalism. Above all, avoid spamming your demo left and right without any reflection (and respect, too) for those who will have to listen to it and evaluate it. Last, small, advice is to always attach a couple of lines describing your piece and your project.
But that's not all: in further help to our dear readers and producers, we invite you to always check our Contest Radar page. This new section, constantly updated, will allow you to be constantly informed about the best contests in the sector. The possibilities are endless and the prizes as well: from official releases on major labels to equipment for your studio. This is further proof that youBEAT is always on your side, to help you develop your project and your dreams in the best possible way.
In conclusion, we wish all our dear readers and producers a 2021 full of joy and professional satisfaction. In the hope of not having to go through a dark period again as it was most of 2020, we take the opportunity to send you our warmest wishes for a happy holiday!