RCRDSHP (pronounced "record shop"), is a platform for electronic music enthusiasts which markets packs filled with digital collectibles from global dance music artists and brands. After launching a huge collaboration with Sven Väth's legendary techno label Cocoon Recordings, during the International Music Summit at the Web3 day, they unveiled a brand new concept called 'Storefront'.
RCRDSHP Creates Artists and Label-Centered Storefronts
"RCRDSHP's labels and artists can now unite their NFT Digital Collectible projects in one place and promote them directly to their fans and to the music NFT community at large, thanks to Storefronts. Storefronts will unlock discovery and give artists and labels new ways to present all their projects in a single, easy-to-find spot, much the way Bandcamp does for legacy music formats."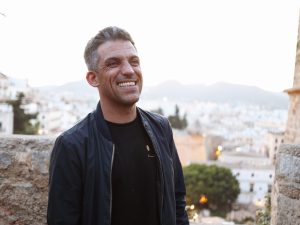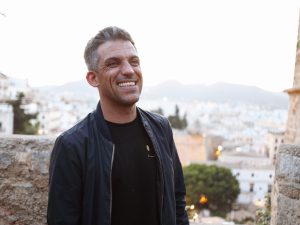 During their dedicated keynote Gareth Deakin, RCRDSHP Chief Marketing Officer, expressed how the platform will not only allow artists and labels to present fans with exciting accessible NFT projects backed by compelling gamification and reward mechanics, but will also be able to conceive and execute web3 and NFT focused campaigns with all the benefits of the RCRDSHP platform. Additionally, it will introduce novel tokenomics via RCRDSHPs $OUND token which RCRDSHP believes has the potential to revolutionize the entire music industry ecosystem.
Interview w/ Gareth Deakin
• In a wide market, RCRDSHP is not a common NFT marketplace, since it put the focus on a unique aspect for artists, labels and festivals with the chance to propose limited collections of items. Which are the main differences between RCRDSHP and competitors?
First up we are definitely a blockchain based NFT music platform, but we are focused on being a Music platform foremost. On RCRDSHP music fans can collect and discover music from the artists and labels they love, earning rewards by being a fan of those creators. We are using Digital Collectible NFTs to drive music fandom for music creators. NFTs and blockchain are really confusing to a lot of people and so we are focused on reducing that complexity by building a platform that helps
simplify
for
labels, artists and for their fans. We want to make it really accessible, for example the website is not covered in NFT buzzwords, everything is
priced in dollars
and not in fractions of ETH, you can pay via normal currency and you
don't need an external crypto wallet
, it's super low friction and we work hard to make everything familiar for everyone who wants to get on board.
• You just dropped a NFT collection including exclusive unreleased tracks with Sven Väth and Cocoon Recordings.
How the partnership was born and what's the idea behind it?
It was something of an introduction to Cocoon and the first project we have done with the label. Sven previously did a couple of things in the NFT space, but he'd never done something with his label before. Cocoon Recordings is a legendary label, and a really important partnership. The Limited Drop contained  exclusive content, edits and tracks, video content and behind the scenes from artists like Pig&Dan, André Galluzzi, Gregor Tresher, and Sven. A lot of attention went into making it really exciting for both their fans and our RCRDSHP community, while keeping it accessible for everyone. For example fans got access to rewards, and competitions from the purchase of those Digital Collectibles, with the opportunity to get guest list entrances and exclusive merch with your limited NFT purchase. You can think of RCRDSHP Digital Collectibles a little like vinyls, there is a limited supply, and so a drop like this is a new way of collecting exclusive exciting music that's digitally scarce.
• Where are we now regarding the Web3 "onboarding" in Music Business and what should we expect from the future?
As an artist or label it's a really exciting time right now, there are a lot of platforms and new business models that are fundamentally changing the way view the relationship between music fans and creators. There's a lot of scope for experimentation as it's a really new space but that can also be kind of intimidating. So onboarding is really important to successful campaigns, Success requires a lot of fan engagement to build these fan communities and figuring out simple ways of getting someone started is really important. We've just launched Storefronts, which allows music partners the ability to mint their own NFT projects directly to a branded store they control and from which can run projects for their fans. We have a couple of labels who are currently experimenting with it now and are in the process of rolling it out to all of the nearly 200 partners we have signed up on RCRDSHP. It's early days but we think this has huge potential to onboard many more music creators and fans into the growing web3 music space.
• How are you planning to develop your current blockchain technology, de-fi and tokenomics in the near future and how do you see NFT's market going during 2022?
We recently launched SOUND token around a month ago. That's the beginning of the roadmap for tokenomics within RCRDSHP. You can think of Sound as the raw material for partners to create projects on the platform. If we think about RCRDSHP collectibles as digitally scarce deluxe vinyls, then Sound is the raw material that allows you to press them. It helps to regulate the quality of content on the platform and gives us exciting ways to build models that reward music creators directly via fan engagement. The current NFT market is heavily dominated by speculation and NFT flipping. This isn't necessarily the foundation on which we believe we want to build the music industry of the future. And it doesn't necessarily create an appealing environment to new fans who want to join in, right? We believe the actual use case for this technology goes way deeper. Ultimately, this technology will be the foundation for the next version of the internet and is going to help us create a new model for music creators. Through this year I am hopeful we're going to see wider adoption from music fans as projects offer more and more actual utility.
Sarah de Warren Launches New 10-Part Music Project with Bzaar Labs on RCRDSHP
RCRDSHP can also be the right platform to relaunch or simply launch something new. This is the case with Sarah de Warren, an already prolific singer & songwriter who, with RCRDSHP, is also ready to build her own solo project as she's releasing her debut solo single 'Vegan Leather Sneakers'. For this, Sarah teamed up with RCRDSHP & Bzaar Labs to offer a free, fan-exclusive 3D wearable 'Vegan Leather Sneaker' NFT for those who have pre-saved the single out last May 20th on digital streaming platforms. It is the first of 10 new projects from Sarah that will celebrate individuality, encourage people to think for themselves and be fearless about their uniqueness.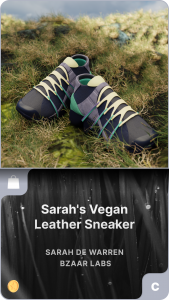 On the collaboration with RCRDSHP she commented:
"Teaming up with RCRDSHP has provided an amazing opportunity to connect more deeply with my fans, which to me is the most important part of being an artist. When people pre-save my single 'Vegan Leather Sneakers' they will get a free digital vegan leather sneaker collectable in return, designed by NFT fashion brand Bzaar Collective. I'm over the moon that I found a unique way to thank everyone for supporting me and I'm super excited about the bigger picture of RCRDSHP and how they're empowering artists and fans to make the industry a better place."