New technologies for the Business
International Music Summit second day shared a light on the exciting new implications of the upcoming technologies related to blockchains, De-Fi and crypto as a whole and how can they be beneficial to the electronic music industry once it will be fully developed.
PIXELYNX PRESENTS THE FUTURE OF MUSIC:
A PORTAL INTO THE METAVERSE
The second day opened with one of the hottest partnership of this edition between IMS and Pixelynx: the visionary crypto-company founded by the mind of Inder Phull in collaboration with Joel Zimmermann and Richie Hawtin has the main goal of creating new technologies that will transform the way musicians, labels and brands co-exist within the metaverse, thanks to the partnerships with massive leaders in the industry, such as Niantic (Pokemon GO!), revolutionary NFTs marketplace RCRDSHP, Sensorium, Celo and EQ Exchange.
Check out our interview with Pixelynx CEO & Co-founder Inder Phull
Check out our interview with RCRDSHP Chief Marketing Officer: Gareth Deakin (online soon)
BLOCKCHAIN-BASED 3D OPEN WORLD GAME
An other leader company in the metaverse turmoil is Sandbox, presented by its Vice President of Global Partnership: Bertrand Levy.
With more than 200+ partnerships, it's own token ($AND) and a revolutionary way to give NFTs life in the virtual world, Sandbox is one of the best metaverse ecosystems out there where users can buy and develop their own land and their digital assets; case in point, their latest collaboration with hip-hop legend Snoop Dogg, whose NFTs minted and distributed in the Sandbox generated more than 6 million dollars in less than 24 hours.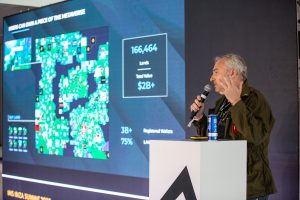 ___
LADY OF THE HOUSE & SHESAID.SO:
FEMALE ARTISTS AND THEIR RECOGNITION IN THE INDUSTRY
The beautiful outdoor space set up by women and minority-driven community shesaid.so was the perfect stage at IMS for the Lady Of The House panel, where female artists and professionals shared their experiences with sexism and inequality on the workplace. Guests on the panels featured Brit award winner Becky Hill, BBC Radio 1 speakers Tiffany Calvert, Sarah Story and Pete Tong and British dj TSHA.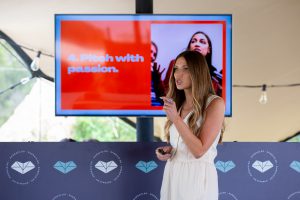 ___
PTDJA: A BRAND NEW ACADEMY FOR DJS, LEARNING THE TRICKS FROM LEGENDS LIKE PETE TONG, CARL COX AND JAMIE JONES.
Born from the minds of legendary radio speaker and international DJ Pete Tong and ReLOUD's MAT Academy, PTDJA is a dj academy like no others. With more than 35+ hours of courses taught by the best professionals out there (Carl Cox, Jamie Jones, TSHA and Nicole Moudaber are the teachers already confirmed alongside Pete Tong), PTDJA wants to propose an alternative way of learning the craft of DJing, from the basics to the etiquette, this academy is for virtually everyone who wants to learn from the pros.
You can even climb your way up into PTDJA's talent pool and earn the chance to play in radioshows and festivals!
Check out our interview with MAT Academy and PTDJA's founders: Nello Greco & Alex Tripi (online soon).
Professionals' Feedbacks
"I like the way that this event is evolved from a hotel event in something more modern, especially in those dangerous time of living with Covid. I think it's important for lot of people. It helps networking, it helps relaxing. It's very good both for professionals and for people who come year just to discover or interact about what here we're talking about. I used to conference but differently from "huge holes" where everybody is working, this is more relaxed but in a good meaning. On a technical side is perfect, Wi-Fi is working its amazing! Ahah" Jakub Kowalski, Product Manager Director PIXELYNX
"We love it, it's huge, it's really good to be back, there's some kind of social awkwardness in the air because people don't know how to shake hands anymore but it's nice to connect again with everyone in the industry." Cathelijne Noortman, Senior PR Manager The Media Nanny
"It's my first IMS, actually it's my first time leaving the country since covid started, I felt like a little kid when I landed in Ibiza and put my feet in the sand! Here I had the opportunity to put my hands on all the nerdy things of Pioneer and the new equipments, the weather is nice, the sea is just behind us, it's incredible!" Tiffany Calver, BBC Radio 1 & BBC 1xtra
"It's really nice to be invited to speak at IMS in particular because I'm not involved in the music industry. The conference is being great. I have to know it's very male dominated, so it was nice to see so many women invited to express themselves at the Shesaid.so stage, all working together. The importance of including such an important series of female speakers also weighs on the relationship with other types of diversity for the entire event. The conversations on Shesaid.so have been really important and tough, great, but it would be nice to put them on the main stage because they are equally important." Stephanie Sword-Williams, Founder FUCK BEING HUMBLE
"The new venue is amazing, it's really good, .it's pretty intimate, not so big but you can meet everyone here feeling comfortable." Gareth Deakin, Chief Marketing Officer RCRDSHP
________
On site: Rudy Cassago & Stefano Ranieri
Thanks to Neighbourhood PR