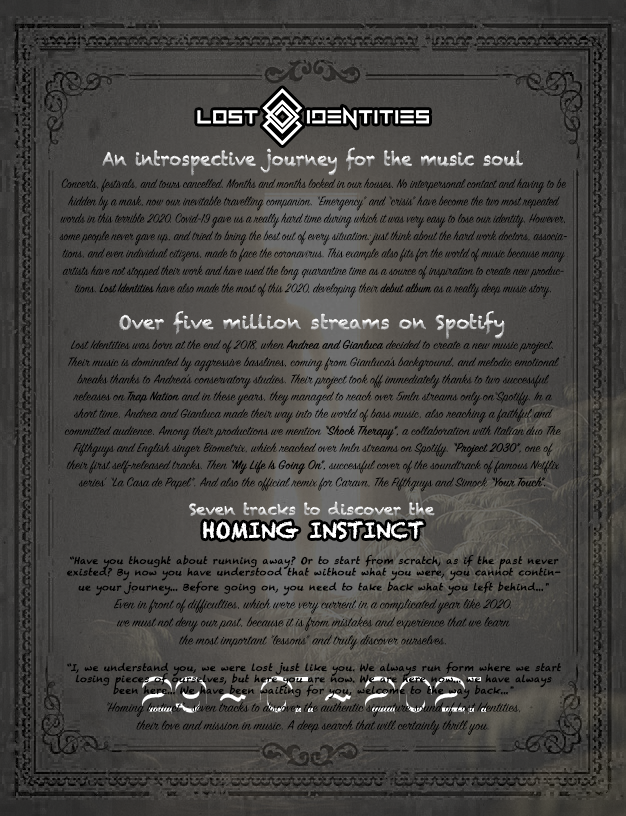 Cosa bolle in pentola?
A quanto pare per i Lost Identities bolle in pentola qualcosa di grosso. Dopo il singolo "Shine" (ft. Onyra), datato 11 dicembre 2020 e con oltre 250000 plays su Spotify, il duo italiano composto da Andrea Perna e Gianluca Rampin ha rilasciato un altro singolo. "Any Other Way" è infatti uscito questa settimana in featuring con Anna Vellington. Due tracce, due singoli, che come trapela anche sui loro canali social sono il preludio per l'uscita di qualcosa decisamente più grande!
L'annuncio di "Homing Instict"
Dal 2018 con due release su Trap Nation, il duo bass è cresciuto, sia musicalmente che con i numeri. Il background di Gianluca, che ha sviluppato un sound design più moderno, ha legato davvero bene con quello di Andrea e la sua solidità nella teoria musicale (è diplomato in Conservatorio). A questi fattori fondamentali si aggiungono numeri importanti: nel 2020 oltre 3 milioni di streams su Spotify e oltre 1 milione di ascoltatori. Cosa manca per coronare un percorso di questo tipo? Un album? Esatto! E' proprio "Homing Instinct" il titolo del primo album dei Lost Identities, in arrivo su tutte le piattaforme… molto molto presto a detta loro!
Un album con un concept ben chiaro, svelato per ora molto sotto traccia dai Lost Identities, e un sound che ormai sta prendendo sempre più forma. I due singoli usciti fin qui ne sono la dimostrazione. Ma siamo convinti che non sia finita qui. Un album è un'esperienza che consigliamo sempre, noi in primis, di ascoltare per intero. Questo ci porta a pensare che le sorprese non siano finite qui, bensì che l'"experience" di ascolto dell'album sia un vero e proprio viaggio alla ricerca della loro identità perduta (e forse anche delle nostre).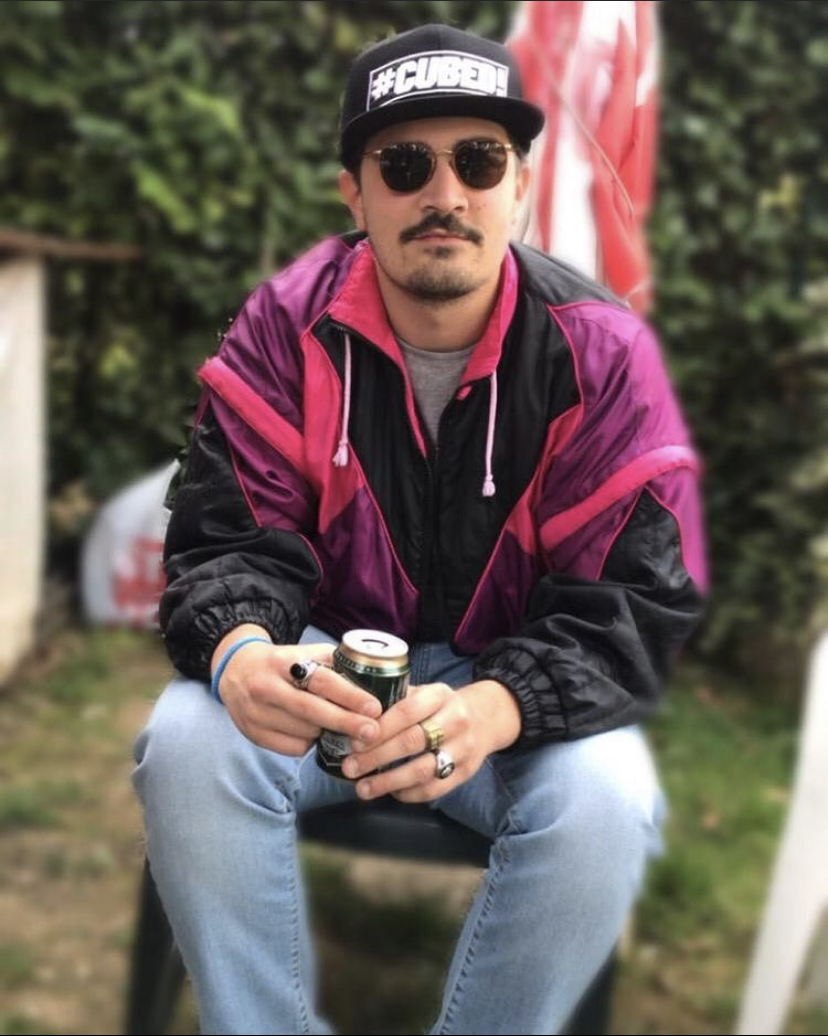 Rudy (29) currently based in Bergamo, here since 2019.
I'll starts my experience with music in the same way as I do today: listening. When I was a teenager I was really addicted to metal music, especially Power Metal. I evolved to metalcore, post hardcore ecc. before meeting Skrillex on my way. So I started my interest in electronic dance music, living in a club, Vibe Music Zone, here in my town as a PR. I experienced a lot about live shows, club management and all that can walk around a club. With some mates by there we started a radio show. On Facebook first, than 2 years in a local radio, Radio Like, and one at Radio Loco. Here as art director and founder of The Garden Show, where my selection was played. 31st December 2020 I left my activity as a speaker to keep in touch more with music biz, studying at Point Blank Music School.