Spotify and it's swedish factories presents the first of it's own made hardware: "Car Thing"; an all-new voice/touch/button controlled interface designed for a complete distraction-free experience while at the wheel.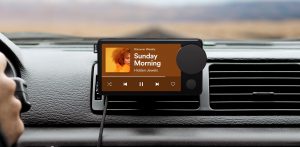 The device currently works on premium accounts only and needs it's own USB power supply, while it connects via bluetooth to your smartphone's app, working as a remote.
"Car Thing" offers an high-res 4″ touch screen display, four upper buttons for some easy shortcuts and an over-sized knob useful for browsing through playlists, podcasts and songs. Last but not least: the all-new built in vocal assistant, which pops out every time it ears "Hey Spotify!" through its four hig-res microphones.
Sadly, the first free beta testing of the "Car Thing" is just for USA based users, but the announced price will start at 79.99$, falling near it's main competitor's range: Amazon's Echo Auto. Will it be the start of a new race to this market?
As pointless as this new tech sounds, the "Car Thing" doesn't want to be a substitute to the car's radio, but actually tries to push itself in a segment full of customers with a car with no infotainment display, lacking the comfort of Android Auto and Apple Car Play's interfaces, giving them a similar experience while reducing the usage of the smartphone behind the wheel.
Also, this first born hardware from Spotify could also be the starting point of a whole new gadgets development for the Swedish giant, maybe in household or in gaming. Who knows what they're cooking?