Distrokid joins the already packed list of platforms that dips its toes in the NFT's pond, trying to ride the new trend that promises to revolutionize the art industry, releasing a hefty 10.000 pieces collection of non-fungible tokens ironically named "Sellouts".
The main goal of the project follows the steps of the already established business model of the popular music platform: allowing independent artists to receive their fair share of royalties from their works. In this scenario "Sellouts" are a way for those artists to create and mint a unique avatar from scratch that features the cover art of their upcoming release, with the chance to sell it and earning 80% of the initial sale plus an additional 10% from every other resale of the original NFT.
"Sellouts" sees Distrokid partner with Nifty Gateway, an already established artist-friendly platform that has pledged carbon-negative minting drop for the 10.000 pieces collection, expected to be released via random drawing on December 15th, 2021.
The NFTs bandwagon saw a lot of world-famous celebrities and artists jumping on the train in the last few months, from BTS to Timbaland, from deadmau5 to 3LAU, each selling unique digital collectibles for thousand of dollars.
The concept behind "Sellouts" is to give an additional way to music artists to profit from their releases while keeping it "indie", entering a trending market with absurd prices that gatekeeps emerging artists (the initial sale will see each unique Distrokid NFT's starting auction from "just" 60$), trying to normalize yet another crypto-frenzy innovation.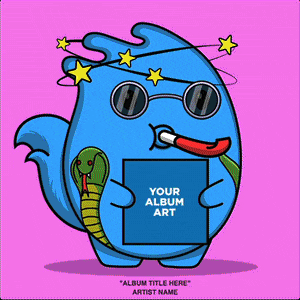 Creating a "Sellout" is a piece of cake: heads to Distrokid's website and, like a videogame character creation menu, you just need to choose from a sample of options to embellish your little monster; finally, to make it really unique, you have to add the artwork of your upcoming release, minting a one of a kind character which will live on on the blockchain.
Congratulations: now you're officially a "Sellout"
Not only Distrokid: also world-famous major Universal Music Group unveiled "Kingship", the first band composed of NFTs in collaboration with 10:22pm designed by Bored Ape Yacht Club and inspired by Gorillaz, a collection of artworks that already sold for more than 542 millions of dollars.
Meanwhile Timbaland is ready to show his new company "Ape In Productions" involving other apes from BAYC.
https://www.instagram.com/p/CWYcpJFMe16/?utm_source=ig_web_copy_link