Periodic Table of The DJ. Yes, it's not chemistry. It's something originally conceived as a limited edition Giclee fine art print to commemorate the anniversary of the Second Summer Of Love. But it has become something more in its concept made and conceived by the artist Misfit. Misfit with the "Periodic Table of The DJ" sought to create a visual representation chronicling the evolution of the Disc Jockey from Thomas Edison inventing the Phonograph in 1887 right up to that key time in 1989 modern club culture really began to blow up globally.
What exactly did Misfit do?
Misfit has represented some of the key protagonists chronologically and graphically in the form of a Periodic Table of the DJ. The travel across the table takes in the inventors, Clubs, technicians, DJs, Soundsystem selectors, Northern Soul champions, Disco originals, Hip Hop heroes, European innovators, Rare groovers, House trailblazers, Balearic pioneers,  Techno groundbreakers, proto-Junglists, and various chancers. A journey that includes legends such as David Mancuso, Kool Herc, Grandmaster Flash, Larry Levan, King Tubby, Frankie Knuckles, Sharon White, Ron Hardy, Jeff Mills, Kevin Saunderson, Alfredo, Jah Shaka, Danielle Baldelli, Stacey Hotwaxx Hale, Sven Vath, Carl Cox, David Morales, Todd Terry, Andrew Weatherall, DJ Harvey, Fabio and Grooverider.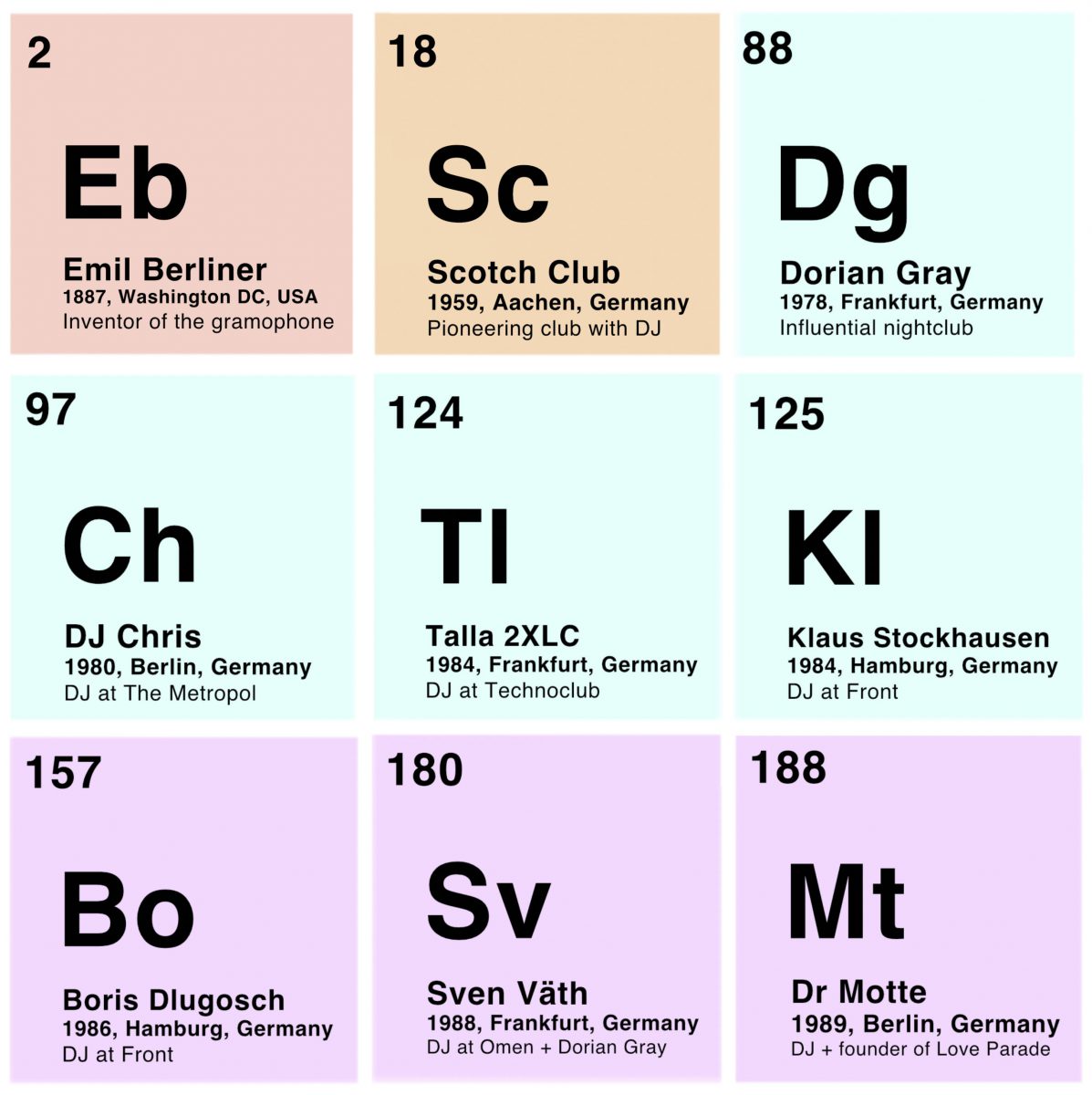 The Italian contribution to DJ culture is undisputed. We have U.S DJs Tom Sison & Bob who contributed to the rise of mixing within DJing in Italy when they arrived on the Adriatic coast in the late 70s at Baia Degli Angeli. From here they inspired the likes of Daniele Baldelli and Claudio Rispoli aka DJ Moz-art, who then took the baton forward with their 'cosmic' sound. In the 80s three italian DJs Massimo Zucchelli, Pippi and Leo Mas figured heavily in the rise of the Balearic sound in Ibiza. Whilst towards the end of the 80s DJs such as Flavio Vecchi, Ricky Montanari and Cirillo began to make waves in the clubs around Riccione-Rimini and cusp of the House explosion across Europe. And course there were those born in the US with Italian roots such as 70s disco pioneers Francis Grasso, David Mancuso, Steve D'Acquisto, Michael Cappello, Bobby Guttadaro, Nicky Siano and Bobby Viteritti.
Here you can find the full list
1. Thomas Edison
2. Emil Berliner
3. Reginald A Fessenden
4. Ray Newby
5. Martin Block
6. La Discotheque
7. Ron Diggins
8. Tom The Great Sebastian,
9 Régine Zylberberg
10 Douglas 'Jocko' Henderson
11 Alan Freed
12 Sir Coxsone Dodd
13 Duke Reid the Trojan
14 King Edward
15 Duke Vin
16 Count Suckle
17 Bob Casey
18 The Scotch CLub
19 The Flamingo
20 Le Club
21 Ian Samwell
22 Guy Stevens
23 Roger Eagle
24 Quaker City Soundsystem
25 Terry Noel
26 Jack Henry Moore
27 Jeff Dexter
28 Tarzan The High Priest
29 Francis Grasso
30 Farmer Carl Dene
31 Grandmaster Flowers
32 Sir Coxsone Outernational
33 David Mancuso
34 Steve D'Acquisto
35 Michael Cappello
36 Count Shelly
37 Sound City
38 Alex Rosner
39 Bozak CMA-10-2DL
40 Bobby Guttadaro
41 David Rodriguez
42 Pete DJ Jones
43 DJ Maboya
44 DJ Plummer
45 King Tubby
46 Alan Day
47 Tee Scott
48 Ian Levine
49 Colin Curtis
50 Technics SL-1200
51 Nicky Siano
52 Eddie Cheba
53 DJ Hollywood
54 Disco King Mario
55 Russ Winstanley
56 Kev Roberts
57 Richard Searling
58 Dj Kool Herc
59 Grandmaster Flash
60 Fatman International
61 Richard Long
62 Tom Moulton
63 Enterprise Imperial Hi Fi
64 Walter Gibbons
65 Grand Wizard Theodore
66 Tom Sison & Bob Day
67 12″ Record
68 Mark Roman
69 Ian Dewhirst
70 Tallulah
71 Les Spaine
72 Afrika Bambaataa
73 Richie Kaczor
74 Larry Levan
75 Frankie Knuckles
76 Electrifying Mojo
77 Chris Hill
l78 François Kevorkian
79 Bobby Viteritti
80 Robbie Vincent
81 Daniele Baldelli
82 DJ Moz-art (Claudio Rispoli)
83 Greg Edwards
84 Saxon Studio International
85 Jah Shaka
86 David Rodigan
87 Guy Cuevas,
88 Dorian Gray
89 Ken Collier
90 DJ Gerardo & DJ Patrick
91 Froggy
92 Rusty Egan
93 The Saint
94 Pete Tong
95 Carlos Simó
96 Toni "El Gitano" Vidal,
97 DJ Chris
98 Excalibur
99 Jean-Claude Maury
100 Hot mix 5
101 Sharon White
102 Tony Humphries
103 Kenny Carpenter
104 Shep pettibone
105 George Power
106 Paul 'Trouble ' Anderson
107 Patrick Cowley
108 Massimo Zucchelli
109 Jellybean Benitez
110 Colin Faver
111 Eddie Richards
112 Greg Wilson
113 The WAG
114 Jay Strongman
115 Mark Kamins
116 The Roxy
117 Bruce Forest
118 Ron Hardy
119 Cesar de Melero
120 Grandmixer D.ST
121 Hewan Clarke
122 Anita sarko
123 Duane Bradley
124 Talla 2XLC
125 Klaus Stockhause
126 Fran Lenaers
127 The Wild Bunch
128 Alfredo
129 DJ Pippi
130 Jesse Saunders
131 Little Louie Vega
132 Farley 'Jackmaster' Funk
133 Steve 'Silk' Hurley
134 Larry Heard
135 Juan Atkins
136 Mark Moore
137 Fat Tony
138 Paul Welsh
139 Norman Jay
140 Winston + Parrot
141 Colin Dale
142 Leo Mas
143 Westbam
144 Marshall Jefferson
145 DJ Pierre
146 Jeff Mills
147 Stacey Hotwaxx Hale
148 Spinbad
149 DJ Jazzy Jeff
150 DJ Cash Money
151 Maurice & Noel Watson
152 Graeme Park
153 Mike Pickering
154 Yogi Haugnton
155 Jazzie B
156 DJ Per
157 Boris Dlugosh
158 Derrick May
159 Kevin Saunderson
160 Eddie Fowlkes,
161 Blake Baxter
162 Lil louis
163 Gilles Peterson
164 Danny Rampling
165 DJ Fat Ronny
166 Olivier Pieters
167 Eric "Eric B" Beysen
168 Eddy de Clercq
169 Flavio Vecchi
170 Todd Terry
171 Chez Damier
172 Paul Oakenfold
173 Nancy Noise
174 Nicky Holloway
175 Mr C
176 Kid Batchelor
177 DJ E.A.S.E. (George Evelyn)
178 Dimitri
179 Joost van Bellen
180 Sven vath
181 Ricky Montanari
182 Carl Cox
183 Slam
184 Harri
185 Terry Farley
186 Andrew Weatherall
188 Dr Motte
189 Cirillo
190 Harvey
191 Fabio
192 Grooverider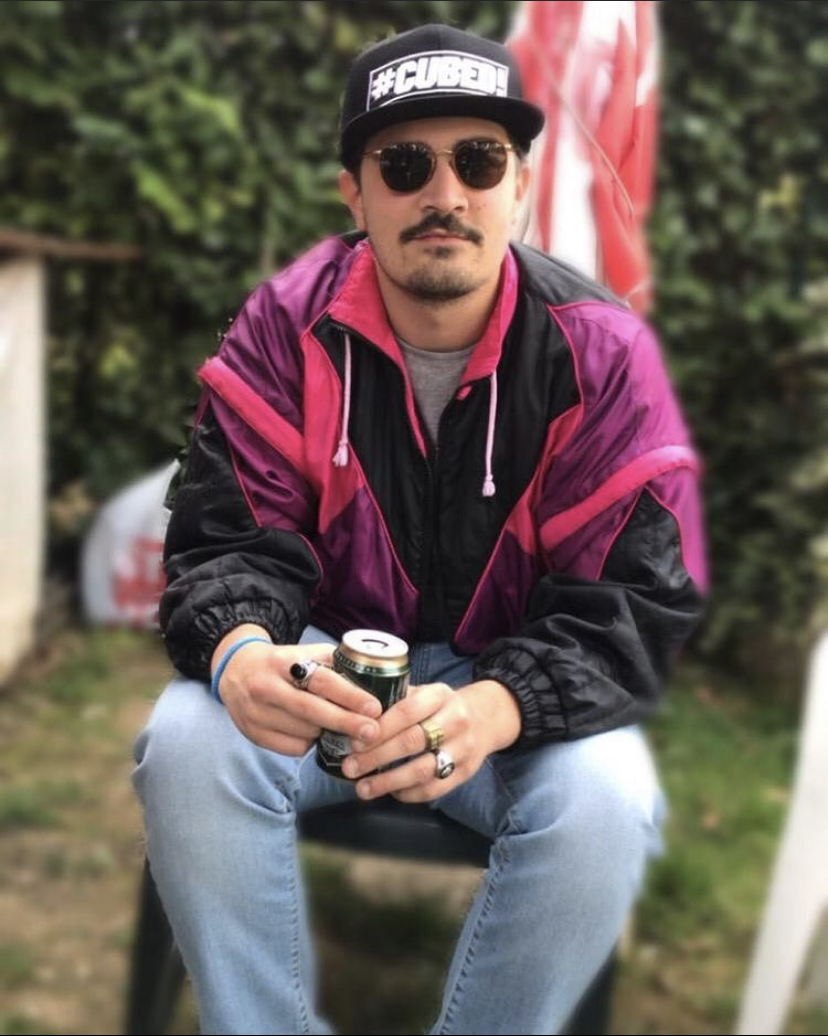 Rudy (28) currently based in Bergamo, here since 2019.
I'll starts my experience with music in the same way as I do today: listening. When I was a teenager I was really addicted to metal music, especially Power Metal. I evolved to metalcore, post hardcore ecc. before meeting Skrillex on my way. So I started my interest in electronic dance music, living in a club, Vibe Music Zone, here in my town as a PR. I experienced a lot about live shows, club management and all that can walk around a club. With some mates by there we started a radio show. On Facebook first, than 2 years in a local radio, Radio Like, and one at Radio Loco. Here as art director and founder of The Garden Show, where my selection was played. 31st December 2020 I left my activity as a speaker to keep in touch more with music biz, studying at Point Blank Music School where I finally graduated in October 2021.