LEONY is a chart-topping german singer, starting with some massive collaborations with EDM superstars like Sam Feldt, Alan Walker and Imanbek, which established her as one of the most spectacular voice of the genre, she is now breaking through with a stunning solo career, gaining worldwide success with her latest hit Remedy.
We had the opportunity to catch on LEONY before her appearence at Fabrique, Milan, where we talked about her roots, her present and her future in the business.
Nice to finally meet you LEONY, let's talk about your beginnings, starting with your victory at TRL's Rising Star in 2014 with Unknown Passenger, from then you are now gathering hundreds of millions of plays with your hits; how did it started from there to now?
LEONY: At the show I met the first people who brought me in the music business, that was my first real experience of the industry, meanwhile I was writing a lot of songs by myself all around the world, in Stockholm, London, LA., but nothing really worked out. I was still trying to find my own way to make music: what sound do I want to have? Finally some years ago I met my producer (and currently one of my manager) VIZE,Vitalij Zestovskich, and since then everything changed; we worked together every day and tried more EDM stuff and that's how everything started and tracks like Remedy, Paradies and Pieces came to life.
Are there any artists that inspired you when you started, and still inspires you in your music?
LEONY: Mainly Christina Aguileira and Alicia Keys, also Keys because of the piano she played on stage, I also played piano and I looked up to her when I was younger, but I get inspired by so much around, Remedy got this 80's feeling for example because it's inspired by the music of those times, there's so many music that influences me everyday.
You mentioned VIZE before, you worked together on countless tracks and also you mentioned he is your manager; how did this partnership came to life in the first place?
LEONY: He was fairly known in Berlin at the time, I knew who he was, I knew his name, but I never met him, until three years ago he messaged me on IG asking if I wanted to go to his studio and work on something together; since then everything clicked right away. Musically we go along very well and eventually we evolved our sound in this kinda "group" thing.
Have you ever considered forming a permanent duo with him?
LEONY: We always talk about making a band together, but I think time will tell, there isn't something planned yet but we have a great chemistry.
Your voice is entangled with the recent EDM scene, do you think that after two years of pandemic closure the genre could find itself again on the recently opened dancefloors?
LEONY:I think that after two years people are craving for coming back to dancing, just some days ago the clubs in Germany re-opened and there were huge lines of people ready to get in and to listen to their favourite music, so I think that right now is a great time for EDM too to really come back.
Speaking of re-openings, are you planning to attend any festival or major event this upcoming summer? Or maybe a tour?
LEONY:I played a lot of festival in Germany this year, and I'm so glad I had the opportunity, we were considering a tour but right now we think its a little bit too early, this summer we are focused on festivals and radio gigs, and maybe next year we can talk about a proper tour.
One last question, is it too early even for an album or an EP?
It's definitely in the makings, we are recently starting to release more and more songs but it's probably gonna be ready by next year.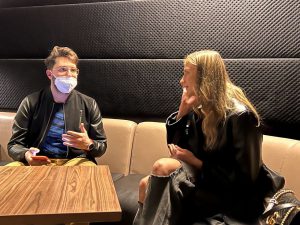 LEONY appeared as a special guest during Disco Radio Party @ Fabrique in Milan, last 5 March, performing live her latest hits "Remedy" and "Faded Love"