The future of music goes hand in hand with the present of our Earth.
Day three of International Music Summit saw some of the biggest stars of the conference taking the stage, from electronic and ambient music pioneer Brian Eno and his new venture Earth/Percent to the new-wave legends Duran Duran and an exclusive session with former Swedish House Mafia's manager Amy Thompson about the ills of the industry; while the night wrapped up this edition of IMS Ibiza with a unique festival at Unesco's World Heritage Site of Dalt Vila.
BREAKFAST WITH AMY THOMSON:
HOW TO FIX THE MUSIC INDUSTRY IN 60 MINUTES
Opening the last day is none other than Amy Thomson, the former manager of DJ Snake and Swedish House Mafia is now fully focused in his new role as Chief Catalog Officer at Hipgnosis brings her call to arms to fix the data black hole to the dance music delegation of IMS. Addressing the elephant in the room, Amy Thompson brought up the absence of a global, centralized database concerning Music Industry infos, and the problem which derives from the heterogenous ways each country organize their own music data.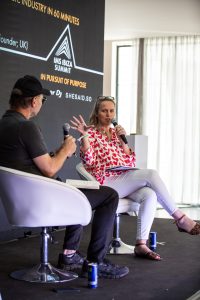 EARTH/PERCENT: BRIAN ENO "IN CONVERSATION" WITH PETE TONG
The second big guest is electronic music pioneer Brian Eno, a true legend in the game, who has just recently launched an as noble as ambitious charity project called Earth/Percent. Focused on the more and more serious issue of climate change, Brian and his team ask artists and music related organizations to pledge a fee to the cause, that Earth/Percent will redirect to the most impactful organizations dealing with Earth pollution and global warming.
The main goal is to save the planet throughout these donations, while also creating a solid community and taking actions to lessen the damage that the music industry itself deals on the environment: from planning less impactful routes for artists on international tours, to making green and sustainable solutions for events and festivals.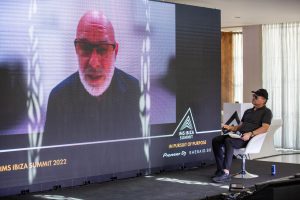 IMS Dalt Vila Highlights – Beatport Live
ARTCHE
LA LA
PROSPA b2b JAGUAR
JOY ORBISON b2b OVERMONO
It's so nice the vibe out here, you can feel the excitement in the air, so many powerful and influential people in the same space talking about the future of the music business in these scary times. It's very powerful, where in the world could you find all of those professionals in the same place in such a relaxing setting?
Sarah Story, BBC Radio 1 Future Dance Host
We are in the people business, in order to connect with them you need to meet face to face and the music business it's all about that if you want to create new ideas and exciting projects. It was cool to see new technologies used during the pandemic to get people together, but that's nothing compared to see some faces you haven't seen in 3 years.
Jeroen te Rehorst, VP of A&R Armada Music
It's amazing, I've come to IMS for 7 years, and in the last two years of silence you really miss all of this. We can't change the game only in the virtual world, we need this energy. There are exciting things this year, from WEB 3.0 to new people coming into the music industry like Sandbox, it was unthinkable just three years ago. It feel like a fresh new energy.
Inder Phull, Co-Founder/CEO PIXELYNX
The new venue is great, the panels are great, but you can see the human relations degraded during the pandemic, some people seems afraid to hug or introduce themselves to one another.
It will take a while to fully come back to normality.
Zvjezdana Laštre, Ibiza Live Radio
I love it, it's really fun for what we do because it's full of music industry people who are buzzing about the Metaverse, about VR and other new technologies. We went to other DJ conferences and everyone were staring at us like "What is this?", while here we had a warm welcome and there's a lot of hype and buzz around and these people are on our same page, it's really fun to be on the same level of excitement!

Lee Chernovetz, TRIBE XR Community Manager
Thanks to Neighbourhood PR