We left in a firework show visible from all the Florentine hills, while an euphoric Armin Van Buuren was droppin bangers. We parted sweaty and sandy, but with the smile of someone who would have to wait another 365 days to take another ride. Unfortunately – from that day – two long years have passed between long-awaited hopes and sad renunciations. But just as after a long drought the first storm makes itself felt with interests, so the same will pour out musically on the Parco delle Cascine on 10th and 11th September 2022. Brace yourselves: the fourth edition of Decibel Open Air – in Florence – will be the most intense ever.
The Festival
One of the most anticipated appointments of the Italian musical panaroma – in electronic music key – is back. It returns with a stellar line up, which places it at the top of the leading events in terms of capacity and musical variety. TwIllustrious return also for Fisher, assisted by rising star WADE, but also Peggy Gou, Michael Bibi, Pan Pot, Kolscho days, from noon to midnight, which will wisely alternate the Techno's crème de la crème, the exuberance of the Tech House and the refinement of the most sought-after live-sets. Two stages divided between the Elrow stage – for those who can't stop dancing – and the Terminal V themed mainstage, a place of worship for all the european clubbers.
The Line Up
Among illustrious returns and tempting beginnings, let's go for a brief recap of those who – next September – will shake Brunelleschi's dome. The sacred monsters of Techno such as Paul Kalkbrenner, Richie Hawtin, Amelie Lens, Nina Kravitz and our Marco Carola are back. Illustrious return also for Fisher, assisted by rising star WADE, but also Peggy Gou, Michael Bibi, Pan Pot, Kolsch. The unmatched energy of our 999999999 and "Mr. OnlyBombs" T78, as well as the French colleague I Hate Models and the Dutch Reinier Zonneveld. Experiences – more than livesets – will be shown by Caribou, Cosmo, Vitalic, Overmono and Giorgia Angiuli among the others.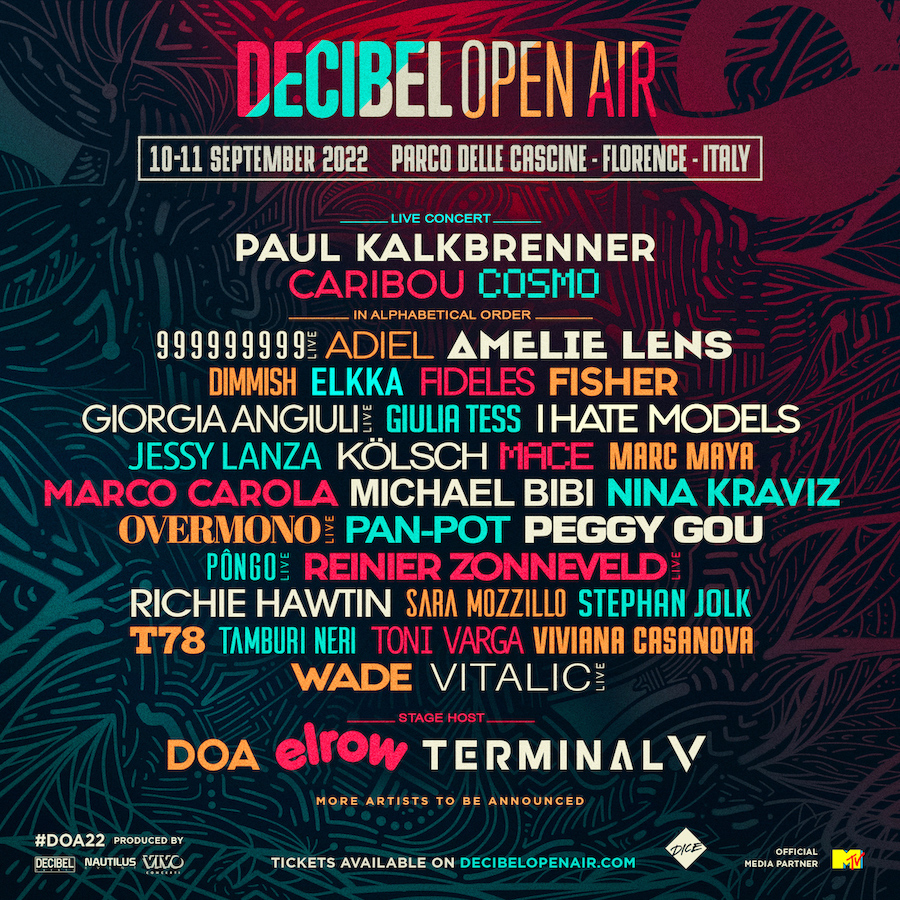 The fourth edition of Decibel Open Air will go down in the history of Italian clubbing even before starting. In a sector that has risked total collapse after an excessive period of emptiness, this festival demonstrates that clubbing will never die in Italy. A story made up of ups and downs, but which sees us on a par – if not more than – most of the European realities. What can I say, certainly among the most bombastic.
Oh no, don't think you have to wait another four months without surprises! The organization of the Decibel has launched – in fact – an additional campaign of events lasting four days called Decibel Presents. One location – Ultravox – five days, five gigs, six Techno stars that will make the wait more lively and kicking.
It starts on May 15th where a local pride like Ilario Alicante will do the honors. From the first steps of his bedroom in Livorno, passing through the landing place at Tenax up to the top of the global Techno. On this date, one of the best products of the nursery returns home, to wish a summer full of music.
History within history, a living legend that on June 1st will tread the Florentine soil for an evening that promises to be unparalleled. A man who literally marked an era thanks to his hits, of which we still can't help but dance. Ladies and gentlemen, Fatboy Slim.
A Tenax habituee , an overseas idol, but above all a pillar of international Techno. A unique, personal, minimalist and crazy engaging style: on June 11th the Cascine Amphitheater will host Joseph Capriati.
A more unique than rare story, a love story – in the true sense of the term – in the name of Techno. For the first time ever, Florence hosts one of the most romantic and exciting b2b that the panorama can offer: on June 25th get ready for "the age of love" by Charlotte de Witte b2b Enrico Sangiuliano.
Last in chronological order, before the main event on September 10th and 11th, will be the evening of July 12th. A living legend, a master, an electronics esthete treading the ground of Ultravox: Solomun.