Our New Turning Point
Step by step, we are moving through to see the daylight. Day after day, a sincere optimism continues to strike us. Perhaps, finally, this arid period of musical drought seems to have reached a deserved – and damned – epilogue. Let's all mark these dates on the calendar: 11 and 12 September 2021. Not just any weekend, but the Redemption weekend with a capital R. Two days in which the Visarno Arena, in the green heart of Florence, will echo with music to definitively overcome the darkest period that the music industry has ever faced. Hold on tight and fasten your seat belts: Decibel Open Air 2021 is finally upon us!
New starting point and pride of one of the countries that has suffered the most from the Covid-19 pandemic. In no uncertain terms, the 2021 edition of DOA is preparing to be the most relevant and incisive electronic music festival on the planet. The nerve center of a system that will learn to rise like never before, in the face of unjustified bigotry and the disgusting indifference shown towards it. Words too much honey? Then maybe you haven't had a chance to study the line-up yet. Quickly done: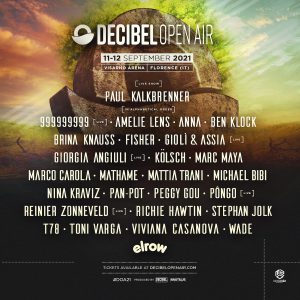 The Line Up
Literally thrilling names, which meet the needs of the most demanding, as well as the crème de la crème of OUR indisputable bigwigs of the techno-underground world. Great international names such as Paul Kalkbrenner, Nina Kravitz, and Fisher return to popular acclaim, who have already had the opportunity to "taste" this festival's warmth and energy. Alongside them, DOA will host a few "neophytes" of the Visarno Arena such as Amelie Lens, Ben Klock, Kolsch, Pan Pot, Peggy Gou, Richie Hawtin and Reiner Zonneveld.
Yes, ok, but above all it is necessary to introduce our techno flagships, both established at home and abroad. With enormous hype, Florence welcomes for the first time the Milan-based duo 999999999 – read "nine times nine" – with their bombastic acid techno. Followed by the two sicilian tigers Gioli & Assia, coming from several sold out during their American Tour, with their very original electro-indie. Undisputed avant-garde and too brilliant mind to be understood by the bigots we mentioned above, we are also pleased to welcome Giorgia Angiuli live. Social Media star both for his character and for his particular tendency to bomb the dancefloor, we suggest wearing a helmet during T78 set.
 A new beginning
Just by re-reading them, our hearts sparkle with pride and trepidation. It has been a logorant wait to attend a show like the one that the sixth edition of Decibel Open Air will give us. DOA will be divided into two stages, the Main one and the Elrow stage, as weel as the past edition. It will be literally impossible not to satisfy the tastes of the tens of thousands of expected spectators. A new point to start over, a pride for our country, a cry of victory for all of us, who want to start again from here.