From cereal boxes… to world tours
As you may have read, we really like to talk about talent around the world; we flew to Europe with KREAM and Matroda, to the UK with James Hype, to America with SIDEPIECE.
Today we are going to talk about an artist also beyond our continent, more precisely, in Australia (put your heart in peace already from now, from the title you will have understood that we are not going to talk about FISHER) to tell you about a guy in his thirties but who has been making us dream for years with his very particular but pleasant sound, almost his own personal vision of future bass.
Ladies and gentlemen, today we are talking about FLUME.
Harley Edward Streten was born in Sydney on November 5, 1991, and started producing at the age of 13 – like so many of his peers – thanks to an event that was, to say the least, freaky and unusual, a true fluke: a producing program found in a cereal box. From there, he began his musical journey, which would culminate at age 19, when he began his career as a house music producer, under the name HEDS – taken from his initials.
A decade on fire in the studio (2012-2022)
Flume's debut is dated 2012, when he releases his 109 million streams Sleepless, which will later be included in his debut album Flume. This was a resounding success to say the least: it started with two awards at the 2013 AIR Awards as "Best Artist" and "Best Dance Album", the track Holding On declared "Best Dance Single"; also at the ARIA Awards he was named "Best Male Producer," and why not also add a "Best Producer of the Year," along with the album being named "Best Dance Release."
And here alone he made it clear: he is not to be trifled with.
In 2013, the deluxe version of his debut album saw the light of day, where he doubled the number of songs (from 15 to 34) and among them appeared the boy's iconic, now-infamous remixed track You & Me by Disclosure, which took home over 490 million streams. An EP was also released that year; it was Lockjaw, which saw Drop The Game as his most listened track (252 million times).
Let's move on to 2015, a somewhat peculiar year for the young Australian; he had long had a side project of his own called What So Not together with his friend Emoh Instead (stage name of Chris Emerson, also Australian), and the two had released a few tracks such as Tell Me in collaboration with RL Grime. The success was there, the duo became famous and loved within a short time, however, we all know: everything, sooner or later, comes to an end.
With a Facebook statement from the duo's page, Harley announces the reasons for this decision; we read about "increasingly divergent musical genres from his mate," talks about Gemini EP, the last signed What So Not (as a duo) and released on May 9 of that year, finally the split of the two shortly after.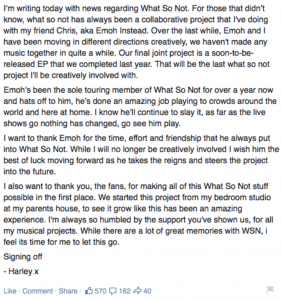 The following year, the Flume project continued smoothly; he released Never Be Like You, which got 625 million streams and a few remixes, including one by Disclosure, Smoke & Retribution with 62 million, and the hugely popular Say It together with singer Tove Lo, which took home 350 million streams. Another EP also saw the light of day in this year, Skin Companion I, with a total of 34 million streams for all songs.
In 2017, future bass mainstay Illenium honours the collaboration with Tove Lo by remixing it and adding 128 thousand streams to the already very famous original, while the Australian releases Hyperreal, with 48 million as a result; in addition, the follow-up to the last EP is also released: Skin Companion II, with very modest results.
Two years later, Flume decided to release a mixtape called Hi, this is Flume made up of 17 songs and yet it got very good results; after that, he released Rushing Back, which got 119 million and was remixed in so many ways (from Petit Biscuit to MJ Cole's UK Garage), that they were grouped together and released as a follow-up collection.
We all know it by now, we always repeat ourselves: 2020 is the year when everything went on forced hiatus. Here, Flume did not go on hiatus either; rather, he decided to use the time at home to remix the iconic Blue (Da Ba Dee) and release another track of his own, called The Difference.
Finally, after a 2021 in which we see a remix with only 3 million streams (Danny L. Harle's On A Mountain), 2022 gets the bang for its buck: from Say Nothing and its 20 million streams, moving between Sirens and Escape/Palaces (4, 3, and one million, respectively), with Hollow following (one million but growing), and then concluding by combining them all and adding new ones in one collection: Palaces, released very few weeks ago and growing steadily.
https://www.instagram.com/tv/CeNKcoZAVqc/?utm_source=ig_web_copy_link
Would you have guessed, from a situation like the cereal box one, that he would reach 11 million monthly listeners and ninth place in Australia's Top 50 Best DJs? That he would win a slew of awards with only a debut album?
Whether it was fate, or luck, we will never know; we only know that it was thanks to that cereal box that the music industry now enjoys an innate talent, an ace in the hole with alternative sounds, beloved by audiences and the world music scene, who is Harley Streten, aka Flume.
I am 22 and graduating in Linguistic and Cultural Mediation at the Ca' Foscari University of Venice, I speak 4 languages and I am very passionate about music, concerts and festivals. After graduation, I'd like to aim for a profession in the music industry and I am a proud dreamer but down to earth.