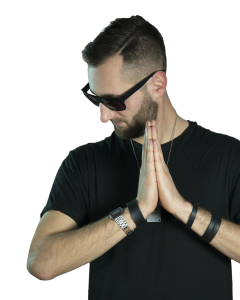 Don Paolo è uno di quei dj che sta vivendo il sogno: una passione nata grazie a Albertino e Radio Deejay che l'ha portato a muovere i primi passi nei club locali della provincia di Cuneo fino ad arrivare a palchi ben più prestigiosi come il leggendario Noa Club di Pag, il Montecristo di Corfù e lo Shoko di Barcellona, grazie anche all'ingresso nel roster di VGMania che l'ha portato a girare il mondo con i loro viaggi-evento per giovani.
Ma essere un dj nel 2019 non è solo questione di skill dietro ai piatti, e l'artista saluzzese lo sa bene.
Ecco così arrivare le prime produzioni, le prime tracce firmate da lui, rilasciate inizialmente su Soundcloud in free download, fino ad arrivare a release sempre più di livello.
"Nothing But The Funk" è il suo ultimo singolo su Banzai Records, disponibile in free download: già supportato da grandissimi nomi del panorama EDM come Bingo Players, SDJM e Unity Brothers, presenta le percussioni come elemento principale, accompagnato da melodie eclettiche e una grossa voce maschile che anticipa un drop  funky house, genere riportato alla ribalta da etichette come Size Records di Steve Angello e Sosumi Records di Kryder.
Un disco da club che è già un must nelle playlist e nei dj set, un buildup carico di energia che porta a un drop che farà saltare in aria le piste di qualsiasi club.
FREE DOWNLOAD: https://fanlink.to/bnz020
Prossimo appuntamento obbligatorio dal 25 al 28 Aprile a Umag, Croazia, in occasione del decimo anniversario di Spring Break Invasion, dove potremo trovare Don Paolo in consolle per ballare al ritmo di "Nothing But The Funk".
Ascolta il mixato di Don Paolo per Banzai Records su Soundcloud!