E' sempre durante il Press Day di Spinnin' Records, dove abbiamo avuto la possibilità di intervistare artisti come Dannic, EDX, Asco e molti altri ancora, che abbiamo avuto la possibilità di scambiare una veloce chiacchierata con la giovane promessa olandese di Spinnin' Records/Spinnin' Next: Sophie Francis.
Sophie è una giovane dj/producer olandese di 19 anni che, nell'ultimo anno ha saputo dimostrare il suo talento al grande pubblico, fino a conquistare la famosa label dance Spinnin' Records.
Subito abbiamo avuto l'impressione di parlare con una ragazza molto simpatica e molto disponibile, concedendo a youBEAT una breve intervista in cui ci ha raccontato come ha iniziato il suo percorso e alcuni degli importanti traguardi raggiunti in questo breve periodo (molti dei quali durante l'ultimo anno).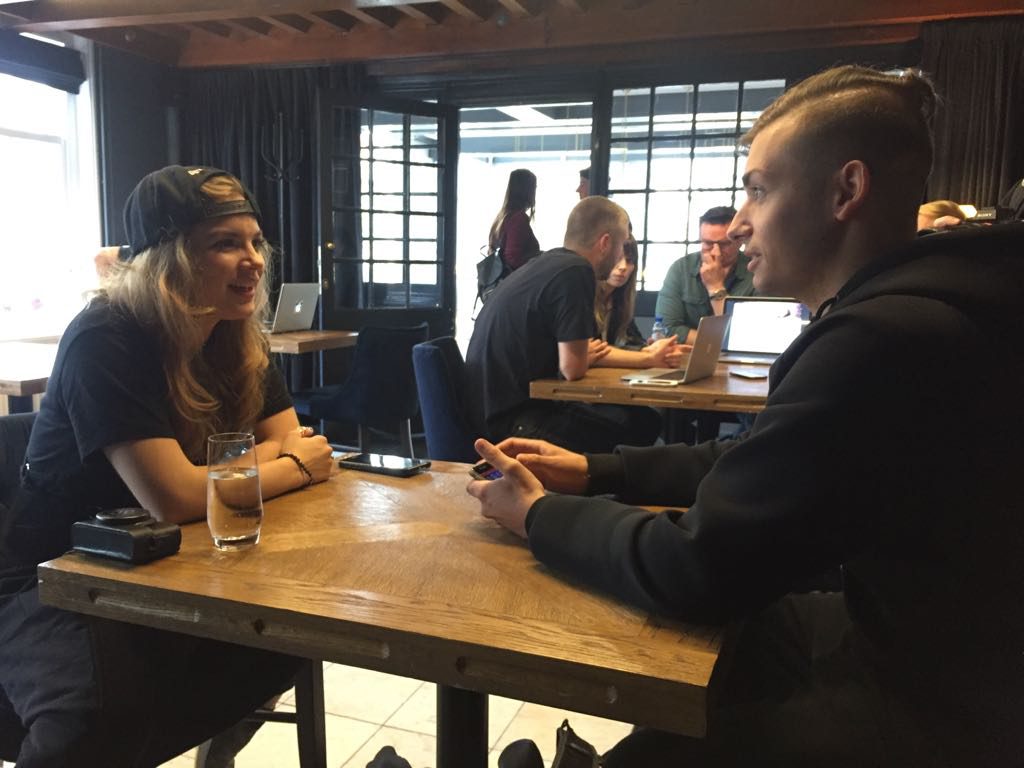 ENG:
Hi Sophie! This year you've opened the Spinnin Session stage during the last edition of Tomorrowland. What did you feel about this experience?
Sophie Francis) It was such a great experience. It was so crazy and the crowd was so energetic.
I knew a lot of people and a received a lot of support from the artists.
I think It's gorgeous to be known by the people and see how the crowd reacts on your music and on what are you doing.
During the last year you've signed with Spinnin. Is it an important step for a young artist like you?
SF) It was definitely an absolute step.
Today everyone want to sign with Spinnin' and I think It's a very important step in the career of a young artist.
 I want to ask how did you approach the Dance music and how you've started producing Music.
SF) I've started producing music using Fruity Loops 3 (before it became FL Studio, ed.) where I moved my first steps. After this, I changed to Studio One and now, I'm using Ableton.
As my approach with Electronic Dance Music, I produce what It make me feels right. I don't classify my tracks as a specific style and It's not important for me if I've produced trap, pop, vocal or bigroom.
For example, my next track will be released on Smash The House (the label of Dimitri Vegas and Like Mike, ed) and It will be bigroom.
In your social channels, we have seen that you're frequently with young talented artists like Curbi or Mike Williams. How is work with them?
SF) There's a special friendship between us. I knew them thanks to Spinnin' Next (young artist platform created by Spinnin Records, ed) and since We're all young, We try to help each other.
What do you think about the DjMag's Top100 Djs and his evolution during the last year?
SF) In some countries the DjMag's Top100 Djs is very important, in others less. I think It's an important step for an artist become a part of this ranking. I really hope to enter this list, It will means I really did a good job for my fans.
One last question, would you like to play in Italy?
SF) I went in Italy in the last december (2016). I really loved this gig because the Italian crowd is very crazy.
____________
STREAM / DOWNLOAD "Get Over It", out now on Smash The House:
lnk.to/SophieFrancisGetOverIt

ITA:
Ciao Sophie! Quest'anno ti abbiamo visto aprire lo stage di Spinnin' Session al Tomorrowland. Ci puoi raccontare come è stata quest'esperienza?
Sophie Francis) È stata veramente un'esperienza fantastica: tutto così molto "pazzo", compreso il pubblico in pista che era scatenato.
Ho conosciuto moltissime persone e ho ricevuto tanti support dagli artisti presenti.
Penso sia stato uno step molto importante per farmi conoscere dal pubblico e un'ottima occasione per vedere come il dancefloor reagisce, sia per la mia musica, sia per il mio set.
Durante l'ultimo anno hai firmato con Spinnin'. Lo consideri uno step importante per una giovane artista come te?
SF) È stato uno step veramente molto importante.
Al giorno d'oggi chiunque vorrebbe firmare un contratto con Spinnin' e credo sia uno degli step più importanti che un giovane artista possa fare nella sua carriera.
Ci potresti raccontare qual è il tuo approccio con la musica dance e come hai iniziato a produrre musica?
SF) Ho iniziato a produrre musica utilizzando Fruity Loops 3 (prima che diventasse FL Studio, ndr), dove ho mosso i miei primi passi. In seguito, sono passata a Studio One per poi arrivare ad Ableton, che uso attualmente.
Per quanto riguarda il mio approccio con la musica Dance invece, produco solo quello che mi fa stare bene.
Non classifico le mie tracce secondo un genere specifico, di conseguenza non ritengo importante se la traccia che ho prodotto è trap, pop, vocal o bigroom.
Per farti un esempio, la mia prossima traccia che uscirà su Smash The House (la label di Dimitri Vegas & Like Mike, ndr) sarà bigroom.
yAttraverso i tuoi social, abbiamo visto che sei spesso con giovani artisti come Curbi e Mike Williams. Com'è lavorare con loro?
SF) C'è un rapporto di amicizia speciale tra di noi. Li ho conosciuti attraverso Spinnin' Next (la piattaforma di Spinnin' per la promozione dei giovani talenti, ndr) ed essendo tutti molto giovani, cerchiamo di aiutarci a vicenda.
Cosa ne pensi della Dj Mag Top100 DJS e della sua evoluzione durante gli ultimi anni?
SF) Penso che in alcune nazioni la Dj Mag Top100 DJS sia veramente molto importante, mentre in altre meno. Personalmente trovo che entrare in classifica, sia un punto di svolta nella carriera di un'artista.
Spero che un giorno possa farvi parte pure io, significherà che sono riuscita a svolgere un buon lavoro nei confronti del mio pubblico.
Un'ultima domanda, ti piacerebbe venire a suonare in Italia?
SF) Ci sono stata lo scorso dicembre (2016). Mi è piaciuto veramente molto perché il vostro pubblico è veramente pazzo.
youBEAT ringrazia Sophie Francis e Spinnin' Records per la disponibilità riservataci.
---
Segui Sophie Francis:
Facebook: @sophiefrancismusic
Instagram: @sophiefrancismusic
Twitter: @sfrancismusic
Soundcloud: @sophiefrancismusic
Tecnico informatico di professione, plur addicted and raver per passione.