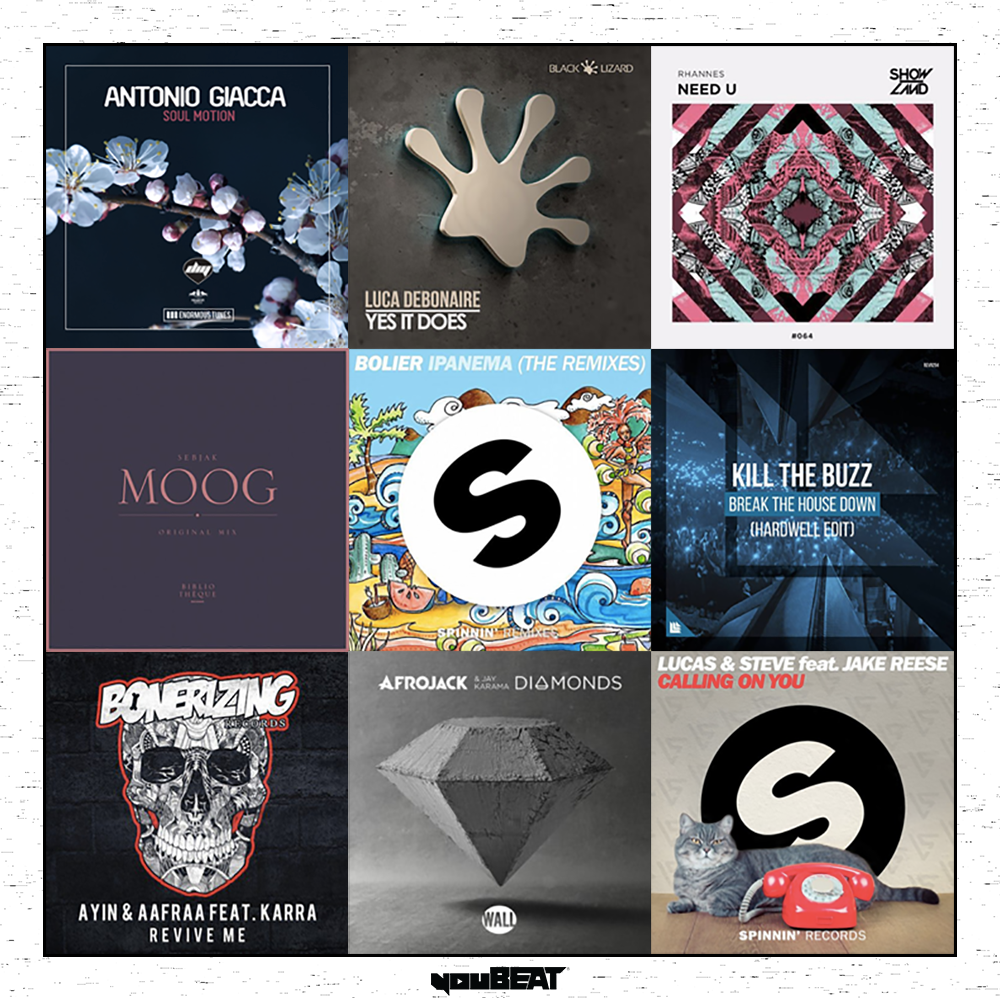 Scopri 9 tra le uscite più interessanti di questa settimana con la rubrica ‪#‎WeeklyMusiCollage!
[2-8 Gennaio 2017]
---
Inizia il 2017 e ovviamente non poteva mancare l'appuntamento con il musicollage settimanale sulle nuove uscite, che cambia nome e grafica in #WeeklyMusiCollage.
Come sempre, vi suggeriamo le uscite più interessanti dei prossimi sette giorni.
Anche in questa non avremo moltissime nuove tracce, ma qualcosa inizia comunque a muoversi.
Decisamente degno di nota è l'Extended Play di casa Spinnin' Records, l'insieme dei remix della splendida "Ipanema", pezzo tribal di Bolier della scorsa estate, fra cui l'interessante versione firmata Marcus Schossow.
Proseguiamo con una nuova traccia Revealed Records, la label di Hardwell, che sfornerà la versione del dj numero tre al mondo di "Break The House Down" di Kill The Buzz: attenzione alle nuove uscite Revealed visto che da quest'oggi mostreranno una grafica completamente rivisitata rispetto al passato.
Degna di nota è anche "Moog", pezzone progressive house di Sebjak sulla neonata Bibliotheque Records. Proseguiamo con "Need U" di Rhannes, in uscita su Showland, e la nuova produzione di Luca Debonaire, leggasi "Yes it does", sulla casa discografica BLACK LIZARD.
Chiudiamo le release di quest'oggi, 2 gennaio 2017, con altre due canzoni. La prima è senza dubbio la più tamarra del giro, ovvero, "Revive Me" di Ayin & AAfrAA feat. KARRA, su Bonerizing. L'altra è invece decisamente più soft, ed è "Soul Motion", dell'americano di origini italiane Antonio Giacca.
Per completare la rubrica di oggi, passiamo alle uscite di venerdì 6 gennaio. Grande attenzione su "Calling on you", pezzo house dei grandissimi Lucas & Steve che verrà rilasciato come da copione da Spinnin. Farà la sua comparsa anche Afrojack, che insieme a Jay Karama ci regalerà la sua Diamonds, ovviamente su WALL.
Buon ascolto e dalla redazione intera di youBEAT di nuovo buon anno 2017!
---
2 JAN
• Antonio Giacca – Soul Motion [Enormous Tunes]
• Ayin & AAfrAA feat. Karra – Revive Me [Bonerizing Records]
• Bolier – IPANEMA (The Remixes) [Spinnin' Records]
• Kill the Buzz – Break The House Down (Hardwell Edit) [Revealed Recordings]
• Luca Debonaire – Yes it Does [Black Lizard Records]
• R H Λ N N E S – Need U [SHOWLAND]
• SEBJAK – Moog [Bibliothèque Records]
6 JAN
• Afrojack & Jay Karama – Diamonds [Wall Recordings]
• Lucas & Steve – Calling On You [Spinnin' Records]
---
Vota la tua preferita e commenta con altre suggestions per questa settimana!
#WeeklyMusiCollage