Virtual Music Conference è la prima conferenza mondiale per la musica dance interamente online.
Ideata dalla sinergia tra l'etichetta inglese Toolroom (attiva dal 2003 e tra le maggiori per la musica House) e la piattaforma Label Worx (servizi per etichette indipendenti come Distribution, Promo, Royalty Accounting, Demo Solutions, Mastering & Website Design), Virtual Music Conference è una combinazione di webinar e case study in streaming programmata per il 4 Giugno 2020, in cui gli esperti del settore affronteranno e analizzeranno la situazione attuale nel mondo della musica dance.
"Get real solutions to real problems" – "Expand Your Network" – "Support the scene"
Sono questi i claim principali della conferenza, che si pone come obiettivi il supporto, l'espansione e nuove soluzioni per il network dell'industria musicale.
Tutti i profitti derivanti dalla vendita dei biglietti, in early bird fino a Sabato 23 Maggio a 15 sterline saranno donati a enti di beneficenza a sostegno dell'industria musicale durante la pandemia Coronavirus. Il biglietto darà accesso a una borsa digitale con elementi esclusivi e codici sconto dei partner della conferenza.
Espandi la tua rete professionale partecipando a Q&A in conferenza live! Tutte le sessioni saranno registrate e disponibili online per la visualizzazione a vostro piacimento poco dopo la fine della conferenza.
Come mando una demo alle label? Come sviluppo il mio profilo sui social media o un'etichetta? Come monetizzo la mia musica e racconto la mia storia tramite la stampa? Come posso proteggere i miei diritti musicali e come promuovermi attraverso radio e podcast?
A questo link tutti gli ospiti presenti che porteranno la loro esperienza e il loro know-how su questi argomenti,, tra cui Beatport, 1001Tracklists, Defected Records, Anjunabeats, Doors Open, Infectious PR Inflyte, Little Louie Vega, BBC Radio 1, Mark Knight, Mixcloud, SoundCloud, ToneDen, Traxsource e molti altri!
Di seguito tutte le sessioni HOW DO ai quali gli ospiti della conference risponderanno:
How do I get a label to listen?
Stuart Knight TOOLROOM
Gareth Jones ANJUNABEATS
Nikki Ellis HOSPITAL RECORDS
Yousef CIRCUS RECORDS
How do I break through?
Lee Haslam LOCUS MANAGEMENT
ALISHA DJ
GW Harrison DJ
How do I get gigs?
Sam Divine DJ
JoJo Walker WALKER MUSIC SERVICES / HALCYON SF / E KOMO MAI
Emma Hoser BOOKING AGENT
How do I build my profile on social media?
Pete Griffiths TOOLROOM
Jacky DJ
Jenny Mac RISING DIGITAL
Sacha Robotti DJ
How do I tell my story through the press?
Dave Jenkins MUSIC WRITER / AUTHOR / D&BTV PRESENTER
Posey Collis ORCA SOUND PROJECT
Jolyon Klean ORCA SOUND PROJECT
Jeryl Wilton INFECTIOUS PR
How do I create identity in my music?
Mark Knight TOOLROOM
Pete Griffiths TOOLROOM
Louie Vega DJ
Dan Duncan PIG&DAN
How do I build a world-class record label?
Stuart Knight TOOLROOM
Allan McGrath ANJUNABEATS
Jim Gash RAM RECORDS
Christian Smith TRONIC
How do I make the most of Beatport Hype?
Deniz Everling BEATPORT
Sam Dexter HUNGARIAN HOT WAX
Glen Horsborough LET THERE BE HOUSE
How do I monetise my music?
Mark Lawrence SENTRIC
Matt Abbott LABEL WORX
Ashley Howard PRS FOR MUSIC
Tony Rakaupai LIME BLUE MUSIC
How do I protect my music rights?
Brian Tappert TRAXSOURCE
Ben Rush AUDIOLOCK / THE MUSIC MISSION
Nico Perez MIXCLOUD
How do I use radio and podcasts to promote myself?
Katie Knight IBIZA GLOBAL RADIO
Andi Durrant DISTORTED
Nick Riley DISTORTED
Matt Healy WE ARE GRAPE
James Forster BBC RADIO 1
What are the careers behind the scenes?
Stuart Knight TOOLROOM
Barry Almond GOODGREEF / ACTIVE TALENT AGENCY
Inacio Martinelli DOORS OPEN
How do I use data?
Jack Bridges SOUNDCLOUD
Oskar Eichler SONGSTATS / 1001TRACKLISTS
Jason Hobbs FOUND.EE
How do I get more streams from Spotify's Discover Weekly?
Ali Shakeri TONEDEN
How do I get paid faster?
Dave Tomaselli PAPERCHAIN
The legal stuff you need to know
Jules O'Riordan AKA Judge Jules SOUND ADVICE
How can being part of a community help my career?
Ellie Bryant THE HALLEY / AEI
How do I effectively use Beatport LINK?
Beatport ELECTRONIC MUSIC STORE & SERVICE
How do I make sure DJ promo is effective?
Evan Sacks 1001TRACKLISTS
Paul Hamill INFLYTE
+ more TBC
Roundtable: What's next for labels in 2021?
Stuart Knight TOOLROOM
Chris Goss HOSPITAL RECORDS
James Kirkham DEFECTED
Ramin Rezaie SOLID GROOVES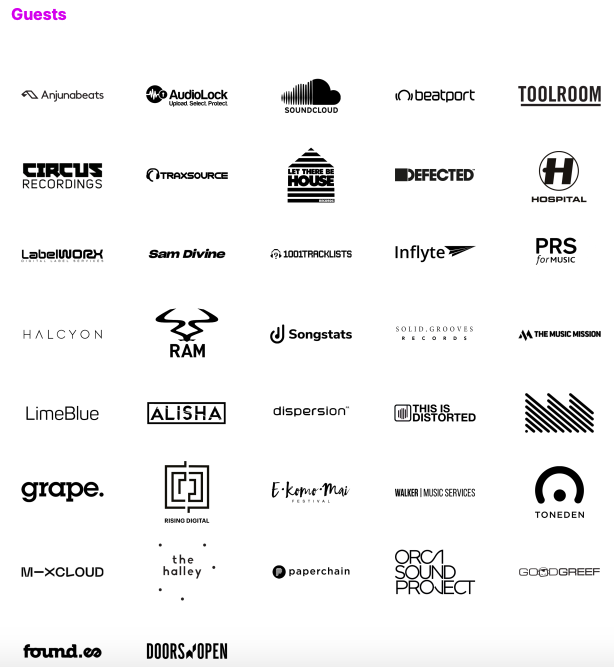 25y passionate about music, social media, digital marketing and business insights. Currently working at EGO Music (www.egomusic.net), independent dance/electronic music company, while developing italian EDM blog youBEAT (www.youbeat.it) founded in 2012.
Graduated in Media Languages at UCSC in Milan (Università Cattolica del Sacro Cuore) with a thesis on the revolution of daily life with the streaming in entertainment and information.
Everyday more passionate and keen about digital, marketing and social media worlds and how they fit and integrate each other in this everyday faster social connected world based on interactions and sharing of contents and data.