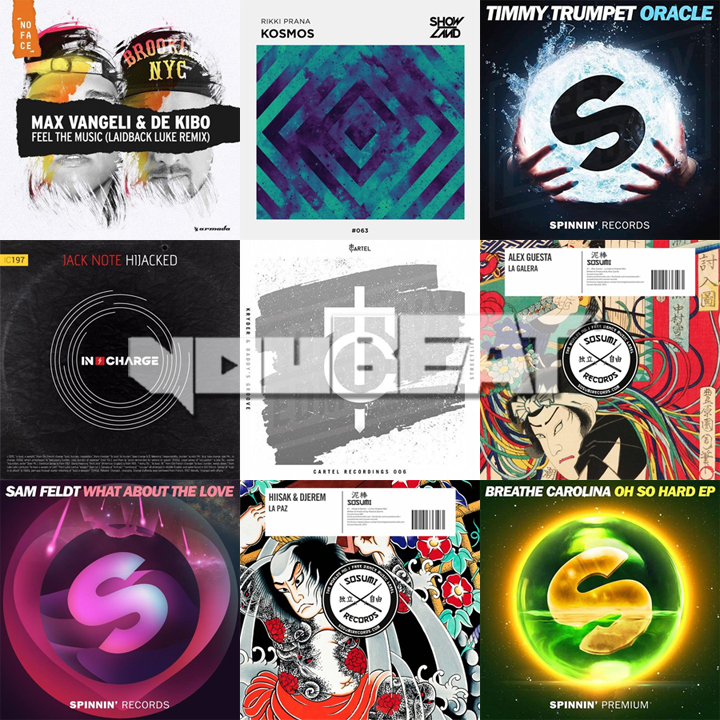 Scopri 9 tra le uscite più interessanti di questa settimana con la rubrica ‪#‎NEWMusiCollageOfTheWeek! [19-25 Dicembre 2016]
---
Eccoci nuovamente insieme per il penultimo appuntamento del 2016 con il New MusiCollage of the Week, la rubrica dedicata alle migliori release settimanali. Tanta carne al fuoco e soprattutto molte le tracce prodotte dai nostri compatrioti.
Partiamo proprio da queste ultime e precisamente da "Streetlife", canzone davvero interessante realizzata a quattro mani dal grande Daddy's Groove in compagnia del fenomenale Kryder, in uscita su Cartel Records.
Proseguiamo con un'altra traccia decisamente attesa, leggasi "Oracle" di quel matto di Timmy Trumpet, rilasciata dalla colossale Spinnin' Records. Sempre oggi, 19 dicembre, verrà rilasciato anche il remix di Laidback Luke di "Feel the music", canzone prodotta da Max Vangeli in compagni di De Kibo, in uscita su NoFace Records.
Proseguiamo quindi con "Kosmos" di Rikki Prana su Showland. Italiani che torneranno a farsi sentire mercoledì 21 dicembre, precisamente con "La galera", pezzone tribal di Alex Guesta, in uscita in forma totalmente gratuita su Sosumi Records.
Infine, attenzione alle produzioni che verranno commercializzate venerdì 23 dicembre, l'anti-vigilia di Natale. Spazio anche in questo caso agli italiani, e precisamente a "La Paz", creata dal talentuoso Hiisak con Djerem, in uscita anche questa su Sosumi.
Molto interessante anche un'altra produzione tricolore, leggasi "Hijacked" del fiorentino Jack Note, rilasciata da Be Yourself. A conclusione di questa rubrica, non potevo non nominare il nuovo EP dei Breathe Carolina, "Oh so hard", che come dice già il nome si preannuncia davvero tosto (Spinnin' Records).
Infine, merita senza dubbio più di un ascolto a "What about the love" di Sam Feldt, altro pezzo rilasciato dalla mastodontica casa discografica olandese. Buon ascolto e a lunedì prossimo!
19 Dicembre
Max Vangeli & De Kibo – Feel The Music (Laidback Luke Remix) [NOFACE]
Preview: https://goo.gl/i0k5QE
Kryder & Daddy's Groove – Streetlife [Cartel Recordings]
Preview: https://goo.gl/VuocXE
Rikki Prana – Kosmos [SHOWLAND]
Preview: https://goo.gl/k5r3gP
Timmy Trumpet – Oracle [Spinnin' Records]
Preview: https://goo.gl/UUxhTg
21 Dicembre
ALEX GUESTA – La galera [Sosumi Records]
Preview: https://goo.gl/JRJrk4
23 Dicembre
Breathe Carolina – Oh So Hard EP [Spinnin' Records]
Preview: https://goo.gl/nveHSr
Jack Note – Hijacked [Be Yourself Music]
Preview: https://goo.gl/HytZFN
Hiisak & Djerem – La Paz [Sosumi Records]
Preview: https://goo.gl/7LTbbk
Sam Feldt – What about the love [Spinnin' Records]
Preview: https://goo.gl/UnDXz8