PTDJA is the new DJ Academy that aim for the throne in a blooming market of digital music courses. Born from the joint effort of BBC Radio 1 Speaker and Dj legend Pete Tong and MAT Academy's founders Nello Greco & Alex Tripi aka The ReLOUD, this open-to-everyone academy features some of the biggest name in the game as teachers, like Carl Cox, Jamie Jones, Nicole Moudaber and TSHA.
Alex and Pete Tong took the stage during IMS Ibiza 2022 to unveil the project and we had the pleasure to have a chat with The ReLOUD to talk about the thing, here's our interview.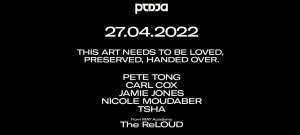 youBEAT: PTDJA is surely one of the most ambitious academy out there, how did this idea of an academy with Pete Tong as the main teacher came to life?
Alex&Nello: It started based on two ideals of ours: dream big and never give up on your goals, these two principles kept us going in a project that took ove 3 years of development, trying to find the right people, and it finally paid off. PTDJA is born from an idea of ours of bringing our academy to an international level and Pete Tong was the right candidate for the main role as a teacher based on his countless accolades as a DJ and as a radio speaker, he's very polyedric and would create no jelousy over the choice among the community.
How did we find Pete? Well, that was a little fortunate: we were asking Fatboy Slim for a remix, but despite liking the song we submitted, it never came to life, however we noticed his manager's signature in the mails and we recalled it was the same person who managed Pete Tong, from there we pinned our idea of an international academy to him and he was thrilled.
youBEAT:  How did the other artists join the roster? How did you choose the other members?
Alex&Nello: When we sketched the idea on paper at first we thought "There's no DJ academy without Carl Cox" and from there we wrote down some other names that would be beneficial to our project: from Pete and Carl, representing the history of the art of djing, to Jamie Jones and his "Circoloco", "DC10" vibes from Ibiza, to Nicole Moudaber and her hybrid style, mixing and playing live with Traktor, Ableton and samplers. Finally TSHA, which is a newcomer but with a startling career already, with an album out soon on Ninja Tune and an strong fan base behind her, she even supported us as The ReLOUD in the past but the idea of calling her came from Pete Tong himself, and we couldn't be happier.
youBEAT:  Are you already planning on expanding your roster in the near future?
Alex&Nello: Absolutely, this is a starting point, not the finish line. PTDJA is an online academy, therefore adjustable and upgradeable in case we want to add more courses or teachers. We surely want to expand and we are scouting other Djs ot there, but we can't spoil much, be assured they will be on the same level of the already confirmed teachers, but representing different genres. Just to give you an idea, in the first 72 hours since we launched our website we already have traffic from 96 different countries, the first students are coming from Australia, UK, Kuwait, Japan; we are currently thinking about signing strongly relevant Djs based on a geography area, we are currently monitoring South America, China and India's markets and their own unique artists.
youBEAT:  What can a new user expect when he subscribes on the platform? How are your courses structured?
Alex&Nello: Our courses are targeted for everyone, to beginners and veterans as well, that's a profession where you can always improve and with teachers like ours there's surely room for improvement. We start with a technical class, where you'll discover the differences between the decks and the mixers, both analog and digital, everything you can replicate then on your own house-set. Then we have some interesting challenges, like covering the bpm counter with some tape so you have to rely on your earing only.
We have a "Knowledge" class, where we will teach you how to approach the industry, how to kickstart your career, how to contact booking agencies and even some dj etiquette, such as what to play and what not based on your time-slot and to proper behave in what is essentially an economic system. You can listen to some experiences lived from the man itself: Carl Cox, who tells how he got his first dj consolle by using his pocket money and how he didn't play for the first 5 years of his career, in order to learn the basics perfectly, those stories really put some things in a new perspective for a new student.
Lastly, we have many more rewards for who wants to join PTDJA: 3 free months of Beatport Link, multiple record bags from the biggest labels and djs to fill your USB pen and the chance to join our talent pool, which will guarantee the chance to play in exclusive clubs, festivals and radioshows.
youBEAT:  As MAT Academy you started your journey with production-focused courses, would you like to bring them into PTDJA in the future?
Alex&Nello: PTDA is born mainly to restore the dignity of the DJ as a professional figure. As MAT Academy we already had some production based courses, like one in collaboration with Axtone, led by Axwell himself and translated in Spanish, English and Italian. We are secretly working on another project for music producers on which we are working for 3 years, we are finalizing the deal. Even though we don't think there's really someone like a Pete Tong for producers, you can do something in an other way…we hope to present what we are working on soon, maybe at the next IMS.
youBEAT:  You chose IMS Ibiza as the perfect frame to present PTDJA for the first time, are you planning more panles like that  in the future? Or maybe some masterclasses?
Alex&Nello: That's actually something we are working on for the next events, maybe some live sessions made ad hoc, both for producers and djs, maybe with some of our teachers as special guests if possible. We are working on some live panels, one week long, where you can learn the basics as a new student. Our goal since we started has been to become the leaders in the music academy business, with a clear and simple communication, without being tedious and annoying, we think we are going in the right direction with the right grit. Here at IMS Ibiza we discovered some amazing new technologies like Web3 and Metaverses, where you can interact with multiple setups you couldn't have the chance to in the real world. We think technology is great and a really useful tool, but you can't always lean on that, especially as a Dj everything could go wrong, and we'll teach you how not to screw up in case technology lets you down.