Double interview with Croatian-German dj & producer Tobias TOPIC together with Spanish star ALVARO Tauchert SOLER, together for "Solo Para Ti" out now on UMG. A meeting between dance and latin world in a unique experiment between two artists that share some interests like sports.. and an unmissable whistle challenge at the end!
_______
After #1 in Germany with 'In Your Arms (For An Angel)' , Topic has gold, double diamond, triple, quadruple, and even dozens platinum certifications in 28 countries around the world and his song 'Your Love (9PM)' with ATB and A7S was nominated for the 2022 BRIT Awards.
Counting over 1,5B Spotify streams, Alvaro Soler is among the most famous Spanish singers around the world and especially in Italy where he kept his album "Eterno Agosto" 53 weeks in the bestseller chart and also thanks to his collaborations with Baby K and Emma and his judge role at X Factor 2016.
Let's start with your collaboration "Solo Para Ti", about the dilemma between heart & mind in love.
Love is a common topic between your songs like "Sofia", "Your Love" is gonna "Breaking Me". How did you meet and work on the single and what's your solution?
Topic: So we've met through a mutual friend of ours , he's also managing Alvaro and at some point he connected us. I think we've known each other since 2015, but we never met. We never worked together before. At some point, they reached out to me and asked me , 'Do you wanna work with Alvaro? He's in Berlin' . We found some dates and met in October 2020 for a first session. It was very interesting because both of us didn't know what to expect. I think both of our worlds are kind of far off, in terms of music. But then we just started jamming and everything went very, very well.
What about the solution? What do you choose between heart or mind in love?
Alvaro Soler: Yeah, I think it's pretty difficult. I think there's not a correct answer to that. And I think like, you should just be happy with what you choose cause regret is horrible. So you should make a decision, but it's very hard of course, because in that moment you don't know which one is right, that is what makes it so hard.. Also family is important, people who know you from forever and your friends, that might help. But I think what helps me is meditation. Meditation is really important for me. And I feel that in a way you can visualize and see more clearly what is happening. Everyone has its own way of doing it and sometimes we just have to learn by trying and by doing and by getting heartbroken, it is inevitable and part of live.
"Magic is in the little things.." Which are yours in daily life like normal but fundamental moments or activities?
Alvaro Soler: The most important of little things in life for me are eating cause I love eating. You know, in Italy everyone likes food as well as in Spain. Yesterday I was in a restaurant with my friends and I ate "Patatas Bravas", these very small cut and fried potatoes with incredible spicy sauce and wow, it was so good. IT was a one of those moments when You say "Mamma Mia", and those things are just incredible. And also the sea, the ocean, when in summer I see the Mediterranean sea.. I grew up there. So every time I go back there, I just have to stand in front of it. It has something very calming and very peaceful for me. Those things for me are very important: nature and food. 
Topic: I think a little thing which is the only thing that never gets boring and never gets old is the sun. Like, no matter what nice things you do, at some point.. you kind of get used to it. But if I see the sun two years straight and I wake up the next morning and the sun is still shining then I'll be happy.
Tobias, you're a sport and F1 lover so who is your current favorite driver and what's your favorite sport? What about you Alvaro?
Topic: Yeah, my two favorite sports are basketball and F1. I mean, F1 is the first sport I've ever watched. When I was six or seven I started watching it. Basketball came a little bit later. Then at some point F1 got a little bit boring because Hamilton always won, but in the past two years it's finally very exciting and I am also very happy that Verstappen won the championship last year. I'm definitely cheering for him this year too. But there are some other great drivers like Lando Norris.
Alvaro Soler: Alvaro Soler: It's similar to me, F1 was a family thing that we were watching at home. I like football but not as much as F1. I remember when in 2004 Alonso was going really well and he was suddenly winning everything so the Spanish pride was even bigger. You know, we have a Spanish guy winning the championship and it was so good. I know Carlos Sainz from different common friends and now he's doing such a great job. I'm super happy that there's a Spanish guy at Ferrari. Also, it was super crazy when I heard that Leclerc and Sainz were going into Ferrari, it was great, the new generation coming up. When I lived in Italy, I was invited to Monza a few times. I couldn't go and that was horrible for me, so I would definitely do that. I did the 1000 Miglia four years ago. I love everything that has to do with cars and races.

Cool, another shared thing that you have!
Alvaro, what's your relationship with dance music and how did you both approached to this world in terms of inspirations and what do you think about the fusion with Latin sounds?
Alvaro Soler: I think I personally  went to the dance direction when I was listening to a lot of David Guetta songs like "Love is Gone" with Kelly Rowland. That was just a great song that's when dance became pop, EDM came with Avicii and Kygo, and now of course Topic. It's continuously evolving and it's super nice to see how different influences are coming together.
I think one of them is just like, Latin or Spanish with EDM, because it's true that almost all dance records have English vocals on it but almost none of them have Spanish. So it was a great experiment for us to do it as well, because, you know, in the end about doing songs, t's important to do good songs and I think we both can write amazing songs, but we wanted to do like an incredible song and something that has something different, something that is just outstanding because it's different. That's why we tried to do this. And for now it worked really well, so we're very happy.
Finally back touring around the world and also in Italy! How do you feel the restart vibes? Could we imagine a show with you performing together? Topic is often here in the latest years and Alvaro is among the most loved Spanish artists since almost a decade.
Alvaro Soler: For sure we would love to do that. I mean, we're thinking of doing that.
Topic: There are talks that we could do our first show together in Italy.
Alvaro Soler: Regarding the restart, it's a lot of at the same time, I hope that we don't get caught up in too many things, you know? So many people are coming to the shows and some people forgot that they even had tickets. I'm just happy to play the shows is finally for all those people who've been waiting for such a long time.
Let's talk about the languages because Alvaro is polyglot speaking Catalan, Spanish, German, English, Italian, French, and Japanese. So what's the next language you would learn and what's the next country you would like to visit?
Alvaro Soler: Oh, good one.
Topic: Alvaro almost speaks every language, so there aren't many options.
Alvaro Soler: Portuguese and Brazilian I think.
Topic:  I'm a little bit lazy but I think French, which I studied in school. If I would just refresh it in like a few weeks, I could definitely speak fluently. And also I also grew up with many Italians, so I definitely am familiar with that language because when I was young I heard it so much and I could also get into that kind of quickly, but not as fast as French. Another language would be Croatian, looking at my roots.. but I'm just too lazy to learn. I started it several times, but then I didn't continue.. So I might just have to travel to one of those countries and just lived there for a month or two and go to a language school.
Ok, let's finish this interview if possible with a whistle challenge. If you'd like to whistle the very first Italian song that comes up in your mind, dance or whatever.
Alvaro Soler: That's hard though. I'm also bad at whistling.. Let's try!
GUESS THE SONG in the comments!
Topic: I can't whistle..!
Alvaro Soler: Actually, you can whisper it to me and I whistled for you if you want to write it in the chat!
Topic: I thought about "Children" by Robert Miles, so nice.

Super guys, thank you so much. It was a really, really good chat. Wish you the best and thank you again The Media Nanny for the opportunity!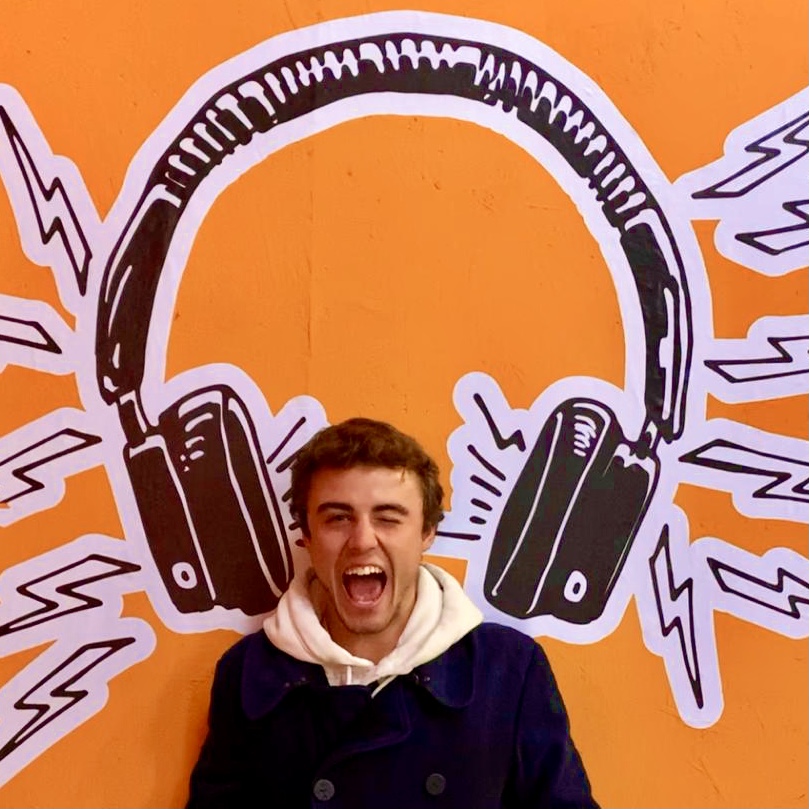 27y passionate guy about music, social media, digital marketing and infographics!
youBEAT is my manifesto of passion for music founded in 2012.
Graduated in Media Languages at UCSC in Milan (Università Cattolica del Sacro Cuore) with a thesis on the revolution of daily life with the streaming in entertainment and information. 
Everyday more passionate and keen about data, tools and music insights and their connection in this everyday faster social connected world.
Currently working at EGO Music (www.egomusic.net) as A&R and Marketing Manager.