Esce su Hexagon e Spinnin' Records "What We Started", il nuovo spettacolare singolo del duo italiano Lush & Simon in collaborazione con i grandi Don Diablo & Steve Aoki e la voce di Bullysongs.
Don Diablo continua a sorprendere il suo pubblico con nuove melodie incredibili.
Dopo aver rilasciato singoli sulle migliori etichette internazionali e recentemente anche attraverso la sua label, ora presenta "What We Started", una grande collaborazione con Steve Aoki , il top duo italiano Lush & Simon ed il cantante inglese Bullysongs.
Dopo release di successo come "On My Mind", "Universe", "Chemicals"  e "Tonight", Don assembla senza dubbio una prossima hit mondiale.
Queste le parole degli artisti a riguardo:
Don Diablo: "'What we started' is dedicated to those of us who have the guts to follow their dreams and are willing to work hard for it. But…by now the song is also an anthem dedicated to every raver, dj and everyone else in the electronic music industry. It's incredible to see what we created together in such a short amount of time. We are part of a community that let's you escape your worries through music week after week, something which is much needed in dark times like these."
BullySongs: "Really psyched at how everyone came together on 'What We Started'. This song represents all those who struggle to make something beautiful in the world. It's one for the fans, artists, writers and anyone who's built something from nothing…. Enjoy!"
What We Started è stata presentata e suonata a Tomorrowland 2016 sia da Don Diablo che da Steve Aoki!
Ecco un video by EDM Italy:
---
Stream / Buy : hexagon.lnk.to/WhatWeStarted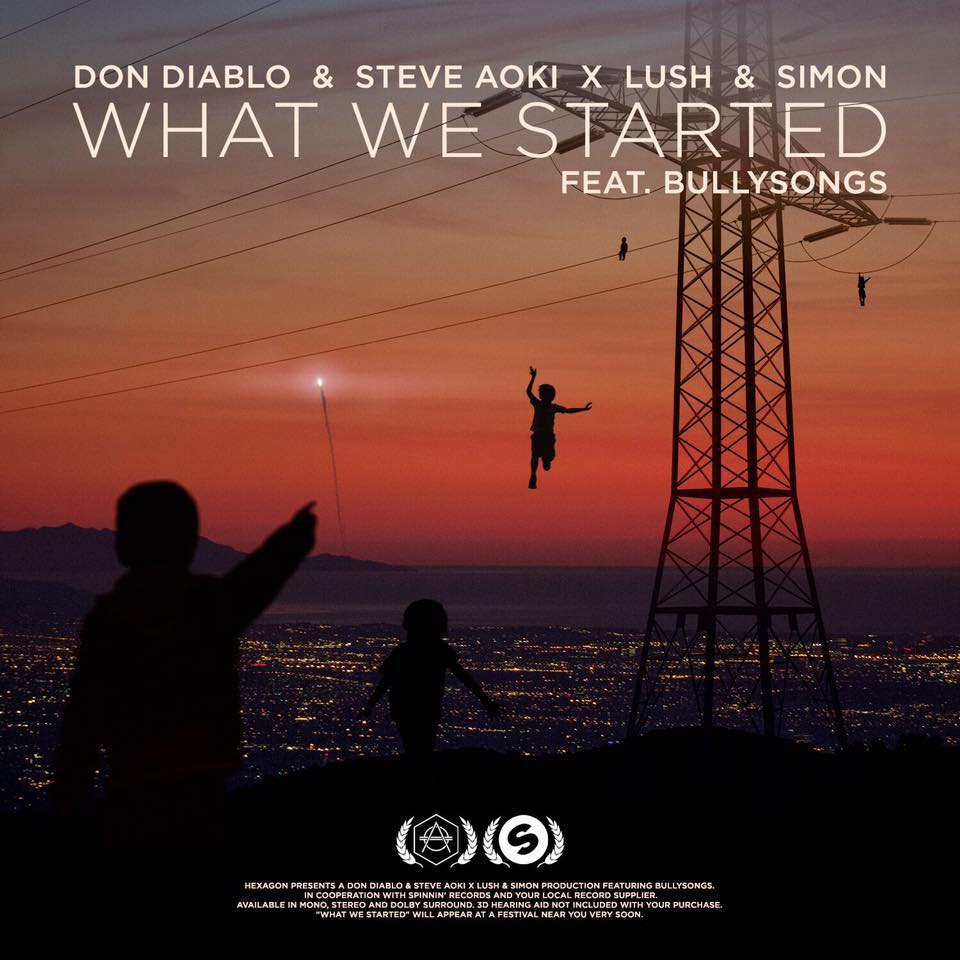 ---
Follow Don Diablo
Facebook: www.facebook.com/OfficialDonDiablo
Instagram: www.instagram.com/dondiablo
Twitter: twitter.com/DonDiablo
Follow Steve Aoki
Facebook: www.facebook.com/steveaoki
Instagram: www.instagram.com/steveaoki
Twitter: twitter.com/steveaoki
Follow Lush & Simon
Facebook: www.facebook.com/lushandsimon
Instagram: www.instagram.com/lushandsimon
Twitter: twitter.com/LushandSimon
Follow Hexagon
Facebook: www.facebook.com/HexagonHQ
Instagram: www.instagram.com/HexagonHQ
Twitter: twitter.com/HexagonHQ
24y from Milan, Italy. I'm passionate about digital media world and I graduated in Media Languages at UCSC Milan  with a thesis about the revolution of daily life with the streaming in entertainment and information. Since 2012 I'm developing the Italian dance/electronic network youBEAT (www.youbeat.it) with a team of young editors and reporters and collaboration with international radio, events and festivals. I use to daily check music business and marketing/digital platforms in order to discover and be keen on news, stats and trends.