Scopri 9 tra le uscite più interessanti di questa settimana con la rubrica #NEWMusiCollageOfTheWeek!
[25-31 Luglio 2016]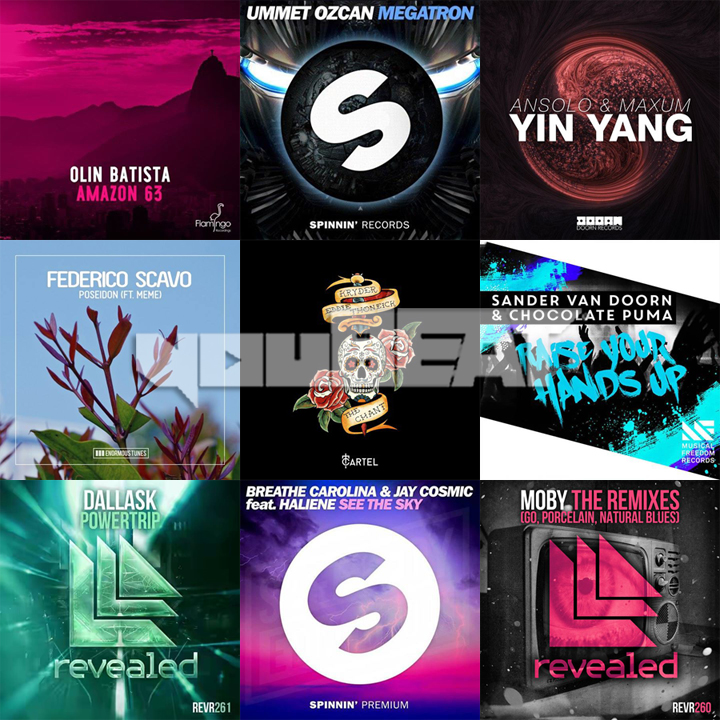 ---
Quella che inizia oggi sarà probabilmente una delle settimane più hot di questa estate, per quanto riguarda le release.
Il 25 luglio usciranno infatti una serie di dischi molto ma molto interessanti, a cominciare da The Chant, pezzo tribal molto ballabile prodotto dal grande Kryder in compagnia di Eddie Thoneick.
Una traccia che uscirà su Cartel Records, la neo-nata label facente parte del gruppo Spinnin.
Grandissima attesa anche per "Raise Your Hands Up", disco che vede la collaborazione di sua maestà Sander van Doorn con i Chocolate Puma, in uscita su Musical Freedom, casa discografica di Tiesto.
Non mancheranno le release Revealed, a cominciare dall'EP che conterrà i remix del grande Moby (in uscita oggi), per arrivare fino alla riempi-pista Power Trip di DallasK, out venerdì.
A completare il quadro delle nove uscite migliori di questa settimana troviamo Poseidon, dell'italianissimo Federico Scavo con la collaborazione di Meme.
Molto bella anche Yin Yang di Ansolo e Maxum su Doorn, nonché Amazon 63, pezzo firmato Olin Batista in uscita su Flamingo. Il 25 luglio coinciderà anche con il ritorno sulle scene di Ummet Ozcan, che svelerà la sua Megatron, e attenzione anche a "See the sky", pezzo di Breathe Carolina & Jay Cosmic feat. Haliene.
---
25 Luglio:
Ansolo & Maxum– Yin Yang [DOORN Records] Preview: https://goo.gl/So9A6y
Federico Scavo feat. Meme – Poseidon [Enormous Tunes] Preview: https://goo.gl/cQ3tNC
Kryder & Eddie Thoneick – The Chant [Cartel Recordings] Preview: https://goo.gl/zdYN0G
Moby – The Remixes [Revealed Recordings] Preview: https://goo.gl/pbG9t4
Olin Batista – Amazon 63 [Flamingo Recordings] Preview: https://goo.gl/zm2A9J
Sander van Doorn & Chocolate Puma – Raise Your Hands Up [Musical Freedom] Preview: https://goo.gl/2q9uxU
Ummet Ozcan – Megatron [Spinnin' Records] Preview: https://goo.gl/keZSbA
29 Luglio:
Breathe Carolina & Jay Cosmic feat. HALIENE – See The Sky [Spinnin' Records] Preview: https://goo.gl/ktzCIH
DallasK– Powertrip [Revealed Recordings] Preview: https://goo.gl/B6Ldfu