Siamo ormai alle porte di ADE 2017: oggi prende il via la ventiduesima edizione della celebre rassegna Made in Netherlands, che richiama nella capitale olandese il meglio della musica dance internazionale.
Nella prima puntata dedicata alla kermesse olandese, abbiamo avuto modo di presentarvi l'edizione di quest'anno e proporvi alcuni degli eventi che (secondo noi) più meritano tra quelli proposti dal programma ufficiale.
Questa puntata invece, la vogliamo dedicare ad una label che nell'ultimo quinquennio ha saputo distinguersi, innovarsi ed imporsi nella scena EDM internazionale: stiamo parlando di Protocol Recordings, la label fondata nel 2012 da sua maestà Nicky Romero.
Quale modo per festeggiare al meglio questo importante traguardo? Proponendo uno dei party più acclamati all'interno della rassegna: 5 Years of Protocol | Nicky Romero & Friends ADE 2017.
Come per le altre edizioni (quest'anno siamo giunti alla sesta), la line up è spettacolare: oltre al padrone di casa, Nicky Romero, trovano posto nella scaletta dell'evento alcuni dei nomi più noti della scena internazionale, come Kryder, Tom Staar, Stadiumx e D.O.D.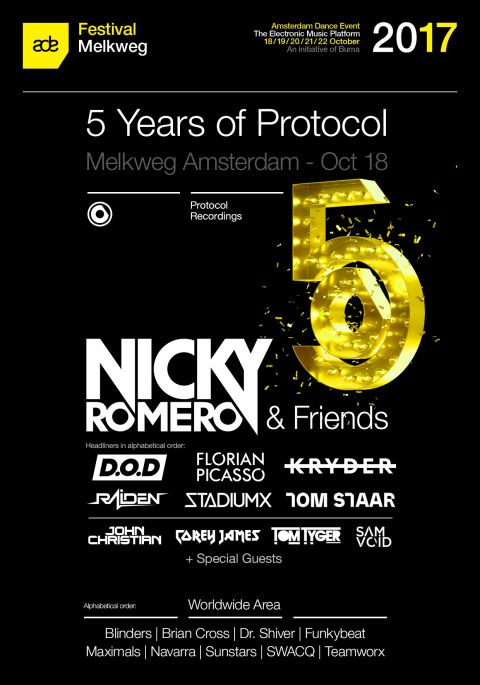 L'evento, che si terrà nella giornata inaugurale della kermesse (oggi, 18 Ottobre 2017), sarà ospitato per il quarto anno consecutivo dal Melkweg, noto locale notturno della capitale e tra i più conosciuti al mondo (più volte presente nella DJMag Top100Clubs).
L'altra novità di casa Protocol invece, è il progetto Protocol Lab: stiamo parlando di una compilation, divisa in tre parti, che raccoglie al suo interno alcuni dei più promettenti artisti emergenti mondiali, tra i quali gli italiani Maximals, Sunstars e Dr Shiver (che trovererete in lineup worldwide allo showcase di questa sera).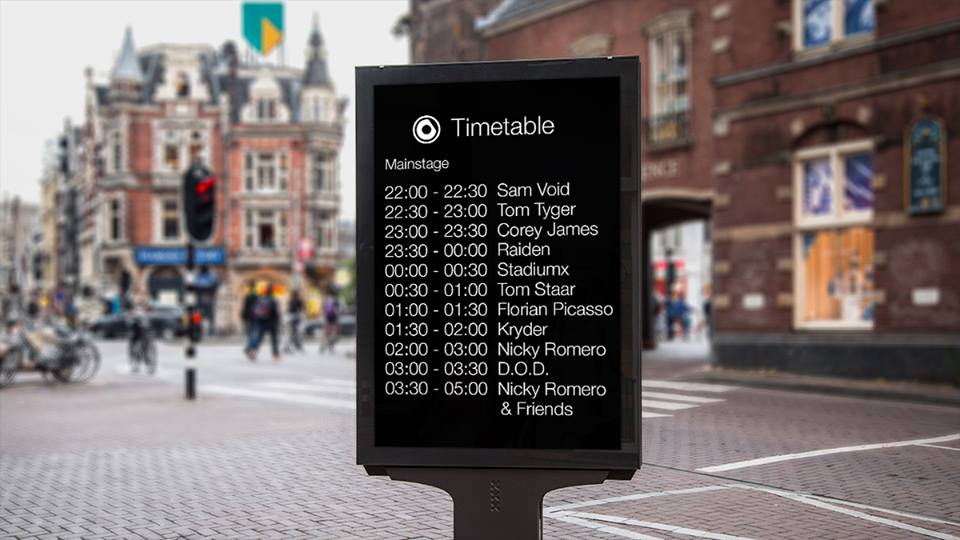 Di seguito, vi lasciamo i 3 player Spotify per poter ascoltare Protocol Lab:
Protocol Lab – ADE 2017 pt. 1
Protocol Lab – ADE 2017 pt. 2
Protocol Lab – ADE 2017 pt. 3
Tickets ➜ http://prot.cl/ADE17-ticketsFa
Live broadcast ➜ http://prot.cl/FacebookFa (22:00 – 05:00 CEST)
Main Stage:
• Nicky Romero
• Florian Picasso
• Kryder
• Tom Staar
• Stadiumx
• D.O.D
• Raiden
• John Christian
• Corey James
• Tom Tyger
• Sam Void
World Wide:
• BLINDERS
• BRIAN CROSS
• Dr. Shiver
• Funkybeat
• Maximals
• Navarra
• Sunstars
• SWACQ
• Teamworx
Tecnico informatico di professione, plur addicted and raver per passione.