InfamouZ – Heists [#yBR13] (OUT NOW in FREE DOWNLOAD)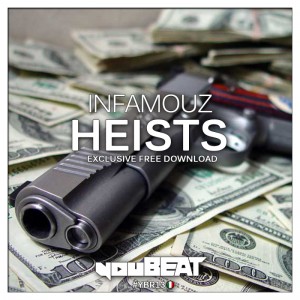 Si intitola "Heists" la 13° delle #yBReleases prodotta dal giovanissimo talento Gabriele Domicolo, classe 1998 proveniente dalla Sicilia.
Dopo appena 1 giorno dall' uscita, oltre ad aver raggiunto 1000+ plays, vanta già il supporto di alcuni artisti italiani di fama internazionale come Simon de Jano e Junior Black.
Il 20 Aprile "Heists" è stata suonata in onda su m2o da Provenzano DJ nel suo programma Provenzano DJ Show.
Scarica "Heists" qui: hypeddit.com/index.php?fan_gate=n56qmfiEUakIRE5ObXYM
25y passionate about music, social media, digital marketing and business insights. Currently working at EGO Music (www.egomusic.net), independent dance/electronic music company, while developing italian EDM blog youBEAT (www.youbeat.it) founded in 2012.
Graduated in Media Languages at UCSC in Milan (Università Cattolica del Sacro Cuore) with a thesis on the revolution of daily life with the streaming in entertainment and information.
Everyday more passionate and keen about digital, marketing and social media worlds and how they fit and integrate each other in this everyday faster social connected world based on interactions and sharing of contents and data.