InfamouZ – Heists [#yBR13] (OUT NOW in FREE DOWNLOAD)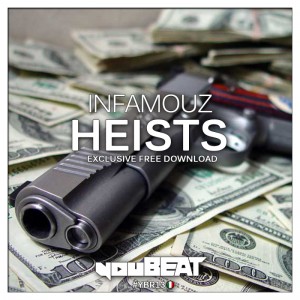 Si intitola "Heists" la 13° delle #yBReleases prodotta dal giovanissimo talento Gabriele Domicolo, classe 1998 proveniente dalla Sicilia.
Dopo appena 1 giorno dall' uscita, oltre ad aver raggiunto 1000+ plays, vanta già il supporto di alcuni artisti italiani di fama internazionale come Simon de Jano e Junior Black.
Il 20 Aprile "Heists" è stata suonata in onda su m2o da Provenzano DJ nel suo programma Provenzano DJ Show.
Scarica "Heists" qui: hypeddit.com/index.php?fan_gate=n56qmfiEUakIRE5ObXYM
24y from Milan, Italy. I'm passionate about digital media world and I graduated in Media Languages at UCSC Milan  with a thesis about the revolution of daily life with the streaming in entertainment and information. Since 2012 I'm developing the Italian dance/electronic network youBEAT (www.youbeat.it) with a team of young editors and reporters and collaboration with international radio, events and festivals. I use to daily check music business and marketing/digital platforms in order to discover and be keen on news, stats and trends.