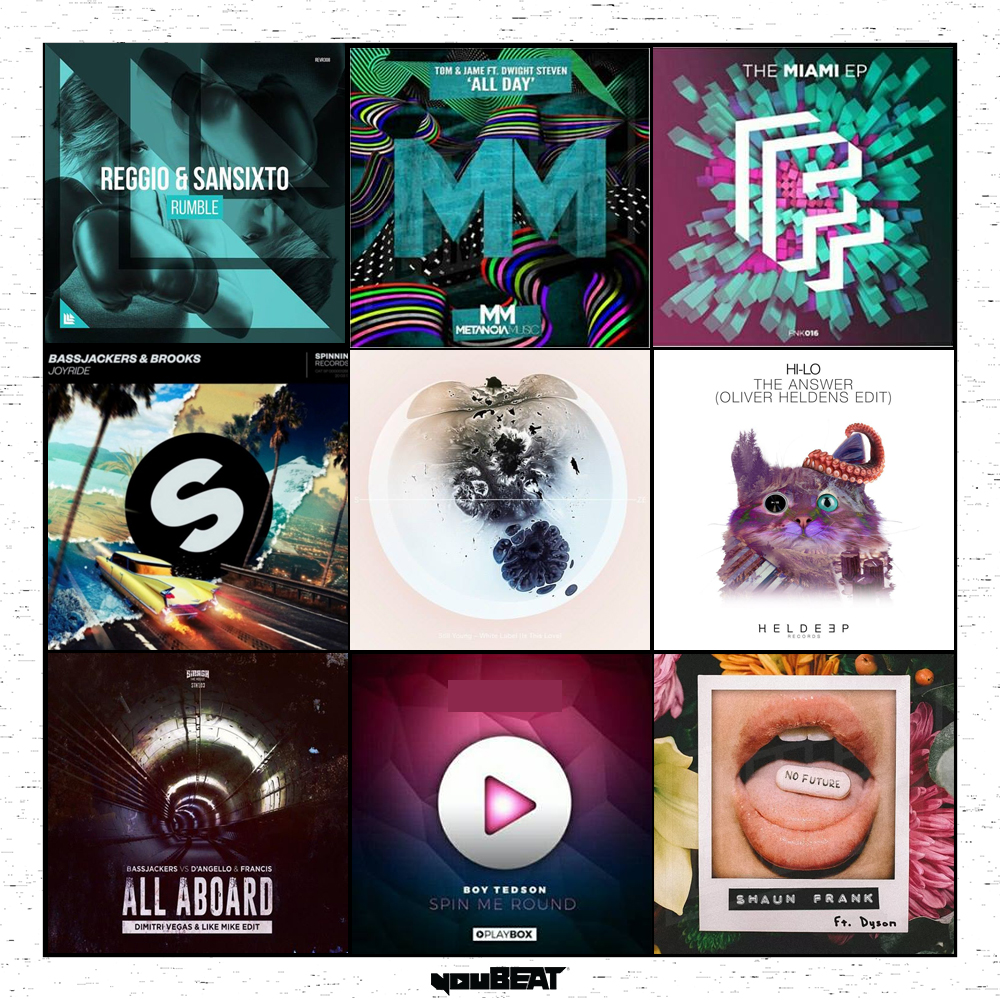 Scopri 9 tra le uscite più interessanti di questa settimana con la rubrica ‪Weekly MusiCollage! [20-26 MAR 2017]
---
Eccoci come ogni lunedì con il nuovo appuntamento con la Weekly MusiCollage, la rubrica esclusiva della redazione di Youbeat che vi permetterà di destreggiarvi nel meandro di nuove uscite. Come da copione, andremo ad individuare le nove tracce più interessanti della settimana che inizia oggi, lunedì 20 marzo 2017.
Ma bando alle ciance, partiamo subito con le canzoni che verranno commercializzate in queste ore, a cominciare da "Joyride". I Bassjackers in collaborazione col producer Brooks, hanno dato vita a questa interessante release che verrà pubblicata dalla nota casa discografica olandese, Spinnin' Records.
Proseguiamo con un EP, un extended play, ovvero, una mini raccolta di singoli inediti. Stiamo parlando precisamente del "The Miami EP", che verrà pubblicato sulla label di Dannic, la Fonk Recordings, e che conterrà una serie di tracce inedite prevalentemente in stile electro house.
Merita sicuramente più di un ascolto anche la nuova produzione di Oliver Heldens con lo pseudonimo HI-LO. Il talentuoso dj e produttore rilascerà la versione aggiornata di The Answer, un pezzo house classico, che ritorna in vita tutto rispolverato. La label è la Heldeep Records, casa discografica appartenente allo stesso Heldens.
Proseguiamo con la nuova realizzazione di uno dei due più interessanti della scena electro house attuale, ovvero, i Tom & Jame. In compagnia di Dwight Steven, i due ragazzi daranno vita a "All day", pezzo che verrà pubblicata dalla brillante casa discografica Metanoia.
Quest'oggi vedrà la luce anche una nuova production firmata Revealed Records, ovvero, "Rumble", di Reggio & Sansixto, due talentuosi producer della scena musicale italiana, mentre attenzione a "Spin me round", di Boy Tedson, rilasciata sulla Playbox Records.
Archiviate le tracce di questo lunedì, passiamo direttamente alle produzioni in uscita venerdì, l'altro giorno caldo della settimana per quanto riguarda le nuove release. Cominciamo con una nuova produzione firmata Size Records, tornata recentemente a commercializzare tracce dopo un periodo di astinenza.
Gli Still Young daranno vita a "White Label (Is this love)", interessante pezzo progressive house, che riprende il sample del mito giamaicano Bob Marley. Proseguiamo con "No future", pezzo costruito da Shaun Frank con la collaborazione di Dyson, in uscita su Ultra Records.
Infine, chiudiamo con un edit dei Dimitri Vegas & Like Mike, precisamente quello di "All Aboard", pezzo firmato dai Bassjackers in compagnia di D'Angello & Francis, in uscita su Smash The House.
20 MAR
• Bassjackers & Brooks – Joyride [Spinnin' Records]
• Boy Tedson – Spin Me Round (incl. Remixes) [Playbox Music]
• HI-LO – The Answer (Oliver Heldens Edit) [Heldeep Records]
• REGGIO & Sansixto – Rumble [Revealed Recordings]
• The Miami EP [Fonk Recordings]
• Tom & Jame ft. Dwight Steven – All day [Metanoia Music]
24 MAR
• Bassjackers vs. D'Angello & Francis– All Aboard (Dimitri Vegas and Like Mike Edit) [Smash The House]
• Shaun Frank feat. Dyson – No Future [Ultra Music]
• Still Young – White Label (Is This Love) [Size Records]