E' finalmente disponibile "We Are Lost", il nuovo spettacolare singolo che nasce dalla collaborazione tra gli americani Rico & Miella e Lush & Simon, duo italiano internazionale che ritorna su Armada con questa perla sotto i riflettori dopo il grande successo di "Ahead of Us" e precedenti.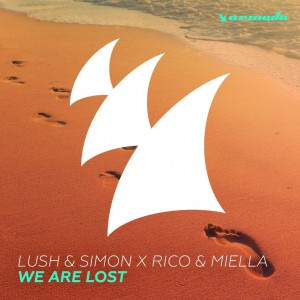 Una traccia con una melodia che conquista, destinata sicuramente a diventare una nuova hit internazionale da ballare ed ascoltare in radio.
Un importante punto in più per l' Italia, che grazie al talento di questo duo e a quello di sempre più artisti in ascesa sta progressivamente conquistando sempre più notorietà e "luce" nel settore.
Ascolta su Spotify: http://bit.ly/AM15C_SP 
Compra "We Are Lost" su iTunes:
https://itunes.apple.com/it/album/we-are-lost-single/id966960972
Compra "We Are Lost" su Beatport:
http://bit.ly/WAL_BP
25y passionate about music, social media, digital marketing and business insights. Currently working at EGO Music (www.egomusic.net), independent dance/electronic music company, while developing italian EDM blog youBEAT (www.youbeat.it) founded in 2012.
Graduated in Media Languages at UCSC in Milan (Università Cattolica del Sacro Cuore) with a thesis on the revolution of daily life with the streaming in entertainment and information.
Everyday more passionate and keen about digital, marketing and social media worlds and how they fit and integrate each other in this everyday faster social connected world based on interactions and sharing of contents and data.