In seguito alle collaborazioni che hanno portato la voce dell'italiana Re Bel al Tomorrowland per il secondo anno consecutivo e alle live performances in tour con ANGEMI, Re Bel supera il milione di streams su Spotify e presenta il suo primo singolo da solista su Cloverthree Music: "Empress".
L'arrangiamento, contraddistinto da un sound trap, accompagna un buon equilibrio tra versi con un flow rap e versi cantati; il connubio tra questi elementi fa spiccare il carattere eclettico dell'artista.
Il testo del brano è un invito rivolto a tutte le donne a credere nel loro potere. "Se vuoi, puoi" è il motto di Re Bel: secondo lei, infatti, tutto è possibile se lo si vuole veramente, a patto che si lavori per costruirlo. L'obiettivo è infatti quello di motivare e ispirare, suggerendo il risveglio, in tutte le donne, dell'imperatrice che è in loro.
Il brano viene pubblicato dall'etichetta Cloverthree su tutte le piattaforme di streaming e gli store digitali.
Il video, una produzione Cloverthree Film, è caratterizzato da elementi in stile egizio, con riferimenti all'iconografia sacra ed alla simbologia isiaca. Il quadro principale  vede riprodotto il tarocco egizio dell'Imperatrice: Re Bel canta seduta su un trono accompagnata dalla sua crew di ballerini-performers. Altre scene vedono la cantante spiccare un volo, danzare in stile hip hop (ricordiamo che Re Bel firma anche le coreografie del video) e, infine, prendere fuoco.
Ascolta 'Empress': https://believe.lnk.to/Empress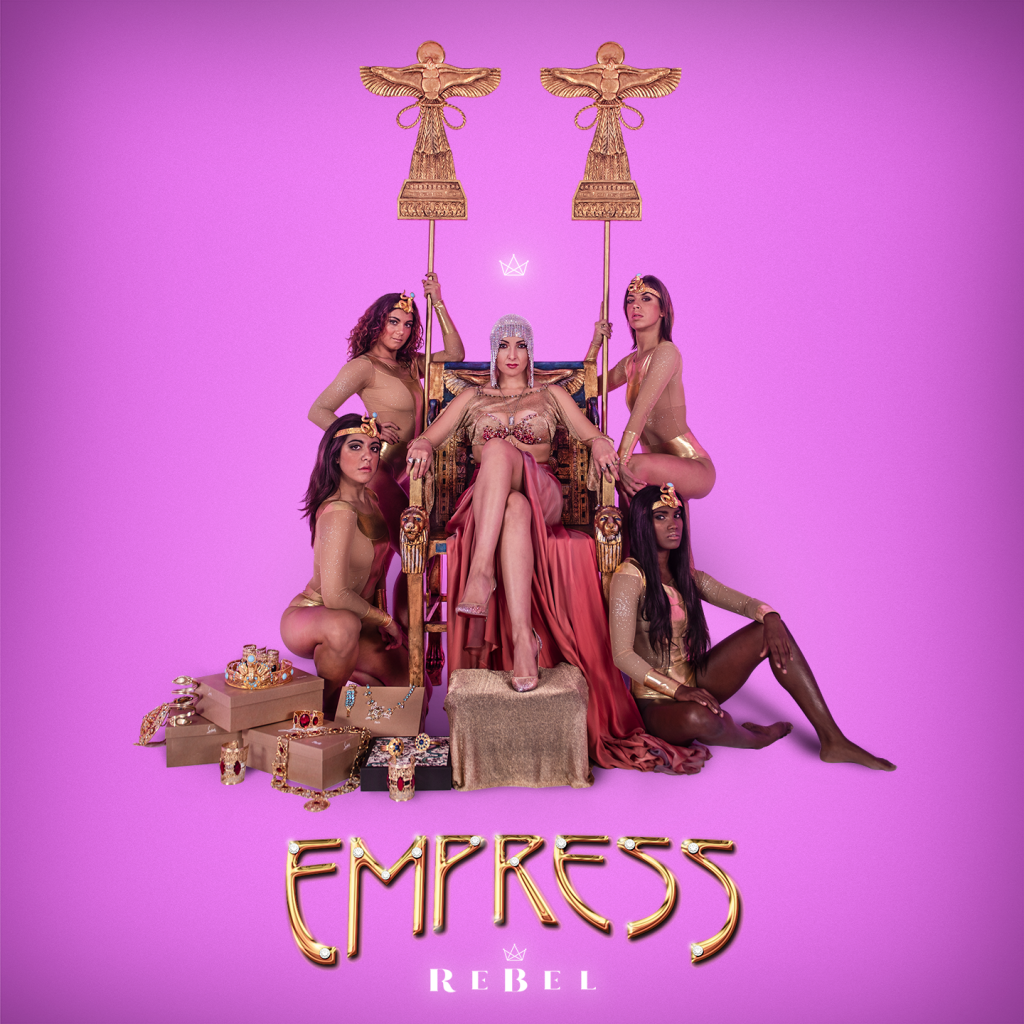 Segui Re Bel:
https://www.instagram.com/rebelisonfire
Release precedenti:
ANGEMI ft. Re Bel "Wishing Loud" [Smash The House] – +1M streams on Spotify, supported by Axwell /\ Ingrosso, Dimitri Vegas & Like Mike
ANGEMI ft. Re Bel "Show Your Flame" [Smash The House], +1M streams, supported by David Guetta, Chainsmokers, Dimitri Vegas & Like Mike
ANGEMI ft. Re Bel "Show Your Flame" (Remixes) [Smash The House] – MAD M.A.C., Flaremode, Wasback, Giannobilee, DStroyer and Torq 80's Vision
Tour 2018:
Medusa Sunbeach Festival (Valencia, line-up con David Guetta, Headhunterz, Wolfpack, Noise Controllers);
Garden Of Madness USHUAÏA (Ibiza, line-up con Dimitri vegas & Like Mike, Lost Frequencies, Nora En Pure, Mattn, Wolfpack );
Banger Events Pre Opening Night (Zurigo);
Vivi UNISA di Notte (Salerno);
The End Festival (Trento, line-up con SDJM);
LYD (Soverato CZ, in line-up con Steve Aoki, Lush & Simon, Tigerlily);
Omega Music Festival (Aosta, line-up con Matisse & Sadko, VINAI, Atmosphearz, Brennan Heart).