We have made a selection of the best Music Business news and in this article we will present the ones that, in our opinion, are the most interesting and innovative.
1 – SiriusXM gets a makeover with an 'all access streaming' app that will launch in North America on 14th December, for a price of $9.99, and will offer users music, talk, podcasts and sports. What is immediately noticeable is the cost of the subscription, which, unlike all other music streaming services, remains lower and is therefore in open competition with the likes of Spotify, Amazon Music, Apple Music and YouTube Music. SiriusXM has all the credentials to grow further (there are 34 million subscribers to the satellite radio service so far) and earn a long-term position in this landscape.
Kelly Clarkson Connection, Life with John Mayer, Smokey's Soul Town (with Smokey Robinson) and Shaggy's Boombastic Radio will all be channels on the service, while Dolly Parton's Rockstar Radio is present for a limited time as it accompanies the launch of the singer's new rock album. SiriusXM is also targeting millennial listeners with three new services focusing on music from the 2000s: The Flow (R&B), Flex2K (hip-hop) and Alt2K (alternative rock).
2 – TikTok and Distrokid have entered into a partnership to enable independent artists to promote themselves and thus increase their income. Under the agreement, music distributed by Distrokid will be available on TikTok and its commercial music library (this is a catalogue of artist music that brands can use in their advertisements on TikTok itself) but also on CapCut. In addition, TikTok's music streaming service was publicly launched in Australia, Singapore and Mexico, following an initial beta roll-out in these three markets in July. In the same month, TikTok officially launched the service in Brazil and Indonesia.
Tracy Gardner, Global Head of Label Licensing & Partnerships at TikTok, said: 'Independent music from around the world powers creativity on TikTok in such a powerful way,' while Philip Kaplan, founder and CEO of DistroKid, added: 'TikTok is one of the most powerful music discovery platforms in the world. Expanding this partnership to include CapCut and the Commercial Music Library makes it super easy for millions of musicians to make their music available in even more places, while TikTok's new music streaming service provides additional reach as it becomes available in more countries."
3 – Deezer announces its rebranding through a new logo and innovative app, after ending the third quarter of the year with 600,000 new subscribers, achieving a 5.5 per cent year-on-year earnings increase to EUR120.7m (USD131.36m) in the three months to the end of September. "We have been transforming Deezer for the past two years and today we mark a milestone with the unveiling of our new identity and logo, showing how our product is evolving into a platform where people can experience and experience music in a way that cannot be found anywhere else," said Jeronimo Folgueira, CEO of Deezer.
Deezer's big news in recent weeks has been the launch of its new 'artist-centric' royalty model, and record companies that have signed up to it include Universal Music Group and French indie label Wagram. But how does it work? When Deezer calculates an artist's royalty payments, that musician's music streams will carry twice as much weight as the streams of non-professionals (who have less than 1,000 streams per month from a minimum of 500 unique listeners).
Deezer says it will apply 'a stricter provider policy to ensure quality and a better user experience', which includes measures to 'limit disruptive content not related to the artist'. Combating streaming fraud is another key component of the new model, with Deezer pledging to implement 'a more rigorous and proprietary fraud detection system, removing incentives for bad actors and protecting streaming royalties for artists'.
4 – The royalty model employed by Spotify will change at the start of the new year and there will be a minimum threshold of 1,000 annual plays before a track starts earning money. Spotify has told industry participants that it expects this decision to bring $40 million, previously used to pay tracks with less than 1,000 streams, to those with more than 1,000 plays.
One wonders whether the stance taken by Spotify is fair or will actually harm all those who, however deserving of earnings, fail to reach the minimum streams threshold. It is therefore fair that the major streaming platforms of the music industry – in particular Spotify – strike the right balance between punishing the so-called 'junk' and leaving unscathed the first green shoots of the 'professional artists' of tomorrow.
5 – Audius creates a platform for its 6 million users to support artists with direct payments via USDC credit card. In this way, musicians will be able to decide the prices of their music (both streaming and downloading) while fans will have the opportunity to support their favourites by paying more than the list price.
In addition, several independent record labels, such as EMPIRE, Nettwerk Music, Circus Records, Bitbird, Anjunadeep, Anjunabeats and others, have joined forces with Audius to increase revenues for their artists. The company also announced a partnership with DistroKid to allow indie artists to upload their music to Audius. Finally, the music streaming platform has partnered with Ampsuite (manages the operations of Beatport-owned labels) to enable the distribution of their music on Audius.
https://www.instagram.com/reel/CzHAOoQL-5I/?utm_source=ig_web_copy_link&igshid=MzRlODBiNWFlZA==
6 – The design app Canva makes available to its Pro and Education customers a new library of music clips featuring some of the world's leading artists. This allows users to create content incorporating their favourite music. By partnering with Warner Music Group, Merlin and many other music publishers and labels, Canva offers sixty-second clips for use in media content. In doing so, artists can earn royalties from the use of their tracks in projects published within the platform.
The creation of social media material on Canva has grown exponentially, especially video (accounting for over 65% of global Internet traffic), and recently, the number of projects created within the popular design application using TikTok templates has grown 10-fold. More than 65 million new users have started using Canva in the past year, a milestone the company achieved after only eight years in business. Today, it has 16 million paying subscribers and 50 million users of Canva for Education.
7 – YouTube Music unveiled, for now only to US users, an experimental feature that allows users to create customised playlists through the use of artificial intelligence. How does the creation process work? First, it is necessary to click on the predefined image of a playlist, then to choose from a series of themes (colours, travel, moods, nature, animals, landscapes, food and drink…) and finally to select, from the various suggestions made, the one that inspires you the most. Once the design process is complete, users can click on the 'Create' button, which takes them to a series of artificial intelligence-generated images to choose from. After opting for the preferred image, clicking 'Save' finalises the design of the customised playlist.
YouTubeMusic's intention is to keep up with all the updates and new features of Spotify. For this reason, the focus is now on the potential offered by artificial intelligence (customised playlists for each user and useful tools for content creators. The app is also launching a new radio experience that allows users to create their own radio station.
8 – It appears that Apple Music, following in Deezer's footsteps, is also informing its uploaders about the increased royalty for music in spatial audio. "To recognise the creative investment and value that high-quality Spatial Audio brings to both fans and artists," reads the email sent by Apple Music, "we will be making changes to how royalties are calculated. Plays of content available in Spatial Audio will receive a higher royalty value'.
It seems that Apple's intention is to create the most advanced Spatial Audio system ever for its music streaming service. In fact, it is no coincidence that Apple has invested in Spatial Audio in the recent period and that 80 per cent of the platform's worldwide subscribers will have listened to this format in 2022.
9 – Kobalt and Morgan Stanley Tactical Value enter into a partnership to invest more than $700m in the acquisition of music copyrights over the next few years. Morgan Stanley Tactical Value is a private equity and credit investment platform within Morgan Stanley Investment Management. Kobalt's task will be to manage the creative, synchronisation, licensing, administration and investment services for copyrights. The agreement with Morgan Stanley thus represents a return to outside capital investment management for Kobalt.
Kobalt's previous investment management arm, Kobalt Capital, facilitated the sale of two music property funds in recent years totalling around $1.4 billion. Since that October 2021 sale, Kobalt has used money from its balance sheet to fund merger and acquisition activities in the music industry.
10 – ChatGPT add new Release Scheduling Tool, informal assistant for independent artists.
Extra News: KINSHIP is the Beatport.io (Beatport's next generation digital marketplace) project celebrating 5 years of the HE.SHE.THEY. lifestyle brand, focused on raising awareness of diversity and inclusiveness, through a new documentary and digital collection. The KINSHIP collection presents an immersive 3D pictorial journey created by artist Enes Güç, inspired by different eras of art history and mythology, looking to the future with the hope of an alliance between the intersections of society.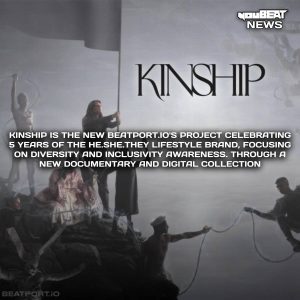 Using state-of-the-art 3D scanning technology, Enes Güç and the Define Creative team captured the essence of the brand's founders and a series of HE.SHE.THEY. artists and dancers to compose a mesmerising CGI painting. It is a bold statement on intersectionality, a celebration of diversity, unity and empathy, representing more than just an art project: it is a movement towards a more inclusive tomorrow.
The digital KINSHIP collectible grants collectors access to the full widescreen image of Enes Güç's KINSHIP painting, exclusive access to the video premiere of Beatport's "Off The Record" documentary featuring HE.SHE.THEY, access to HE.SHE.THEY events in 2024, new music including a downloadable soundtrack by Wax Wings and customised mobile/desktop wallpapers by KINSHIP.
Other events and content marking the organisation's 5th anniversary include 'Off The Record', the Beatport-produced documentary that chronicles the organisation's extraordinary journey to date, following co-founders Sophia Kearney and Steven Braines as they created a brand synonymous with acceptance, expression and diversity within the electronic music community.