BeatStats è un sistema di ranking per artisti, canzoni ed etichette discografiche basato sulle classifiche ufficiali di Beatport.
Nasce ad inizio 2011 come sito di chart di musica Trance, nel 2012 sono stati implementati i generi Progressive House ed Electro House e nel 2015 la piattaforma ha lanciato poi un nuovo design includendo ogni genere presente sul digital store.
Non si tratta di un sito ufficialmente collegato a Beatport ma utilizza il Beatport API per stilare ed utilizzare classifiche /  immagini e informazioni degli artisti.
Sono presenti 3 sezioni: Artists – Tracks – Labels.
Di seguito la Top 10 per ciascuna sezione, che vede trionfare il duo ucraino Artbat come migliori artisti dell'anno, seguiti da Umek e Fisher che nonostante la prima posizione nella classifica delle tracks con "Losing It" e la terza con la più recente "You Little Beauty" si posiziona terzo tra gli artisti, preceduto da Umek e seguito dal suo pupillo Martin Ikin.
Defected Records, fondata nel 1998 a Londra da Simon Dunmore, è la migliore label dell'anno secondo Beatstats, seguita dall'etichetta svedese Drumcode di Adam Beyer e dall'etichetta House / Tech-House Toolroom!
TOP ARTISTS
#1 ARTBAT
#2 Umek
#3 Fisher
#4 Martin Ikin
#5 Camelphat
#6 Purple Disco Machine
#7 David Penn
#8 Bart Skils
#9 Solardo
#10 Eli Brown
TOP TRACKS
#1 FISHER – LOSING IT
#2 Monolink – Return To Oz (Artbat Remix)
#3 Fisher – You Little Beauty
#4 Artbat – Upperground
#5 Umek – Vibrancy
#6 Rebuke – Along Came Polly
#7 Matt Sassari – Put A Record On
#8 Pete Heller's Big Love – Big Love (David Penn Extended Remix)
#9 Mike Vale – Music Is The Answer
#10 Endor – Pump It Up
TOP LABELS
#1 DEFECTED
#2 Drumcode
#3 Toolroom Records
#4 Diynamic
#5 Catch & Release
#6 Repopulate Mars
#7 Filth On Acid
#8 Hot Creations
#9 Glasgow Underground
#10 Ultra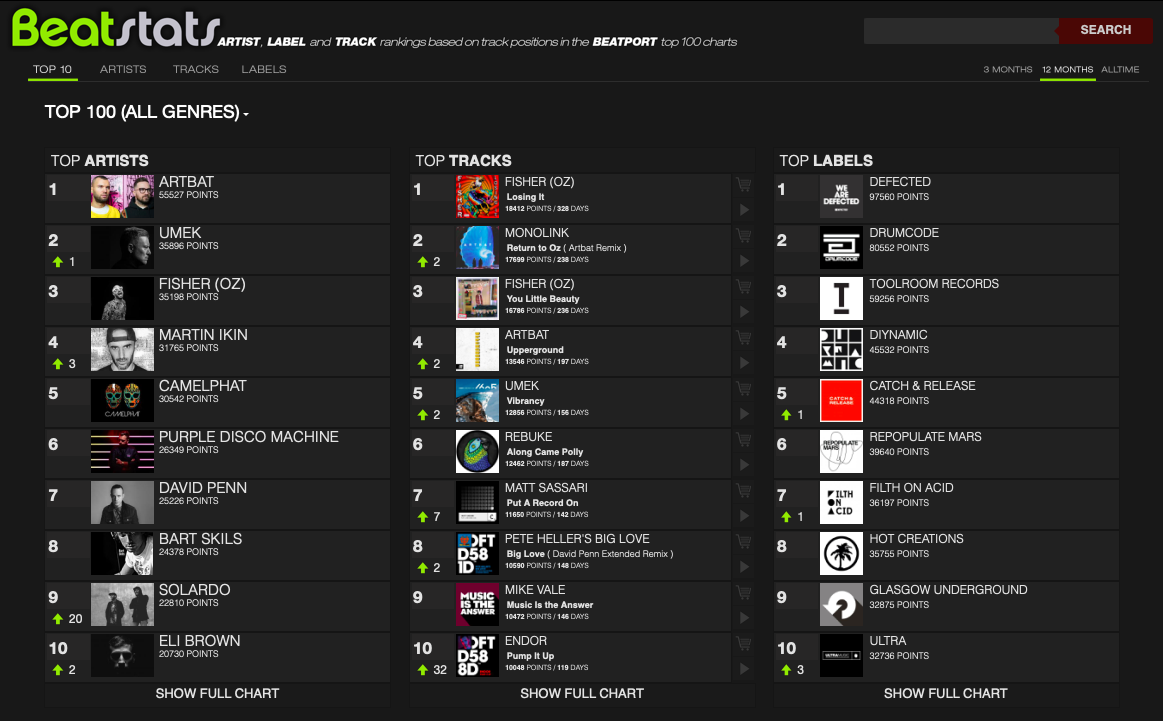 Come sono calcolati i punti di BeatStats?
Quotidianamente, sulla base della posizione della canzone nelle Beatport Top 100 charts.
Se una traccia è alla posizione #1, ottiene 100 punti, se si trova alla posizione #100 riceve 1 punto.
Le classifiche sono aggiornate ogni giorno alle 1pm (UK time) e solo il produttore originale della traccia riceve i punti.
La classifica annuale si basa sui punti collezionati esattamente nell'arco di 1 anno nel momento della visualizzazione e in base agli spostamenti in classifica si accumulano o perdono punti.
Perché la classifica BeatStats non riflette quelle ufficiali su Beatport?
Per posizionarsi in classifica su Beatport, ogni versione della release deve essere venduta con acquisti singoli e questo fa si che l'acquisto di EP o album con più tracce condizioni e modifichi le classifiche stesse.
Ad esempio, se in un EP con Radio Edit e Original Mix l'unica versione acquistata è la seconda per l'utilizzo nei club, la release nella sua totalità non entrerà nella classifica ufficiale.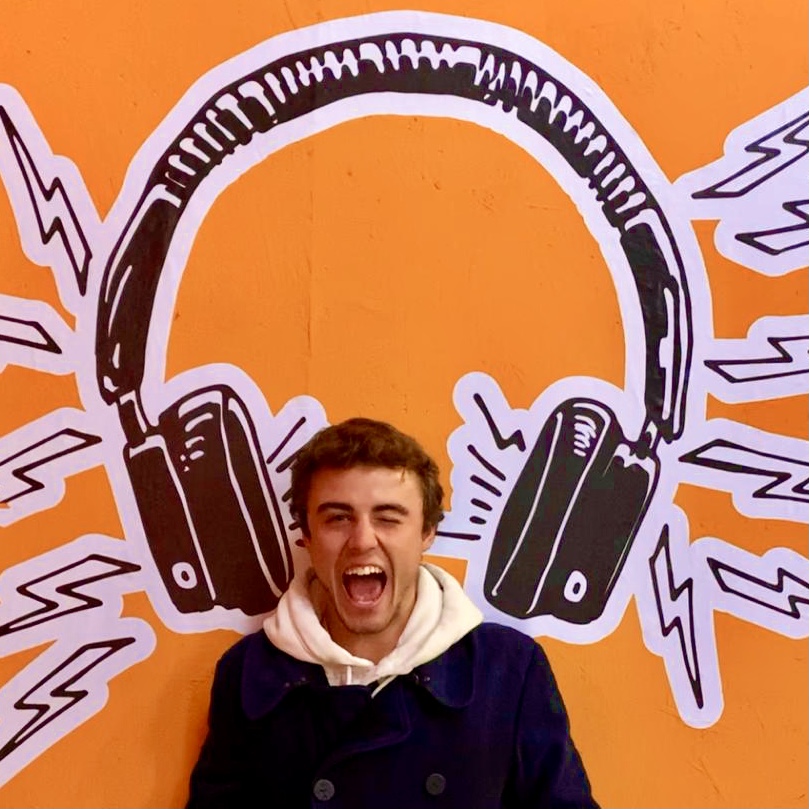 27y passionate guy about music, social media, digital marketing and infographics!
I founded youBEAT in 2012 as manifesto of my passion for electronic music, with the aim of promoting artists and events.
Graduated in Media Languages at UCSC in Milan (Università Cattolica del Sacro Cuore) with a thesis on the revolution of daily life with the streaming in entertainment and information. 
Everyday more passionate and keen about data, tools and music insights and their connection in this everyday faster social connected world.
Currently working at EGO Music (www.egomusic.net) as A&R and Marketing Manager.