In occasione del Protocol Recordings Lab durante l'Amsterdam Dance Event 2017 al Melkweg (18 Ottobre 2017), per celebrare i 5 anni di attività dell'etichetta di Nicky Romero, abbiamo intervistato il dj & producer inglese D.O.D (da Lancaster), che con il suo stile che lui stesso definisce "Future Jack" ha raggiunto importanti etichette come Axtone, Protocol Recordings, Size Records.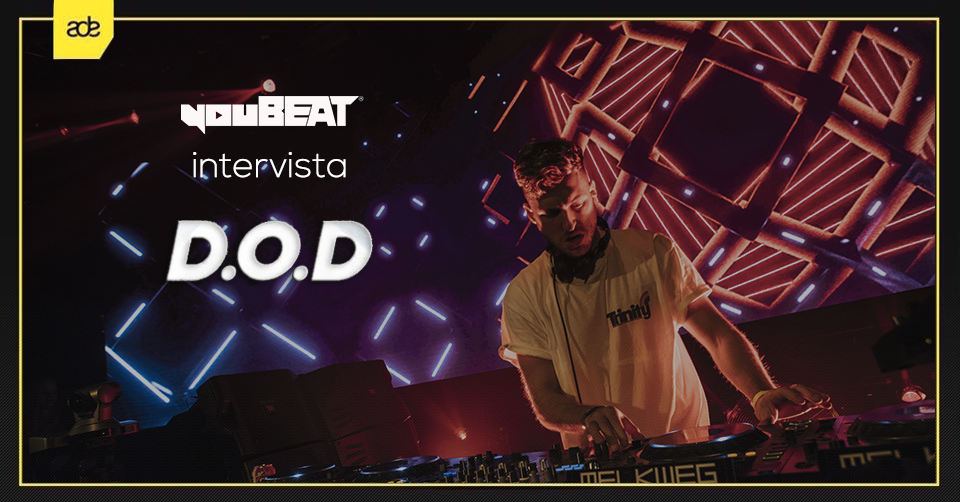 ITA
1)  Come hai iniziato a fare musica? Cosa significa D.O.D?
Ho iniziato a produrre come una necessità per progredire ulteriormente nella mia carriera. C'è solo un certo livello che puoi raggiungere oggigiorno essendo un DJ, quindi quando ho notato che non stavo più alzando il mio profilo, sapevo che era giunto il momento di abbassare la testa e iniziare a produrre a tempo pieno. Adoro produrre ora! Quando sono stato via in tour non vedo l'ora di tornare e sfornare tracce!
D.O.D è solo la sigla del mio nome, Dan O'Donnell 🙂
2) Per te è stato un fantastico 2017, con 8 versioni ufficiali su più etichette come Size e Axtone, cosa possiamo aspettarci da te per il 2018?
Aspettatevi un enorme sviluppo con il mio sound "Future Jack". Continuerò a pubblicare su più etichette come ho fatto nel 2017, ma sarò molto più selettivo. Ultimamente ho lavorato molto sui cantati, cercando davvero di alzare il livello.
3) Chiami il tuo stile "Future Jack", è stato influenzato dall'UK house e dai suoni electro?
Sicuramente! Sono un grande fan della tech house e techno e sono cresciuto con l'UK Garage, quindi mi sento influenzato da questi generi. Sono super orgoglioso di essere un produttore inglese. Mi sento in un paese in cui spingiamo davvero i confini con la musica dance, poiché è parte integrante della nostra cultura.
4) Qual è la migliore folla per la quale ti sei esibito?
Ho suonato per alcune crowds davvero incredibili in tutto il mondo, ma oserei dire che la Repubblica Ceca è una delle migliori. Ho suonato ad un festival chiamato Magnetic Festival per circa 11.000 persone ed è stato assolutamente folle! Energia pazzesca.
5) Indica qualcuno con cui vorresti collaborare.
Mi piacerebbe lavorare con Fatboy Slim, è stato il primo DJ che ho visto in un festival quando avevo 16 anni. Non lo dimenticherò mai! Sentire 'Right Here, Right Now' mi ha colpito tantissimo. Ha avuto una grande influenza nella mia carriera. Ha suonato due dei miei brani in tutti i suoi set quest'anno, è pazzesco il supporto che mi ha dato!
______
ENG
1) How did you start making music? What does D.O.D. stands for?
I began producing initially as a necessity to progress further in my career. There's only a certain level that you can get to nowadays by being a technical DJ, so when I noticed that I wasn't raising my profile, I knew it was time to really get my head down and start producing full time. I love producing now! When i've been away on tour I can't wait to get back and churn out some beats!
D.O.D is just the initials of my name, Dan O'Donnell 🙂
2) It has been an amazing 2017 so far for you, with 8 official releases on multiple labels such as Size and Axtone, what can we expect for 2018 from you?
Expect a huge development with my signature sound "Future Jack". I'll still be releasing on multiple labels as I have done in 2017, but i'm going to be much more selective with what records I put out. I've been working on vocal records a lot recently, really trying to raise the bar.
3) You call your distinctive sound "Future Jack", has it been influenced by the UK's house and electro vibes?
Most definitely! I'm a huge fan of tech house, techno too and I grew up in the UK Garage era so I feel I take influences from these genres. I'm super proud to be a producer from the UK. I feel as a country we really push boundaries with dance music as it's such an integral part of our culture.
4) What's the best crowd you played in front of?
I've played to some seriously dope crowds all over the world, but I'd have to say that Czech Republic is one of the best. I played a show called Magnetic Festival to about 11,000 people and it was absolutely insane! Such crazy energy.
5) Name someone you'd like to collab with.
I'd love to collab with Fatboy Slim, he was the first DJ that I saw at a festival when I was 16. I'll never forget it! Blasting out 'Right Here, Right Now' just as the sun was setting, absolutely loving life. He's been a massive influence in my career. He's been playing two of my tracks in all of his sets this year, It's crazy how much support he's been given me!
______
youBEAT thank D.O.D and Unfolded PR for the interview!
__________
D.O.D & Sunstars – Morph
Download / Stream: http://prot.cl/morphYo