Facebook video: https://www.facebook.com/video.php?v=851751198216280
Oggi il gruppo interno di youBEAT [Music Promotion&News], nato da un piccolo gruppo di amici appassionati ed  ora in continua espansione, compie 1 anno!
Ecco la sorpresa: un video-selfies con la partecipazione di alcuni dei djs del gruppo dedicato al 3° anniversario del progetto e al traguardo dei 10.000 "Mi Piace".
GRAZIE A TUTTI!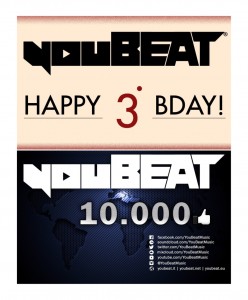 FOLLOW US:
• FACEBOOK: facebook.com/youbeatmusic
• SOUNDCLOUD: soundcloud.com/youbeatmusic
• TWITTER: twitter.com/youbeatmusic
• YOUTUBE: youtube.com/user/youbeatmusic
• MIXCLOUD: mixcloud.com/youbeatmusic
• INSTAGRAM: @youBEATmusic
CONTACTS / SEND YOUR DEMOS TO: youbeatmusic@gmail.com
24y from Milan, Italy. I'm passionate about digital media world and I graduated in Media Languages at UCSC Milan  with a thesis about the revolution of daily life with the streaming in entertainment and information. Since 2012 I'm developing the Italian dance/electronic network youBEAT (www.youbeat.it) with a team of young editors and reporters and collaboration with international radio, events and festivals. I use to daily check music business and marketing/digital platforms in order to discover and be keen on news, stats and trends.