Il business della "global recorded music" ha generato un fatturato di $17,3 miliardi nel 2017, con un aumento dell'8,1% secondo i calcoli di IFPI (8,5 per Midia Research).
Nel 2017 è avvenuta una crescita di $1,4 miliardi, che riporta il settore al livello più alto dal 2008 ($17,7 miliardi), con 3 anni consecutivi di crescita dell'industria discografica dopo 15 anni di declino.
Lo streaming è cresciuto nel 2017 del 39%, arrivando a $7,4 miliardi di ricavi complessivi, pari al 41,1% delle revenues globali dell'industria discografica (43% per Media Research), affermandosi la fonte principale di ricavi con i suoi 176 milioni di utenti premium nelle diverse piattaforme principali (Spotify, Apple Music, Deezer, Google Play, Amazon Music). Tale crescita è stata ampiamente superiore rispetto al calo di $783 milioni (-10%) di download e vendite fisiche.
Forse, l'elemento più sorprendente dei numeri di Midia riguarda gli artisti indipendenti. Calcolando le entrate generate da artisti del calibro di Tunecore, CD Baby e Bandcamp, Midia comunica che gli artisti indipendenti hanno raccolto $472 milioni nel 2017, il che ha dato loro una quota di mercato del 2,7%. La cifra totale è aumentata del 27,2% rispetto ai $371 milioni registrati l'anno prima.
Universal Music Group ha rivendicato la più grande quota di mercato globale tra le maggiori etichette discografiche. Il suo reddito complessivo di $5,16 miliardi rappresenta una quota mondiale del 29,7% (compresi gli artisti indipendenti), afferma Midia.
Warner Music Group ha invece registrato nel 2017 la crescita più elevata rispetto alle altre major, generando tuttavia "solo" $3,13 miliardi, il 18% del mercato globale.
Frances Moore, amministratore delegato di IFPI, ha commentato: "È stato un altro anno incredibilmente emozionante per la musica: il lavoro e gli investimenti delle case discografiche consentono ad artisti brillanti e diversi di crescere e raggiungere i fan di tutto il mondo, che possono ascoltare in modo sempre più comodo, interattivo e prezioso la musica che amano."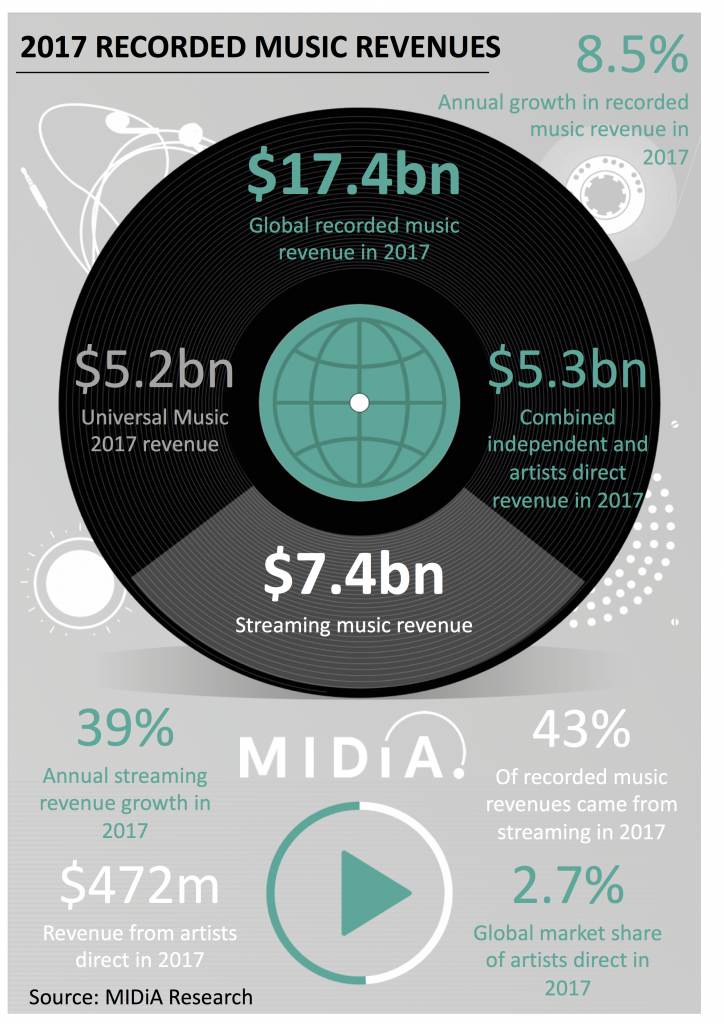 Sony Music ha generato $3,64 miliardi, rivendicando una quota di mercato del 22,1%, mentre le etichette indipendenti hanno generato complessivamente $4,8 miliardi, che corrispondono ad na quota di mercato del 27,6%.
Le revenues degli artisti indipendenti sommate a quelle delle etichette indipendenti hanno raggiunto un totale globale di $5,3 miliardi nel 2017, afferma Midia, leggermente superiore rispetto alle vendite complessive di Universal Music Group.
Dei $472m generati da artisti indipendenti, Mark Mulligan spiega che "fino ad ora, questa sezione del mercato è stata lasciata fuori dalle analisi di mercato discografico globale. Con quasi mezzo miliardo di dollari di entrate nel 2017 e cresciuti molto più velocemente delle aziende tradizionali, questo settore è semplicemente troppo grande ora per essere ignorato."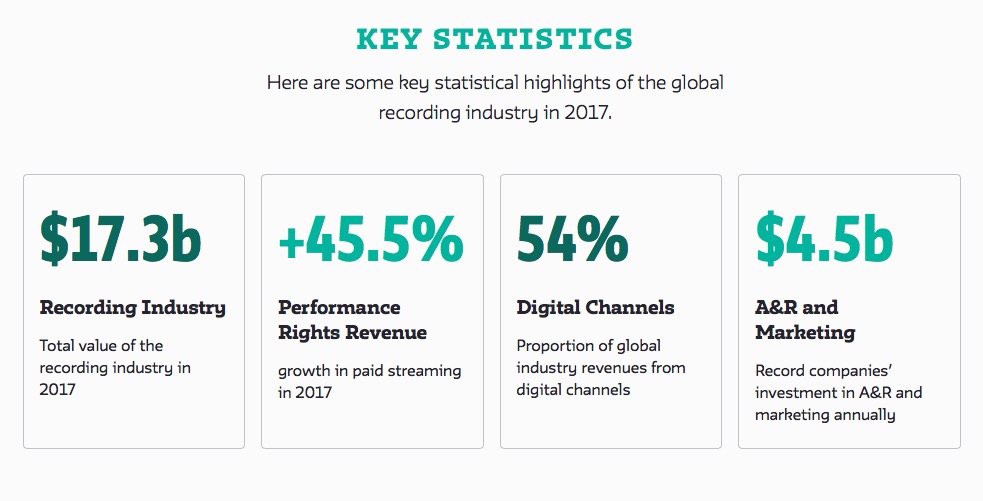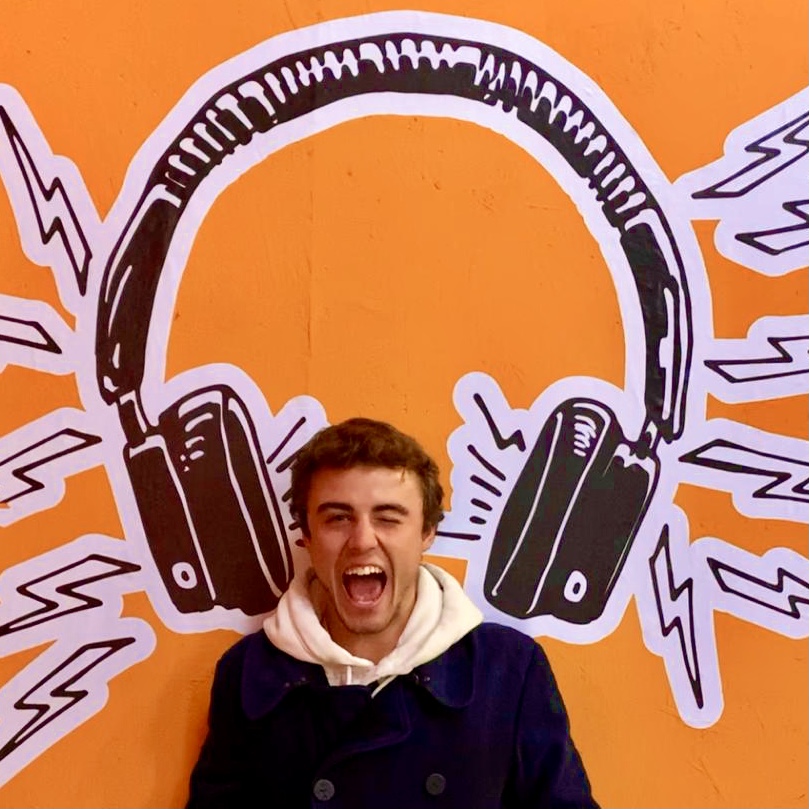 25y passionate guy about music, social media, digital marketing and infographics!
Currently working at EGO Music (www.egomusic.net) as Head of International and Social Media, while developing youBEAT, my manifesto of passion for music founded in 2012.
Graduated in Media Languages at UCSC in Milan (Università Cattolica del Sacro Cuore) with a thesis on the revolution of daily life with the streaming in entertainment and information. 
Everyday more passionate and keen about data, tools and music insights and their connection in this everyday faster social connected world.