Sono passati ben tre anni da quando Quintino, con la sua hit mondiale "Epic" in collaborazione con Sandro Silva, ci ha fatto palpitare il cuore per un'intera stagione e ha rivoluzionato la scena internazionale del settore.
Ha dimostrato di saper restare sul pezzo dando vita a tracce ogni volta ben diverse tra loro e spaziando per molti sottogeneri della musica EDM tanto da riuscire a passare da bangers come "Puzzle" con i Blasterjaxx a produzioni Future House come "Winner"
Ora rilascia "Escape (Into The Sunset)" feat. Una, mostrandoci il suo lato più melodico e assicurandosi un grande supporto da parte di tutti i suoi fans più affezionati a questa tipologia di produzione.
Big Room, Progressive e anche Future House, l'eclettico Quintino ci ha abituato a farsi riconoscere in ogni sfumatura del suo sound negli ultimi tempi.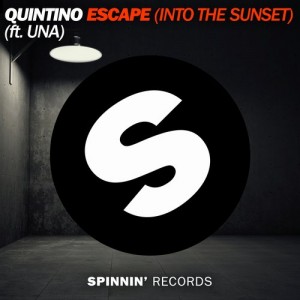 Sarà sicuramente una delle canzoni più suonate dei prossimi mesi anche grazie all'inizio della stagione dei festival, momento dell'anno che tutti gli appassionati di musica elettronica aspettano con ansia.
Non vediamo l'ora di sentirla suonata all' Ultra Music Festival di Miami che avrà inizio tra 2 giorni!
---
Buy "Escape (Into The Sunset)" on Beatport:
http://btprt.dj/1C49FbA
Follow Quintino:
FB: facebook.com/djquintino
TW: twitter.com/QUINTINOO
SC: soundcloud.com/quintinomusic
  Follow Una:
FB: facebook.com/unasmusic
TW: twitter.com/Unahsand
Follow Spinnin Records:
WEB: www.spinninrecords.com
FB: facebook.com/SpinninRecords
SC: soundcloud.com/spinninrecords
TW: twitter.com/spinninrecords
BEATPORT: pro.beatport.com/label/spinnin–records/1609
Laureato in Informatica Musicale presso l'Università Statale di Milano, appassionato di musica elettronica e sound design.
Autore delle rubriche "Serum Tutorial" e "The Dark Side of EDM".