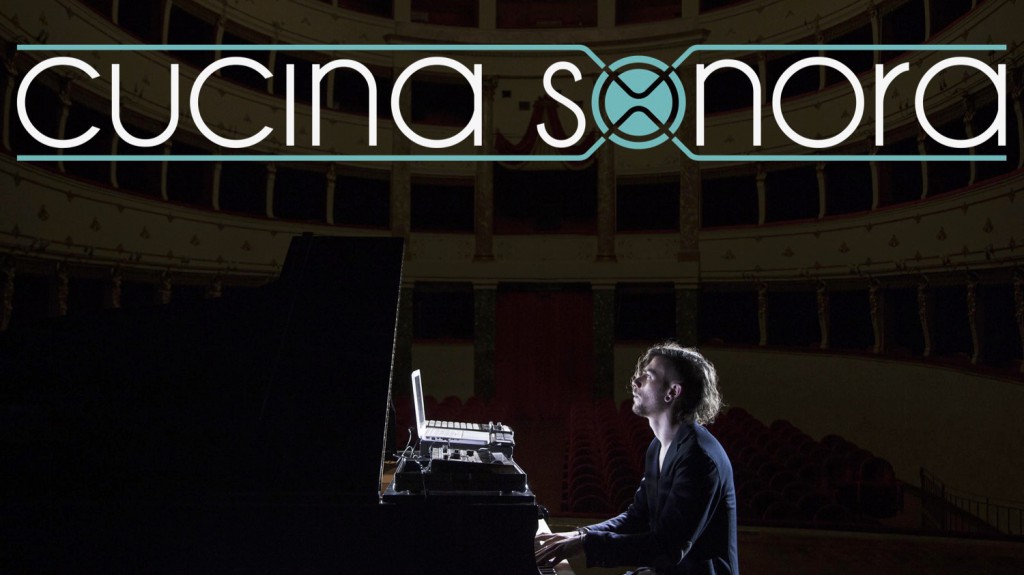 "TAPPA": IL NUOVO SINGOLO DI CUCINA SONORA SU TOYS FOR KIDS RECORDS
Il producer, musicista e polistrumentista Pietro Spinelli, in arte Cucina Sonora, ha sfornato per noi il singolo "Tappa": un singolo che anticipa l'uscita del nuovo album che avverrà, presumibilmente, a fine di Giugno 2016.
Il singolo, che incarna perfettamente il modus operandi di Toys for Kids Records, ovvero quello di unire insieme il sound elettronico con uno strumento musicale classico, è stato remixato dal producer italiano Stefano Fagnani, meglio conosciuto come Stèv e dal duo soul/experimental TECHNOIR
---
BIO
Il progetto Cucina Sonora nasce da un' idea di Pietro Spinelli.
Pianista di formazione classica, è tastierista nella band toscana Il Maniscalco Maldestro e Borrkia Big Band.
Dopo il diploma in conservatorio, ha cercato nuove sperimentazioni sonore soprattutto nell'ambito dell'elettronica che è, de facto, il fulcro del progetto.
Cucina Sonora nasce innanzitutto a tavolino, davanti a copiosi piatti di spaghetti e lunghe discussioni teoriche sulla musica. A questi discorsi è seguita la pratica, un connubio tra classico e moderno, tra analogico e digitale, una sorta di cantautorato dove le storie raccontate dai tasti del pianoforte sono servite su un letto di elettronica che avvolge e fonde classico e moderno. A Febbraio 2015 esce Brown Voice, singolo che racchiude la forza e melodie riscontrabili durante i suoi set. A questo segue 1H Cooked, live set di un'ora circa, strutturato in un continuo alternarsi di alti e bassi, cassa dritta e piano solo, virtuosismi a base di Korg. Dopo 21 date in 4 mesi, dopo un lavoro in studio di due mesi e la trasferta berlinese, a Dicembre 2015 Cucina Sonora svelerà a poco a poco il suo primo Ep, ricco di remix e di collaborazioni importanti, con un mini live tra Italia e estero, in uscita per Toys for Kids Records.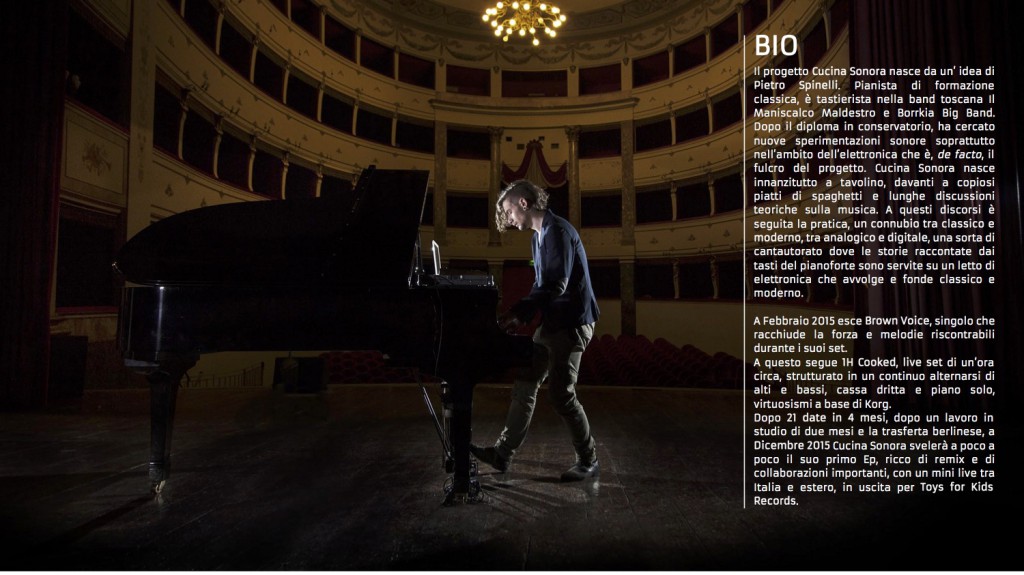 CONTATTI
Facebook: www.facebook.com/cucinasonora
Booking :
+39 393.3625921
bookingcucinasonora@gmail.com
Ph. Vittorio Marrucci
Ufficio Stampa: rdp@eloquence-agency.com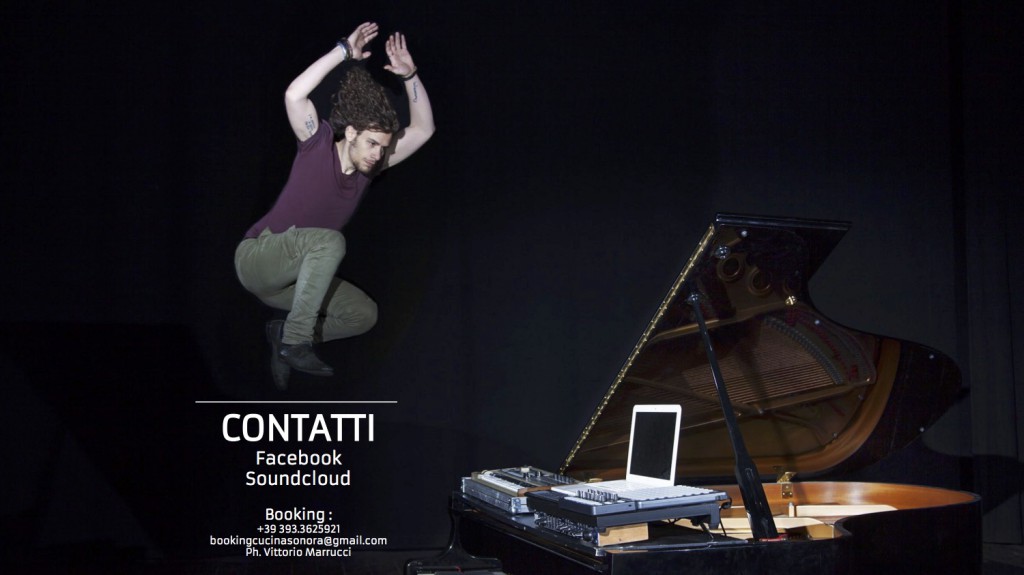 25y passionate about music, social media, digital marketing and business insights. Currently working at EGO Music (www.egomusic.net), independent dance/electronic music company, while developing italian EDM blog youBEAT (www.youbeat.it) founded in 2012.
Graduated in Media Languages at UCSC in Milan (Università Cattolica del Sacro Cuore) with a thesis on the revolution of daily life with the streaming in entertainment and information.
Everyday more passionate and keen about digital, marketing and social media worlds and how they fit and integrate each other in this everyday faster social connected world based on interactions and sharing of contents and data.