The 10th edition of Kappa FuturFestival will be held from Friday 30 June to Sunday 2 July 2023, from noon to midnight, at Parco Dora in Turin.
3 DAYS, 36 HOURS OF MUSIC, MORE THAN 100 DJS
5 stages, including the new Voyager Stage and Kosmo Stage.
The latter will host Marinella Senatore's art installation "Dance First Think Later."
Expected 95,000 participants from 110 nations including French Polynesia, Martinique, Sri Lanka, Netherlands Antilles, Seychelles.
Mind-boggling numbers are also involved in the technical compartment and the festival set-up includes 1 km² of led wall screens, more than 1,000 lights, more than 200 speakers, the stage (Roseto) 24 meters high, 4km of fiber optics, 7km of railings and 1km of panic barriers.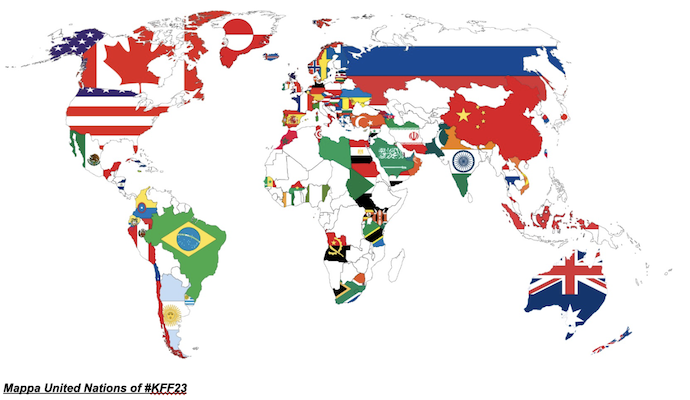 Day 1 – Friday 30 June
AFTERLIFE PRESENTED BY TALE OF US, ANNA, ANOTHER TASTE LIVE, ASTRA CLUB (DJ TENNIS – CARLITA), AYS DJ SET, BLACK COFFEE, CARISTA, CHLOÉ CAILLET, DANILO PLESSOW, DERRICK CARTER, DETROIT IN EFFECT, FLOORPLAN, HE.SHE.THEY., JOB JOBSE, JOE CLAUSSELL B2B DJ DEEP, KEVIN DE VRIES, KILIMANIARO, KRYSTAL KLEAR B2B MATISA, LVPICA, MAJOR LAZER B2B MAJOR LEAGUE DJZ, MASSANO, MATHII, MIND AGAINST, MOCHAKK, SASHA CARASSI, SHERMANOLOGY, SHUBOSTAR, STEPHAN BODZIN Live, SWEDISH HOUSE MAFIA (KFF EXCLUSIVE SET), THE MARTINEZ BROTHERS
Day 2 – Saturday 1 July
ALEX DIMA, CARL CRAIG FEAT JON DIXON IVE, CHARLIE SPARKS, CLOONEE, CUARTERO, DIPLO B2B MACEO PLEX, DJ BONE as DOC CIROC, DRUMS AND CHANTS, DUKWA live, ENRICO SANGIULIANO, ENZO SIRAGUSA, FANTASTIC TWINS Live, FATBOY SLIM, GANDALF, HOLY TONGUE Live, INDIRA PAGANOTTO, MARBØX, NICO MORENO, O.BEE B2B TOMAS STATION, PAUL ACQUAVIVA, PEGGY GOU, NICOLA GAVINO, REINIER ZONNEVELD LIVE, RICARDO VILLALOBOS, SANSIBAR, SASHA and JOHN DIGWEED, SETH TROXLER, THE HACKER and ALESSANDRO ADRIANI Live, TOLOUSE LOW TRAX, TRAXX, TRYM, TUSHEN RAï B2B CORNELIUS DOCTOR, WILLIKENS and IVKOVIC
Day 3 – Sunday 2 July
999999999, ARCHIE HAMILTON B2B RICHY AHMED, CARL COX B2B NICOLE MOUDABER, CARL COX HYBRID LIVE, CARLITA, CHRIS LIEBING (TR303 LIVE), CHRIS STUSSY, CHRISTOPHER COE Live, DANNY TENAGLIA, DENNIS CRUZ B2B PAWSA, EGYPTIAN LOVER, FOLAMOUR (A/V), FRANK WIEDEMANN x MATHEW JONSON Live, HOT SINCE 82, I HATE MODELS, IVAN SMAGGHE, JAMIE JONES, LOST SOULS OF SATURN Live, LP GIOBBI, PARANOID LONDON Live, RIVERSIDE, SAN PROPER, SILVIE LOTO, SIMONE DE KUNOVICH, SIZING, TALE OF US, THE TASTE, ULTIMO TANGO, VINTAGE CULTURE, YOUNIVERSE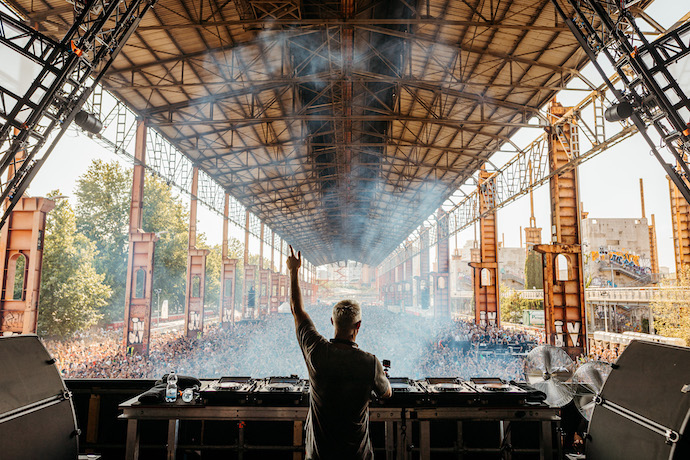 To the first names announced, such as MAJOR LAZER, THE SWEDISH HOUSE MAFIA (both at Kappa Futurfestival for the only Italian date), FATBOY SLIM, RICARDO VILLALOBOS, CARL COX, are joined by numerous DJs and producers among rising stars and international legends, demonstrating a festival once again capable of giving space to all facets of electronic music. Among the most awaited acts, that of the world-famous dj PEGGY GOU, the French FOLAMOUR with his elegant set that draws from house, funk and disco influences, the internationally recognized Italians TALE OF US and MIND AGAINST stand out.
And again, the sets of ANNA, CHLOÉ CAILLET, THE MARTINEZ BROTHERS, SASHA and JOHN DIGWEED, SETH TROXLER, JAMIE JONES, the live shows of SHERMANOLOGY, STEPHAN BODZIN, THE HACKER and ALESSANDRO ADRIANI, CHRISTOPHER COE, FRANK WIEDEMANN, MATHEW JONSON, LOST SOULS OF SATURN, PARANOID LONDON and many other artists.
Also this year the festival will take place over three programming days, hosted in the most impressive and fascinating Italian futuristic park: Parco Dora. A huge post-industrial area so visually powerful as to enchant the public and DJs from all over the world, thanks to the stages immersed in a real open-air art installation.
The outdoor Festival produced by Movement Entertainment, now in its tenth edition, has contributed to putting the Piedmontese capital back on the map of major cultural events, attracting tens of thousands of music and clubbing culture enthusiasts to Turin from all over the world thanks to an artistic programming of the highest level, the great expertise gained in management, research aimed at innovative technologies used to guarantee the public the best experience in a unique location in the world.
The last edition saw over 85,000 visitors from 105 different nations, an extraordinary result for the city and its citizens.
Visualizza questo post su Instagram
A FESTIVAL DEDICATED TO CULTURE AND DIGITAL ARTS: THE PHOTOGRAPHIC PROJECTS
KFF has collaborated with world-renowned photographers such as Oliviero Toscani, Massimo Vitali, Marco Walker, Settimio Benedusi to create unique images and projects which have then become part of private collections or exhibitions. To highlight the projects and celebrate the tenth edition of the Festival, the organization will dedicate a focus on an artist every month.
Furthermore, an exceptional campaign is created with the incredible shots of OLIVIERO TOSCANI, known internationally as the mind behind the most famous publications and brands in the world and an honorary member of the European Academy of Sciences and Arts. The photographs were taken at the Kappa FuturFestival and are part of "Human race", an endless project on the different human morphologies and conditions, to represent all the expressions, physical, somatic, social and cultural characteristics of humanity. "This festival is an important place, there is a concentration of special and very interesting young people, who do not conform to each other" – said the photographer – "I met people with a kind attitude, very civil and polite guys, without arrogance , but with a great desire to discover and understand".
VIP PACKAGES
Special GOLD Experience and ART and Techno packages can be purchased at the website. The attention to the public is renewed again this year in the proposal of packages for every need: KAPPA FUTURFESTIVAL expands its range with exclusive activities for those who want to live an all-round experience, including access to exclusive dedicated areas, access to the Main Stage, hospitality in prestigious Hotels, activities aimed at discovering the artistic and cultural treasures that the city of Turin can offer and many other services.
CASHLESS
KAPPA FUTURFESTIVAL confirms itself among the "most consumer friendly" festivals in Europe by ensuring easy access to information. The first festival in Italy to introduce cashless technology that allows for quick and easy purchase of food, beverages and merchandise, this year's use of a rechargeable RFID chip wristband that can be recharged with cash or credit card is confirmed. The cashless system enhances the audience experience, increases the reliability of the Festival by reducing the circulation of cash, and monitors users' spending in real time. Online Pre Festival recharge will be available from May 2023 on our dedicated platform.
WOOV – THE KAPPA FUTURFESTIVAL APP
WOOV – The Kappa FuturFestival app is available for download. Users will have the opportunity to recharge their cashless wristband directly from their smartphone. The App also features: map, schedule, merchandising and community chat. Download link here.
PARTNERS
Under the patronage of the European Commission, Department for Youth Policy and Universal Civil Service, Piedmont Region, City of Turin, Turin Tourism and Province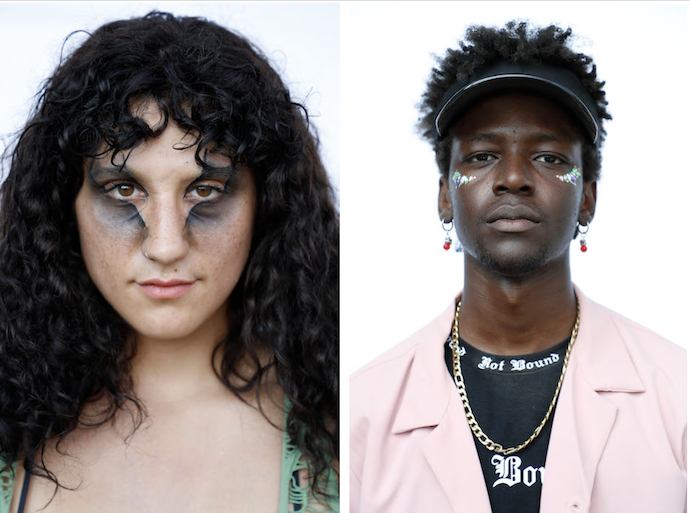 The photographer MASSIMO VITALI also deeply marked the visual imagery of Kappa Futurfestival, with his "Costellazioni" project. Recognized and internationally appreciated for his extra-large format works depicting beaches, clubs and public spaces, his works are exhibited at the Centro de Arte Reina Sofia in Madrid, at the Pecci Museum in Prato, at the Guggenheim in New York, at the Museum of Contemporary Art in Denver, at the Center Pompidou and at the Fondation Cartier in Paris and in numerous other prestigious museums in Europe and in the USA.
Tikets available on kappafuturfestival.it
FOLLOW KAPPA FUTURFESTIVAL
Instagram: @futur_festival
Twitter: @KFuturFestival
#KappaFuturFestival 
#TheFuturIsInTorino #KFF23 #FuturFestival #Futur