Un evento che celebrerà la vita, con uno scopo ben preciso portato avanti dalla Tim Bergling Foundation: il riconoscimento dei disturbi mentali e del suicidio come emergenza sanitaria globale, argomento molto importante di cui noi avevamo parlato qualche mese fa.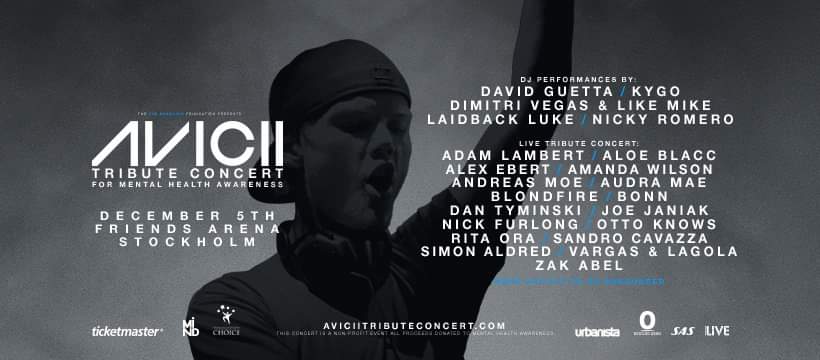 Dopo la scomparsa avvenuta il 20 Aprile dello scorso anno, tanti sono stati gli eventi organizzati in memoria di Avicii, ed uno in particolare avrà luogo nella Friends Arena di Stoccolma il 5 Dicembre. Con un comunicato pubblicato su aviciitributeconcert.com, la Tim Bergling Foundation ha annunciato un Tribute Concert che vedrà come protagonisti numerosi DJ e artisti internazionali. Una line-up non ancora completa ma già ricca di nomi. David Guetta, Nicky Romero, Aloe Blacc e tanti altri artisti ricorderanno Tim con un live imperdibile.
Tim Bergling Foundation @aviciicharity will advocate for the recognition of suicide as a global health emergency and promote removing the stigma attached to the discussion of mental health issues. pic.twitter.com/Zb1eFFthhC

— Tim Bergling (@Avicii) September 3, 2019
I biglietti saranno disponibili online dalle 10:00 del 5 Settembre, e tutti i proventi andranno in beneficenza non solo a sostegno della prevenzione contro i disturbi mentali e i suicidi, ma anche a problematiche vicine a Tim come il cambiamento climatico, la fame nel mondo e la preservazione delle specie a rischio. Un evento da non perdere per chi ha ascoltato, amato, vissuto la musica e Avicii, ma anche un'occasione per contribuire a migliorare le condizioni della vita ed il mondo in cui viviamo.
Music freak, Techno head. Graduated at UNICAL in Communication Sciences. PointBlank Music Industry Diploma Student.