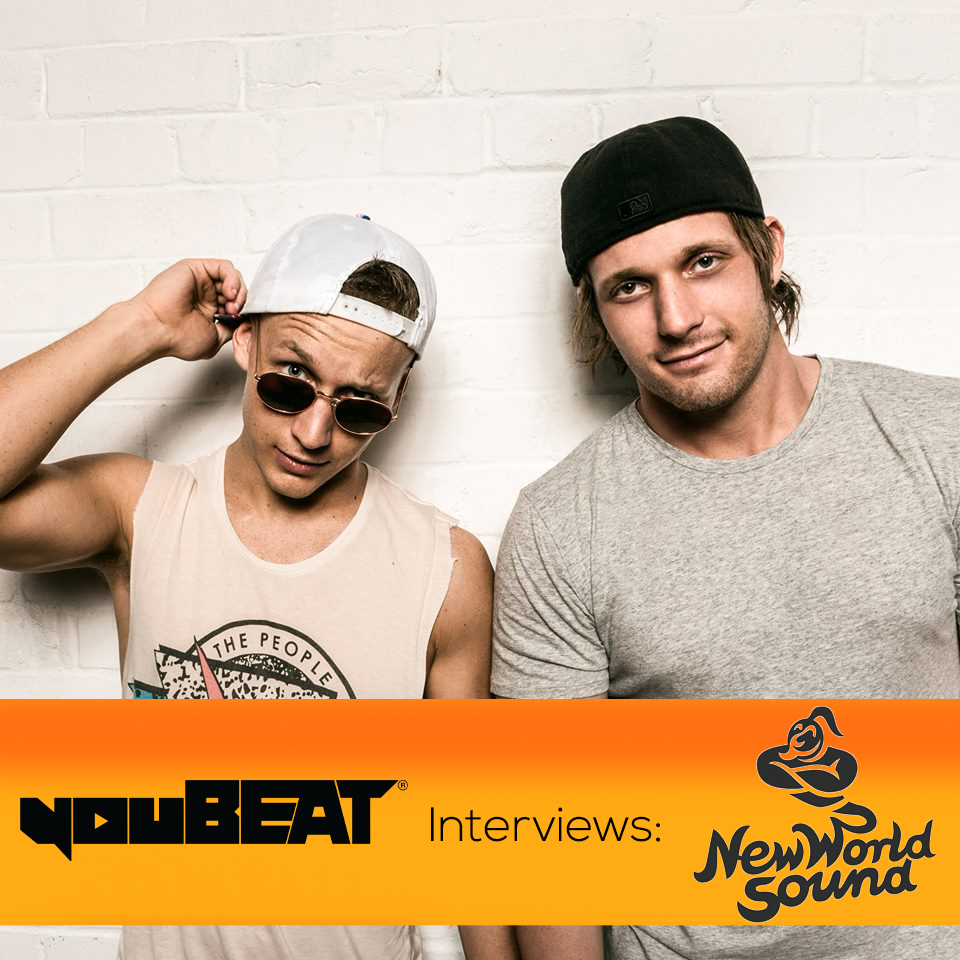 youBEAT is a EDM Blog & Promotions founded in 2012 by Matteo Villa and focused on Italy.
Hereunder are listed some questions asked by our djs to New World Sound, australian international duo, famous since the worldwide hit "Flute" with Thomas Newson.
9.05.2015: NWS in Italy for the first time @K-KLASS (Como)
-> EVENT LINK <-


---
Jazzy J.: When did you start producing?
NWS: We started DJing about 7 years ago, just playing friends house parties. We started producing afew years later and testing our tunes out when we'd DJ.
Cava: What was the inspiration behind your stage name?

NWS: Hahaha it sounds like there's some big meaning in there or something but there really isn't a big inspiration behind it. We were listening to some tunes in the studio one day with some mates and NWS came up at one point, so we rolled with it – it is what it is.

Manny J: How do you feel travelling the world as a famous duo?
NWS: That was all pretty nuts, we don't think about "how big" or successful a record might be or whatever so it caught us off guard.  Its mint that people are vibing on our tunes and we're grateful for all the crew out there who support us!
InfamouZ: How did you react to the success of Flute?
NWS: Haha we don't think of it like that dude! We're just stoked to be getting around the world and playing music to a whole bunch of legends.

Kharfi: You have a lot more energy than all the other melbourne tracks that run in the market, what is your secret?
NWS: Oooft thats a big call broski! hahaha Nah we're flattered dude but you need to have a suss of some of the tunes from our boys! We rekon you can tell the Australian sound when you hear it – Will Sparks, Joel Fletcher, Uberjakd, JDG, Timmy Trumpet, Reece Low, J-Trick, SCNDL, Chardy, Chris Bullen – shiet we could go on for ages hahaha but suss some of the tunes from those boys for more quality bounce with a heap of energy!
Dive Sheezers: How did your track "Cheer Up" born?
NWS: The name 'Cheer Up' pretty much nails the vibe we were going for with that track! We wanted to write a tune that had a tonne of energy, but at the same time wasn't too 'tough' and still had a fun bouncey AF vibe too it.
Gamuel: Is It better performing in a club or in a festival?
NWS: We couldn't say one is better than the other! They're just different. The vibes and the venue are different – but everyone is still there for the same reason.

Mark Koya: Who did you get more fun producing with?
NWS: Collabing is the best, you can't beat vibing out in the studio and writing a tune with your mates. We couldn't pick one, everyone works differently and has their way of doing things! All the guys and girls we've worked with are sick kents.

Hozones: Do we have to expect something new for this 2015 by New World Sound?
NWS: Yeah 100%! We've got a heap of new tunes waiting to come out and we're touring all over the place in 2015 so we're buzzinnn.
Warkids: How will the EDM scene evolve in your opinion? Which genres are going to dominate it?
NWS: We try not to think about the future and what the next hypey 'sound' or thing will be – rekon that's all a big G up from people on the business side of the industry hahaha We'll just keep making fresh tunes we're vibing on!
---

youBEAT thanks NWS, K-Klass and their staff for this interview
---
"Bounce That", NWS's latest EP OUT NOW on Dim Mak Records  

---
Follow NWS:
Facebook: facebook.com/newworldsound
Soundcloud: soundcloud.com/newworldsound
Twitter: twitter.com/newworldsound
Instagram: @newworldsound
Web: www.newworldsound.com
---
Matteo Villa