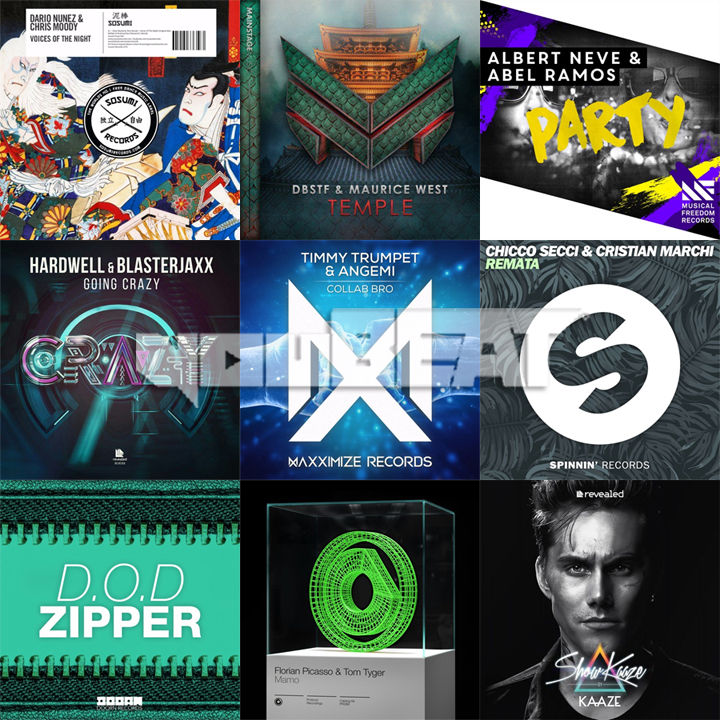 Scopri 9 tra le uscite più interessanti di questa settimana con la rubrica ‪#‎NEWMusiCollageOfTheWeek! [29 Agosto-3 Settembre 2016]
---
Altra grande settimana di release e come al solito la redazione di youBEAT è pronta ad elencarvi le uscite più interessanti.
Partiamo con le produzioni che verranno messe in commercio quest'oggi, lunedì 29 Agosto, e per spirito patriottico iniziamo il nostro mini-elenco con le tracce italiane.
L'imponente Spinnin Records accoglierà ancora una volta un producer nostrano, precisamente il grande Cristian Marchi, che insieme al connazionale Chicco Secci, sfornerà Remata, dalle sonorità tribal molto in voga in questo periodo.
Altro disco con una spolverata di italiano è "Collab bro", prodotta dall'amatissimo Angemi, insieme a Timmy Trumpet, in uscita su Maxximize Records.
Merita senza dubbio attenzione anche "Going Crazy", produzione firmata dall'ex dj numero uno al mondo, leggasi Hardwell, in collaborazione con i Blasterjaxx, in uscita ovviamente su Revealed Records.
 Per chi si aspetta qualcosa di pesante, segnaliamo invece "Temple", produzione firmata Maurice West con i DBSFT, in uscita su Mainstage.
A completare il quadro delle uscite di oggi, "Party", firmata da Albert Neve e Abel Ramos, "Zipper" di D.O.D e infine "Mamo", splendida produzione sfornata da Florian Picasso e Tom Tyger, in uscita su Protocol Recordings.
 Mercoledì 31 agosto sarà invece la volta di una nuova produzione Sosumi Records, la label free per eccellenza, che regalerà nel vero senso della parola "Voices of the night", prodotta dallo spagnolo Dario Nunez in compagnia di Chris Moody. Infine, a chiusura del quadro delle nove release più hot di questa settimana che va dal 29 agosto al 2 settembre, spazio all'EP di Kaaze dal titolo "Show Kaaze", in uscita su Revealed: si tratterà di un mini album composto da quattro pezzi, tutti spiccatamente progressive ed electro house.
29 Agosto
Albert Neve & Abel Ramos – Party [Musical Freedom]
Preview: http://goo.gl/eHxdVe
ANGEMI & Timmy Trumpet – Collab bro [Maxximize Records]
Preview: http://goo.gl/uXRX4k
Chicco Secci & CRISTIAN MARCHI – Remãta [Spinnin' Records]
Preview: http://goo.gl/EAPRH0
D-Block & S-te-Fan & Maurice West – Temple [Mainstage Music]
Preview: http://goo.gl/k4bkRW
D.O.D – Zipper [DOORN Records]
Preview: http://goo.gl/uhxuqj
Florian Picasso & Tom Tyger – Mamo [Protocol Recordings]
Preview: http://goo.gl/vSc6IQ
Hardwell & Blasterjaxx – Going Crazy [Revealed Recordings]
Preview: http://goo.gl/1J4rqd
31 Agosto
Dario Nuñez & Chris Moody – Voices of the night [Sosumi Records]
Preview: http://goo.gl/1bALVy
2 Settembre
KAAZE pres. Show KAAZE [Revealed Recordings]
Preview: http://goo.gl/YdHzM0