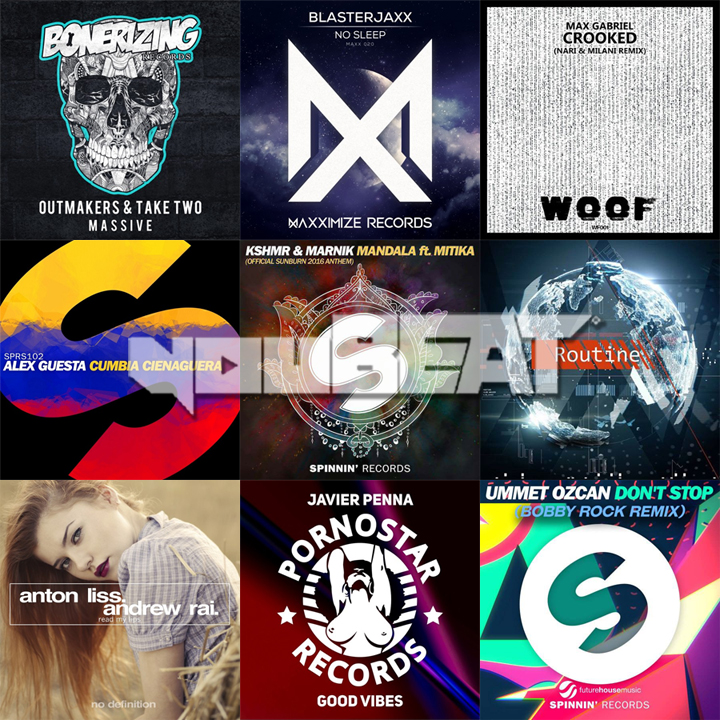 Scopri 9 tra le uscite più interessanti di questa settimana con la rubrica ‪#‎NEWMusiCollageOfTheWeek‬! [26 Dicembre – 1 Gennaio 2017]
---
E' tutto pronto per un nuovo appuntamento con la rubrica di youBEAT, New Music Collage Of The Week, dove andremo a scoprire insieme quali sono le release più calde della settimana, l'ultima di questo anno 2016.
Come da nostra tradizione, si parte con le produzioni italiane, a cominciare dall'esplosiva "Mandala". I talentuosi Marnik, in compagnia del dj e producer indiano KSHMR, hanno sfornato questa traccia che rispecchia in pieno il loro stile, tra l'altro inno ufficiale del Sunburn 2016.
Proseguiamo con un'altra canzone del Bel Paese, leggasi "Cumbia Cienaguera" di Alex Guesta, pezzo molto estivo, decisamente tribal, che verrà commercializzato da SPRS, sublabel della mastodontica Spinnin'. Un periodo quindi decisamente positivo per il dj e produttore italiano, che dopo "La Galera", uscita lo scorso 22 dicembre su Sosumi, torna a regalarci una nuova treccia.
Altra canzone degna di nota è senza dubbio "Crooked", nella versione remixata dai Nari & Milani, e realizzata da Max Gabriel. Proseguiamo con "Red my lips" in uscita su No Definition, canzone prodotta da Anton Liss in compagnia di Andrew Rai, dalle sonorità tipicamente nu disco.
Decisamente più spinta è invece "Massive", realizzata a otto mani dagli Outmakers in compagnia dei Take Two, ed in uscita su Bonerizing. Per chiudere con le release di quest'oggi, 26 dicembre, attenzione al regalo di Bobby Rock, che ha deciso di rilasciare in forma totalmente gratuita il suo remix dell'interessante "Don't Stop" di Ummet Ozcan.
Passiamo quindi alle tre canzoni che verranno commercializzate venerdì prossimo, 30 dicembre. Anticipiamo i botti di capodanno visto che il talentuoso Alan Walker, uno dei protagonisti della scena elettronica di questo anno che volge alla conclusione, sfornerà "Routine", in compagnia di David Whistle, in uscita su Mer Musikk.
Molto interessante anche "No Sleep" dei Blasterjaxx in uscita su Maxximize Records, pezzo riempipista che balleremo senza dubbio per i prossimi mesi. Concludiamo la nostra rubrica con "Good Vibes" di Javier Penna rilasciata da Pornostar Records. Non ci resta che lasciarvi all'ascolto delle canzoni, augurandovi un buon anno 2017.
26 DEC
ALEX GUESTA – Cumbia Cienaguera [SPRS]
Preview: https://goo.gl/TWThbK
Anton Liss & Andrew Rai – Red my lips [No Definition]
Preview: https://goo.gl/AHx0d3
KSHMR & MARNIK ft. Mitika Kanwar– Mandala (Official Sunburn 2016 Anthem) [Spinnin' Records]
Preview: https://goo.gl/oEoW0w
Max Gabriel – Crooked (Nari and Milani Remix) [WOOF rec]
Preview: https://goo.gl/0DrDKM
Outmakers & Take Two – Massive [Bonerizing Records ]
Preview: https://goo.gl/Ydwv2n
Ummet Ozcan – Don't Stop (Bobby Rock Remix) [FREE]
Preview: https://goo.gl/lCOz9m
30 DEC
Alan Walker & David Whistle – Routine [MER Musikk]
Preview: https://goo.gl/7dAQ1G
Blasterjaxx – No Sleep [Maxximize Records]
Preview: https://goo.gl/Cr8GH8
Javier Peña – Good vibes [Pornostar Records]
Preview: https://goo.gl/GryXwN